A year after media doubting, Apple's Services save a difficult year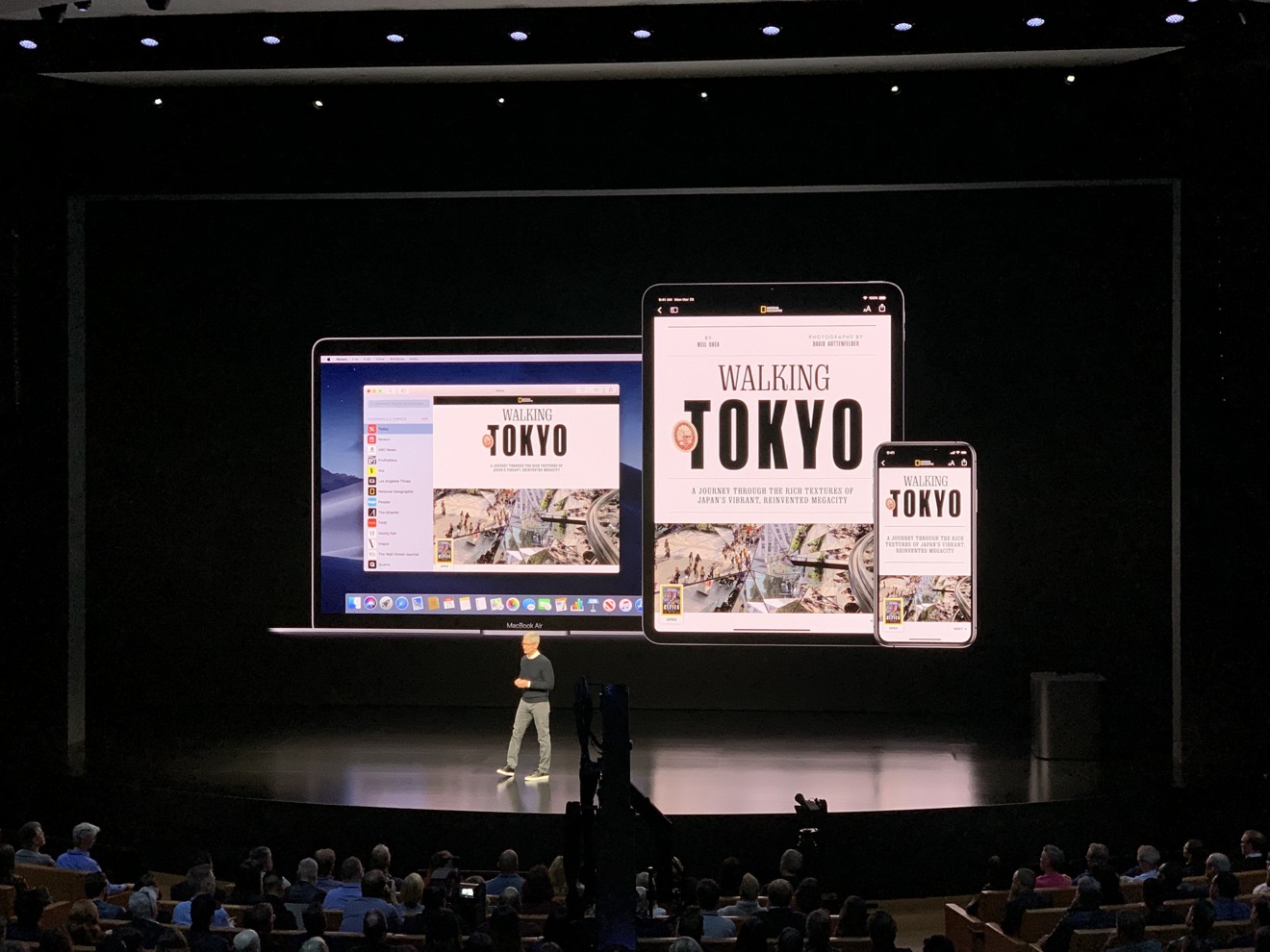 Last March, analysts and tech bloggers dumped out arrogant contempt over Apple's latest product introduction. This year, those new offerings helped save Apple's Q2 earnings and are projected to bolster its June quarter performance despite the pandemic.
Cynical doubts for the most successful, capable company in consumer tech
You could be easily forgiven for thinking that the new products in question were MacBooks with exaggerated keyboard issues, or new $999+ iPhones, or Macs without touchscreens, iPads without mice, or HomePod, or Apple TV, or Apple Watch, or virtually anything else the company has ever introduced and rapidly turned into a profitable, multibillion-dollar business.
Cynicism imagining impending doom for Apple is a familiar script that gets worn a little more threadbare every time Bloomberg, Nikkei, Wall Street Journal, and the New York Times shovels out its opinion on whatever Apple is doing at the moment.
But here, we're specifically examining the new Services that Apple debuted in March 2019 at an event at the Steve Jobs Theater at Apple Park. These included subscriptions for Apple Arcade gaming, a revamped News+ package of digital periodicals, the introduction of Apple TV+ original content, and a new Apple Card integrated into Wallet and Apple Pay.
For any other company, these new services might have launched with a single press release, or in a series of press releases across 2019 delivered only as each of these new offerings actually became available.
In fact, the company's Services event last year was unusual even for Apple, as it wasn't anchored to a hardware product introduction at all and included several "sneak peek" looks at initiatives the company wouldn't actually make available for several more months. Apple Card wasn't available until August, Arcade opened in September, and TV+ in late October.
Why 2019's Services were announced so far in advance
Apple has rarely announced new products long before they are actually available for sale, with a few notable exceptions. One was last year's Mac Pro— which was detailed at its summer WWDC19 after being promised in general terms years earlier. That advanced telegraphing of its plans was clearly done to reassure the Pro market and build anticipation for the kind of high-end new Mac Apple hadn't been selling for years.
Another example of pre-announced hardware was the original Apple TV, which Steve Jobs detailed a few months before the early-2007 unveiling of iPhone, and which actually launched in the shadow of that iPhone announcement. iPhone itself was also shown off several months before it became available.
In all of these cases, Apple was more interested in building interest in its upcoming new products than it was in maintaining the kind of secrecy the company usually maintains in order to launch new products right as they are ready for purchase. Apple's legendary secrecy had long been used to prevent competitors from copying its work and rushing their own copies to market faster than Apple can. But in the case of Apple TV, iPhone, Mac Pro, and last years' new Services, there was little that competitors could do to steal Apple's limelight.
Rather than stoking competition, Apple's new offerings instead bridged unexpected partnerships. The company had earlier announced plans with TV makers, including Samsung, to bring AirPlay 2 streaming and iTunes movies to third-party hardware.
This was initially skewered in cynicism as being an admission of the failure of its own TV hardware and a desperate attempt to put its content on third party boxes from Roku, Amazon, and others. This steaming "hot take" was presented as if it were an entirely new thing for Apple, despite the fact that the company has maintained iTunes for Windows PCs and Apple Music for Android for nearly as many years as it has on its own platforms.
Apple also hasn't given up on its own Apple TV hardware — it's rumored to be soon delivering a new A12X-powered model. Instead, Apple is quite obviously expanding its ecosystems in every direction that makes sense, putting iTunes, Apple TV+, and now Apple Music everywhere it can in a bid to entice users into growing attached to the higher standard of quality that defines all of its offerings. If your new TV has AirPlay 2, you'll be all the more likely to keep buying other iOS, Mac, HomePod, and tvOS devices that can take advantage of its seamless, easy to use multi-room audio.
Why 2019's Services were worthy of an Apple Event on their own
Apple's various new Services in 2019 were a mix of familiar and new; a continuation of App Store gaming, an expansion of original content that first began appearing on Apple Music, an enhancement of a string of prior attempts to bring periodicals into the modern digital world with a more attractive format, and an expansion of prior investments with Apple Pay Cash, NFC Wallet features, and new product financing.
What unified this set of various new Services— and made the collection of introductions worthy of a full-blown Apple Event— was the fact that they were all features designed to bring unique value to Apple's ecosystem and to leverage the latent purchasing power of Apple's vast installed base of users to demonstrably drive new economic activity in a way that third parties couldn't on their own.
Apple was proving it had unlimited avenues for growth that could each become significant new businesses of their own. It was endorsing its plans through the participation of various celebrities, artists, and business partners who would be reticent to join a similar initiative from a company that didn't appear capable of pulling it off. Apple was scream-whispering an answer to the question of "what does the company do after iPhone?"
The very people who had been demanding an answer to that question were not at all impressed. GV partner and former Tech Crunch pundit M.G. Siegler wrote that Apple's introduction of new Services was "truly bizarre" and "the weirdest," then went on at length to disparage everything presented as "silly" to "mildly pathetic."
Writing for Appleinsider, William Gallagher summarized the industry's overall reaction as rocky. The New York Times categorized the event as "charm-and-dazzle," which seems like a circular definition of a press event. Was Apple expected to "disappoint and fail to impress"?
Analysts from HSBC imagined Apple's Services would deliver revenue streams with lower margins than the company's investors were used to. It stated, "we do not expect these services to move the needle significantly," specifically complaining that Apple Card was "too late to the game." It set a $180 price target on Apple's stock and told clients to "reduce" their holdings. That turned out to be really bad advice, given that even with the current pandemic, Apple's shares are now trading above $300 just over a year later.
The real result of Apple's Services event last year was to get people talking about what it was doing across the rest of the year. Sure enough, it worked. Even perhaps the least exciting of its new Services — an Apple-branded new Card that worked like other credit cards but offered some modern new features, deep integration with Wallet, and presented a fancy metal legacy card— managed to drum up significant anticipation and a surprising amount of attention when it finally did launch. That wouldn't have happened if Apple had only floated out its new credit card offering in a Newsroom announcement.
New Services boosted Apple beyond expectations
More important than the spectacle that Apple maintained for its new Services throughout 2019 was the continuing expansion of its high margin Services revenues that it has continued to draw attention to as a package since Apple's chief executive began touting Services back in 2014.
In the company's most recent earnings call, Cook noted, "Our long-running investment in our Services strategy is succeeding. This business is growing and is a reflection of our enduring large and growing installed base." So much for the media narrative that Apple's focus on Services was a delusional, senseless, incomprehensible move made in a desperate attempt to distract attention away from slowing growth in iPhone unit sales.
After noting slowing hardware sales blunted by closed stores during the March quarter, Cook contrasted, "Services revenue followed a different trend with very strong year-over-year growth of 17%. We set a new all-time revenue record of $13.3 billion with all-time records in many of our Services categories and in most countries we track."
Apple's Services have offered a resilient, additional source of revenues for the company, one that is significantly more profitable than its hardware business. While its overall gross margin was 38.4%, Apple's product gross margin was 30.3% while Services delivered a gross margin of 65.4% — more than twice the profitability of its hardware sales.
In his own comments on the financial state of Apple's Services segment, Maestri noted that "we believe the very strong recent performance in the App Store, Video, Music, and cloud services will continue throughout the June quarter."
The worst news for Services: repairs and ads
Maestri highlighted two Services-related areas where Apple expects its performance to worsen over the next quarter; neither is a subject that pundits identified. The first is AppleCare, both related to handling repairs in stores that are now closed, and to selling new support contracts. While customers quickly moved their hardware purchases online, Apple has found it more difficult to upsell buyers with AppleCare without the help of retail staff detailing the value of that additional purchase.
Apple's second area of weakness is advertising, which the company sells in the App Store as search ads and in News as display ads. Because advertising is sold to other advertisers— making users effectively "the product"— economic malaise and tightening are expected to hit Apple's ad business adversely as other companies pull back in their promotional budgets. Advertising is one of the least important businesses Apple participates in and is one area that punditry hasn't really identified as being something companies need to worry about.
Many of Apple's competitors are largely reliant on advertising. Google and Facebook primarily rely on advertising for the majority of their revenues, and both have repeatedly failed to enter the hardware business next to Apple. Amazon, Samsung, and other tablet, PC, TV, and set-top box makers also rely on advertising and surveillance tracking to make up for minimal profit margins on hardware sales. That indicates that the rest of the industry will have a harder path through 2020 than Apple.