Rumor: 'watchOS 7' could help Apple Watch detect panic attacks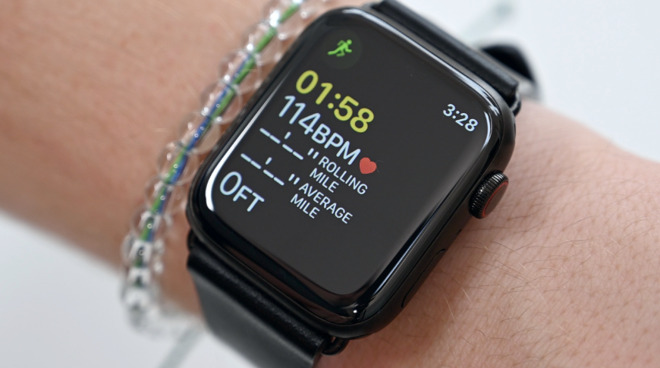 Apple is supposedly developing new mental health features for the Apple Watch line that allow the wearable to detect panic attacks, with the capability potentially slated for launch with a next-generation "watchOS 7" this fall.
According to serial leaker Jon Prosser, who appeared on the "Geared Up" podcast this week, Apple is working on a new Apple Watch hardware and software function that can recognize panic attacks.
The system will use a new blood oxygen sensor, coupled with specialized software, to detect when a user is hyperventilating, Prosser said. Hyperventilation, an elevated heart rate and shortness of breath are symptoms of panic attacks that can be quantified by existing or rumored Watch hardware.
"They can take the oxygen levels in your blood, with your heart rate, and determine if you're hyperventilating," Prosser said of Apple's project. "They can identify a panic attack before it happens and warn you on your watch. Especially if you're driving, they'll ask you to pull over and they'll offer breathing exercises once you get pulled over. It's incredible."
Whether the hardware will be sensitive enough to alert users to a panic attack before it occurs remains unclear.
Prosser "hopes" the feature will be introduced at WWDC 2020 in June, though Apple might hold off an announcement until a new Apple Watch debuts this fall. Alternatively, it could be a 2021 release. The method is unlikely to see an unveiling at WWDC in watchOS 7 if it relies on unreleased hardware, though there is a possibility that the system pulls data from existing Apple Watch sensors.
Apple Watch's plethysmograph heart rate sensor technology, which debuted with the first Watch model in 2015, is technically capable of measuring blood oxygen levels. Why the company has not elected to take advantage of the ability is not known, but the decision could be related to system accuracy or regulatory approval.
Prosser's claims expand on reports in March that pegged Apple to integrate a working blood oxygen sensor and updated ECG hardware in a so-called "Apple Watch Series 6" device later this year. A supposed leak last week hinted at the inclusion of a pulse oximeter and the ability to detect "mental health abnormalities."