Apple Maps adds local transit directions for Hong Kong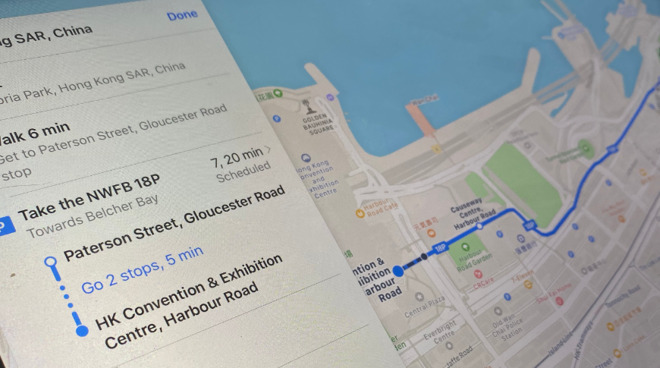 AppleInsider may earn an affiliate commission on purchases made through links on our site.
Hong Kong's local residents are now able to use detailed real-time transit directions in Apple Maps, after years where that information was oddly only available outside the region.
Following Hong Kong's Octopus transit card adding support for Apple Pay, Apple Maps has now introduced real-time bus, ferry, and train details for local users.
It's an obvious continuation of the expansive Apple Maps development that Apple has been doing over the last several years. At a cost of billions of dollars, Apple has rolled out radically improved maps for the whole of the US, and then moved on to key locations across Europe.
Speaking at the launch of the improved US service, Eddy Cue, Apple's senior vice president of Internet Software and Services, said that the company's aims were global. "We set out to create the best and most private maps app on the planet that is reflective of how people explore the world today," he said.
Hong Kong has proved unusually difficult, though, because through complex privacy and political issues, the area has two separate mapping services for Apple to leverage. As spotted by Ata Distance, one service has only been available if a user is on a local cell carrier. The result of that has been for some years, that people outside Hong Kong have been able to see more local transit information than people living in the region.
It's not clear how Apple has now resolved this issue, but local residents are reporting that they are now seeing transit details for the first time in many years.
The move comes just hours after Apple added Apple Pay compatibility with Hong Kong's mass transit payment card, Octopus.