Apple has rejected Facebook Gaming app at least five times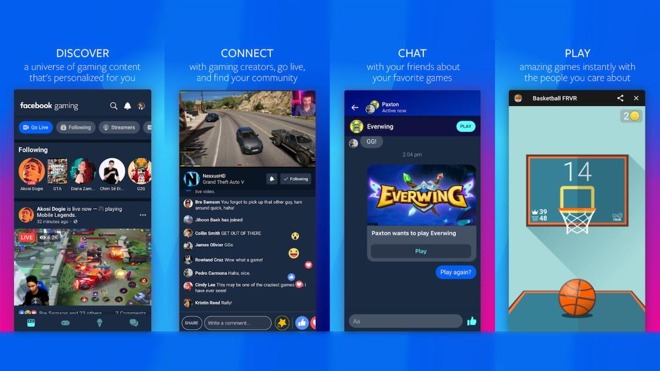 AppleInsider may earn an affiliate commission on purchases made through links on our site.
Apple has rejected the submission of the Facebook Gaming app to the App Store at least five times since February.
Facebook announced its Facebook Gaming app back in April amid coronavirus lockdown restrictions. The free app, which is available on Android, lets users play simple HTML5 games with friends and watch live streams of other players.
According to The New York Times, Facebook originally submitted the app to Apple in February. It was denied on Section 4.7 of Apple's guidelines, which prohibit HTML5 games in a "store or store-like interface."
After the original rejection, Facebook changed the design of the app in several ways — including removing colorful icons, categories and the ability to sort games. Apple apparently said no to each of those submissions.
Facebook is reportedly "weighing its next move," which could include launching Facebook Gaming without games at all or with games that are harder to find. That would leave only the gaming streams and social networking aspects of the app.
The report comes amid increased antitrust scrutiny for Apple and its App Store dealings. The Cupertino tech giant is currently the target of a Justice Department probe into its App Store practices.
Earlier in the week, Apple generated some controversy for reportedly pressuring an email app called "Hey" to add in-app purchase options for subscriptions — a capability it lacked to skirt Apple's 30% App Store fees.
Apple has its own gaming service in the form of Apple Arcade, a $4.99-a-month subscription that allows users to play exclusive titles on iPhone, iPad, Mac and other devices in Apple's lineup.