Review: Sonos Arc is the Dolby Atmos companion your Apple TV 4K needs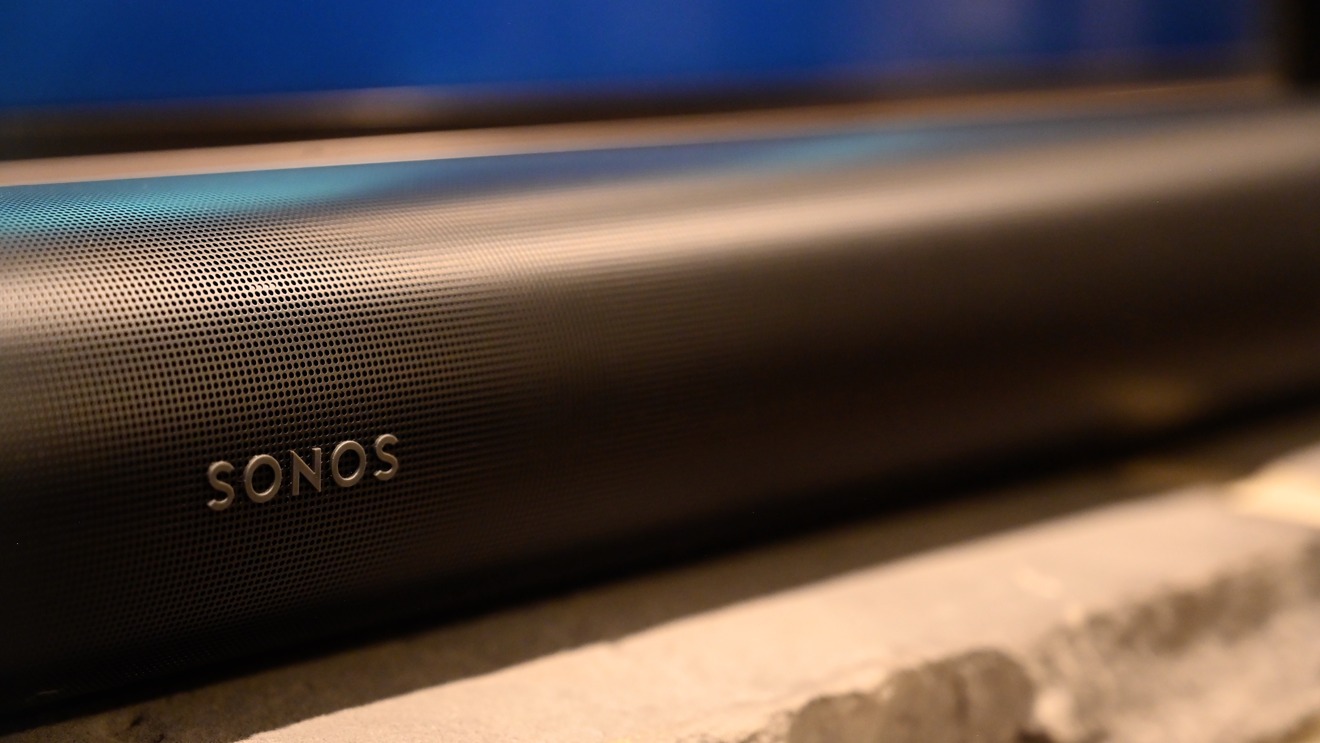 AppleInsider is supported by its audience and may earn commission as an Amazon Associate and affiliate partner on qualifying purchases. These affiliate partnerships do not influence our editorial content.
Sonos is shipping the Dolby Atmos Arc soundbar, and with a living room in need of audio finesse, so we picked one up to put it to the test with our Apple TV 4K.
Arc is the new soundbar to the Sonos lineup, fitting in above the budget-friendly Beam and replacing the Playbar and Playbase. It comes with not only an entirely new sense of style, but higher-quality audio and unique features.
Design
Sonos has shunned the boxy style of the Playbar, opting for a much more fluid, curvy look. The Arc has a wide 273-degree vertical grille which, combined with the left and right sides, has more than 76,000 perforations cut into it. The matte finish looks great, and even though it is largely plastic, it doesn't feel cheap by any measure.
We prefer the solid grille rather than the fabric covering on our Beam, partially due to the propensity for the Beam's fabric to snag, cling to dust, and to get dirty. Arc should hold up much better in this regard.
On top is a trio of capacitive buttons — a Sonos standby — and the right has a microphone icon for use with Google Assistant and Amazon Alexa. You don't need to use the assistants, but if you do, there are four far-field microphones inside and the Arc can be muted at any time.
There is a status light on the front, that adjusts its brightness automatically based on the room's conditions. It can be turned off completely in the Sonos app.
Around back, there are ports for HDMI, Ethernet, and power as well as the physical sync button used for pairing. We had no issues running our Arc over Wi-Fi, with the HDMI port to connect the audio over HDMI ARC. if you don't have ARC, you can use the HDMI to optical adapter included in the box.
As far as size goes, it measures up at 45 inches wide, which is ten inches longer than the Playbar it replaces. This means it fits best with larger TV models, about 55-inches and up. Smaller TVs will function fine, the bar just may be larger than the set itself.
Arc can be a bit tall, depending your TV's legs. If mounted on the wall, which requires an additional adapter to be purchased, it isn't as much an issue. But in front of the TV it can block your remote's IR ports. We don't use those much, rather using our Apple TV remote to turn our set on and off (or even HomeKit), but it would be a problem for any others. Fortunately, Sonos thought of this and built-in an IR repeater to make much less of an issue.
Inside the Arc are 11 custom drivers — eight woofers and three silk-domed tweeters. These combined produce the incredible sound found on the Arc, including the upwards-firing rear speakers used to produce the immersive Dolby Atmos surround effects. This gives you a 5.0.2 system — left, right, left-surround, right-surround, center, and two upward drivers.
Just as with the Beam and other Sonos soundbars, other speakers can be added to expand that. Add a set of Symfonisk or One SL speakers for better rear surrounds or the upgraded Sonos Sub for more impressive bass.
When adding the Sonos Sub, the Arc is able to offload all bass to the sub, freeing up the cavity for more punch to the mids.
As Apple fans, we appreciate the support of AirPlay 2 as well as HomeKit on the Sonos Arc. The Arc can be added into the Home app and included in any smart home scenes you create. Perhaps a workout scene will close the shades, dim the lights, and kick on a high-intensity playlist on shuffle. Or if in the bedroom, maybe you wake up to your "get going" playlist in the AM. It can also be tied to buttons, motion sensors, or other HomeKit devices.
Since it is HomeKit-enabled, Siri also works. Ask Siri to turn up the volume, play music, or skip to the next track. This works from your iPhone, Apple Watch, Mac, HomePod, or any other Apple devices you have around.
ARC versus eARC
One of the most confusing aspects of the Arc is its support of both HDMI ARC as well as HDMI eARC. eARC, or enhanced audio return channel, is a newer, more capable version of ARC. It is necessary for some of the higher quality forms of audio.
The good news is eARC is not necessary for Dolby Atmos. Dolby Atmos can be transmitted as both Dolby Digital+ as well as Dolby True HD. ARC supports the former while eARC supports both. Most streaming sources at the moment are using Dolby Digital+ which means if you are watching Apple TV app, iTunes, Netflix, Amazon Prime, Disney+, or Vudu and you choose Dolby Atmos content, you will get just that.
Dolby True HD supports higher bitrates and higher quality lossless audio. You will need eARC if you are looking to get the best possible audio from your 4K Blu-ray player Though, even then your TV still needs to support not only eARC but pass-through functionality.
Audio chops
Getting to the meat of it, we were eager as ever to put the Arc to the test. And test we did. We started just streaming music, which sounded fantastic. We chose to stream over AirPlay 2, all controlled via Siri though of course, you can control the Arc through the app as well.
Post-music session, we moved onto what we were most excited for — movies. We streamed a pile of recent movies to see how the audio was in general, as well as how it particularly performed with Dolby Atmos and its spacial abilities.
We streamed Mad Max Fury Road, Baby Driver, Mission Impossible: Fallout, Bohemian Rhapsody, John Wick Chapter 3, and Hitman's Bodyguard to name a few. All with Atmos support.
The first thing we noticed was how much larger and fuller the soundstage was compared to our Beam. It really does make a presence in the room and put out substantial sound. THe max volume was incredible and felt quite immersive as a whole.
It is still a soundbar, so it doesn't have as much left and right separation as when we had dedicated speakers sitting in either corner of the room. But it was more pronounced than it ever was on the Beam.
We heard so many nuances in the movies that it made any change of scenery even more noticable. You very much felt as if you were switching environments as a movie pivots from an indoor to an outdoor scene. Even more, when a movie would go quiet it created an even more impressive effect. While watching Bohemian Rhapsody, going from the massive arena of Live Aid to his parent's tiny TV gave us chills.
When it comes to Atmos specifically, we were stunned. We've tested other Atmos soundbars and got a middling, compromised experience. They worked. It had some height to the sound, but it was more about pointing speakers upwards and not particularly tuning them.
Sonos pushed hard for very precise audio here and they've mostly delivered. The intro scenes to Deadpool were captivating as things are rolling around all over the screen. The beginning of Baby Driver had helicopters flying overhead and cars coming in from all sides.
As with the Beam, you can enhance dialogue and put on "night mode" that reduces bass to prevent others in the house being woken up at the sound of yet another Deadpool explosion. Unique to the Arc, is within the Sonos app you can see a label when Dolby Atmos content is playing.
We did have issues when we tried the Arc in different locations. Large, open rooms posed a particular issue. Arc bounces audio off the walls and ceilings and if there is an extra-high ceiling or no walls around, the spacial aspect of the Arc is diminished. That isn't to say everything else isn't solid, it is just something to be aware of.
Still coming from the Beam, we were blown away. Between the massive soundstage, Dolby Atmos, substantial base, and improved design, we were all-in on the Arc.
Should you buy the Sonos Arc?
If you are looking to up your audio and particularly want support for Dolby Atmos you have only a few options. There are other Dolby Atmos soundbars that are good but don't blow us away. Or you can wire up an actual Atmos support with ceiling-mounted speakers and all.
For many, I included, that isn't an option. The other speakers don't excite us much and often lack features such as AirPlay 2 or HomeKit, not to mention Sonos's amazing multi-room setup. We certainly don't have the ability to run the wires necessary for Atmos speakers either.
That leaves the Arc as the only "real" option and we had a lot riding on it to deliver the experience we were looking for. Fortunately for us, we had a perfect room, an Apple TV 4K, and a new Dolby Vision Sony TV that gave us no issues with compatibility which let Arc excel to the best of its abilities.
Everyone who experienced the Arc was blown away by its performance and made them instantly want to own one, especially going from the TV on its own, then to the Beam, then to the Arc. The progression was clear. Even though the Arc is twice the cost of the Beam, it easily delivers twice the sound.
If you are looking for an outstanding Atmos setup, the new Sonos Arc is here to deliver. Assuming you've met the spec requirements that is.
Incredible sound and precision Dolby Atmos
Substantial bass, even without additional sub
HomeKit and AirPlay 2 support
Sleek design
eARC is more future-proofed
Runs Sonos S2
Smart features like IR repeater and auto-dimming LED
Best support is dependant on TV specs
May be too large for smaller TVs
Larger open rooms may not result in the best surround experience
Rating: 4.5 out of 5
Where to buy