WeChat users sue White House to fight executive order banning the app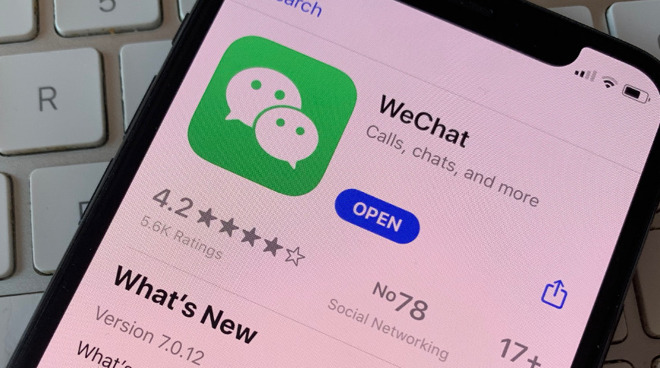 AppleInsider may earn an affiliate commission on purchases made through links on our site.
A group of WeChat users filed a lawsuit against the Trump administration on Friday, in an attempt to put a stop to an executive order that would effectively ban the app from use in the United States.
Filed in the US District Court in San Francisco, the lawsuit aims to end an executive order issued by Donald Trump on August 7, that would prevent US-based companies from performing transactions with ByteDance and Tencent, the owners of TikTok and WeChat respectively. If enacted, the ban would have basically ended the use of both apps on September 20, but a later executive order extended TikTok's deadline from 45 to 90 days, to assist ByteDance's bid to divest its holdings in the service.
The lawsuit, reported by The Wall Street Journal claims the executive order is unconstitutional, including violating the right to free speech for WeChat users, as well as issues with due process and equal protection under law. It is also claimed the ban is illegally targeting Chinese-Americans who may use the app to communicate with Chinese citizens.
The filing was performed by the US WeChat Users Alliance and a number of other plaintiffs, including a small business, with none of the plaintiffs being connected to WeChat directly, nor parent company Tencent. The user alliance is reportedly formed by users who depend on WeChat for both business and personal communications.
"We think it would be unconstitutional to ban the use of the app if that's what they finally come out with," group attorney Michael Bien says. "If they take the app off the market, we will fight it."
It is hoped by the group that the lawsuit will force the Trump administration into giving more detail about what would be prohibited by the executive order, due to its ambiguous wording. In theory, the app could be banned outright, though the text could simply prevent any financial transactions from occurring.
The lawsuit is not the only one relating to the executive order that the White House has to contend with. It is believed TikTok will be making its own filing in the near future, with similar claims of the order being unconstitutional due to a lack of process.
When asked whether he was concerned about the effect on iPhone sales a WeChat ban would have, President Donald Trump simply responded "whatever. Gotta do what's good in terms of the security of our country. We've been very badly let down by China."