Accessory producer bets on 'iPhone 12 Pro' LiDAR sensor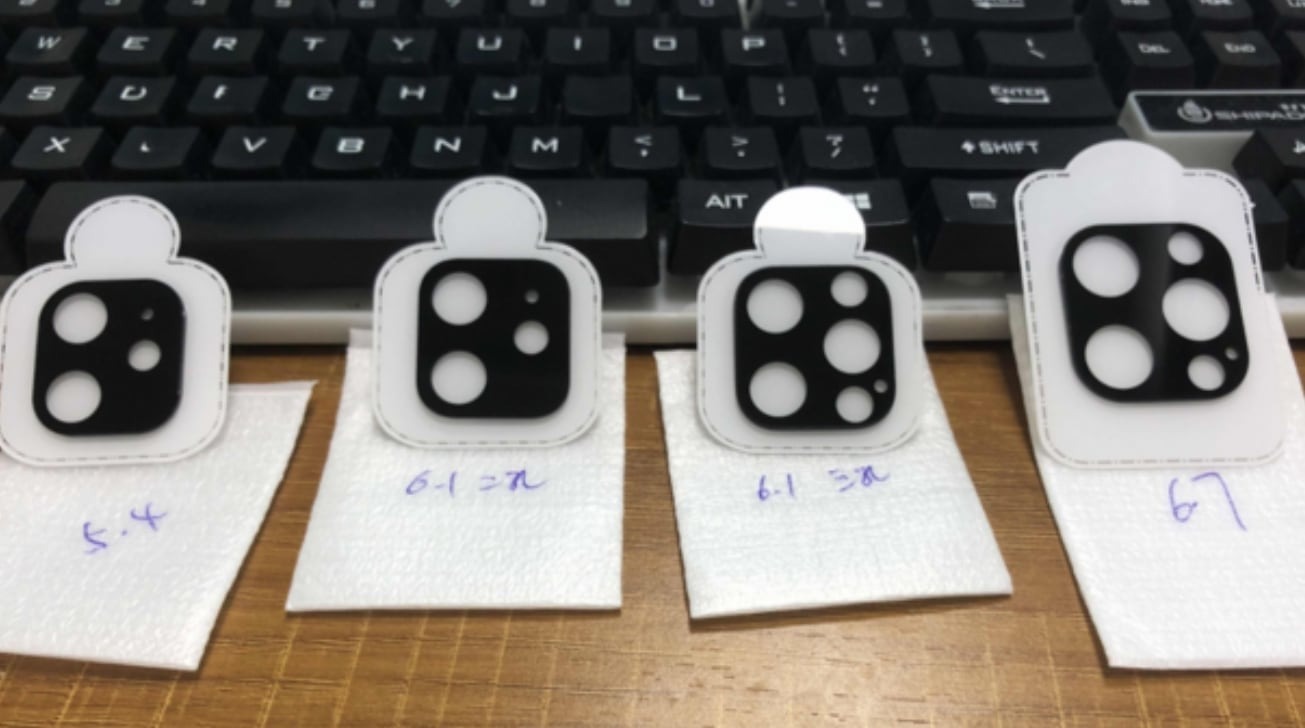 An accessory producer has created samples of camera protectors for the 'iPhone 12' generation, with the pair intended for the "Pro" models including extra spaces for a potential LiDAR sensor.
In an email received by AppleInsider, accessory producer Shenzhen Rainbow offered a series of images of in-development products intended for future Apple products. Among the collection were some items intended for use with the "iPhone 12," including protectors for the screen and the rear camera bump.
The shot of the camera bump protectors shows four versions, intended for the two "iPhone 12" models as well as the "iPhone 12 Pro" and "iPhone 12 Pro Max." The pair of protectors intended for the non-Pro models indicates the company believes the cameras won't change much from the arrangement used for the iPhone 11.
On the Pro models, the protectors replaced the small microphone hole with another larger circular gap, roughly the same size as the one used for the flash at the top of the camera bump. The microphone hole is relocated to a space further to the right.
While there is no mention of what this extra hole is meant for, it is probable that the vendor believes Apple will be including the often-rumored LiDAR sensor on the back. Borrowing the idea from the iPad Pro, the LiDAR sensor would give 3D depth mapping capabilities, which could aid both AR applications and improve photographic functions surrounding focus.
The screen protector provides no real clues for what to expect for the front of the "iPhone 12," as it is simply a sheet of glass covering the entire front. While there are rumors of a smaller notch for 2020, the protectors naturally cannot provide any hints.
The email also included a photograph of a case and cover for a "10.8-inch iPad," which could potentially be the "iPad Air 4." The pictured case includes four speaker spaces, though typically that feature is only offered in the iPad Pro models.
The company claims the items are "guarantee [sic] to be with correct data," suggesting it is based on actual information about the models. Given how accessory vendors tend to use leaked schematics and monitor rumors to craft accessories in time for a product's launch, there is no guarantee that they will fit or work with their intended products when Apple announces them, possibly on September 15.