Apple's 'Apple Watch Series 6' and iPad 'Time Flies' event will be on September 15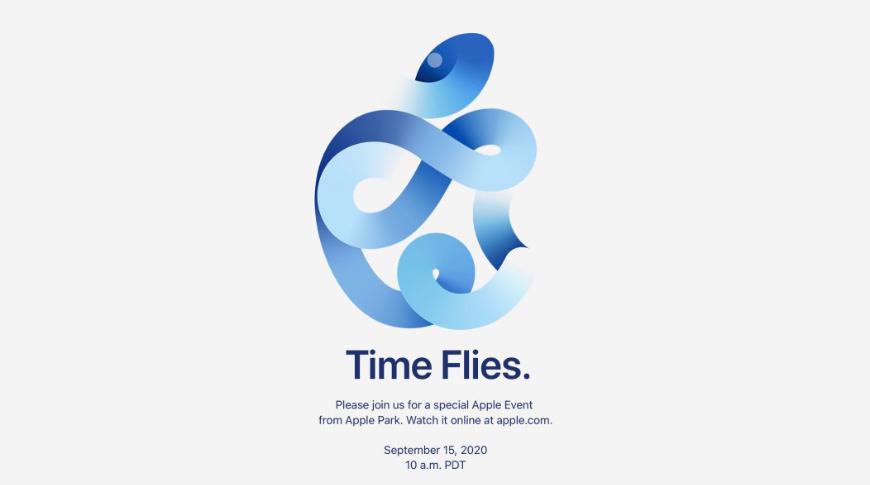 Apple has revealed it will be holding its annual special event on September 15, with the "Apple Watch Series 6," a new iPad model, and the long-awaited "AirTags" expected — but maybe not the "iPhone 12."
Confirmed via a press release on Tuesday, Apple will be holding its special event in the near future, on September 15, at 10 A.M. Pacific time.. The event will likely be similar to its WWDC keynote in that it will be virtual, rather than an on-stage event with a large live audience.
The event is a continuation of Apple's tradition of revealing the next-generation iPhone models in September, with units available to consumers at a later time. While it will take place at the Steve Jobs Theater, a building within the Apple Park campus, it is unclear if the presentation will be streamed live, or will be a pre-filmed and edited video.
AppleInsider will be covering the event live, providing full analysis during and after the event, and will include details of all of Apple's product launches.
What to expect at the event
The event is likely to debut a new iPad model, either taking the form of a 10.8-inch iPad or an "iPad Air 4." Equipped with slimmer bezels and a larger display, the new model is thought to borrow the design elements of the iPad Pro range for its casing, as well as losing the front-mounted Home button with Touch ID in favor of either Touch ID on the power button or Face ID support.
Continuing where the iPad Pro range left off, there is also some speculation Apple will ditch the Lightning port in favor of a USB-C connection.
The "Apple Watch Series 6" is believed to include a new casing option in the form of plastic, which could potentially be a new entry-level version that could be usable by children in a touted "Kid Mode." An often-suggested feature of blood oxygenation monitoring may make an appearance, while enhancements may help embolden the enhanced sleep tracking features in watchOS 7.
Lastly, the often-rumored "AirTags" could finally see the light of day at the event. Intended as a tracking accessory similar to Tile, the "AirTags" would be attachable to non-electronic items, and would be trackable via the Find My app.
Key to "AirTags" is its use of both Ultra Wideband and Bluetooth, which could enable an augmented reality-style view within the app to track down the tag's real-world position. Furthermore, UWB could also allow for the tags to be tracked down further afield, by taking advantage of passing iPhones that could report back pings from the "AirTag" and the position the iPhone was when it received the signal.
The new "iPhone 12" generation is expected soon, but may not make an appearance at the event. When announced, the iPhone 12 will most likely consist of four models across two tiers. The "iPhone 12" and "iPhone 12 Max" are thought to have 5.4-inch and 6.1-inch OLED displays, while the "iPhone 12 Pro" and "iPhone 12 Pro Max" are anticipated to have 6.1-inch and 6.7-inch screens respectively.
The Pro models are believed to offer a few differences compared to the non-Pro units, as usual, including 10-bit color depth support and 120Hz ProMotion for the displays. While the "iPhone 12" pair will have two 12-megapixel cameras covering wide-angle and ultra-wide-angle views, Pro versions will have an extra 12-megapixel telefoto camera and take advantage of the iPad Pro's LiDAR sensor for rear depth mapping.
Rumors have also pointed to a 4K-resolution version of Slo-mo at 120fps and 240fps, an "Enhanced Night Mode" for the cameras, and the use of a seven-element plastic lens instead of six-element versions.
Using an improved A14 system-on-chip, believed to have been made using a 5-nanometer or 6-nanometer process, the key change for 2020 is likely to be the inclusion of 5G connectivity. Using Qualcomm-supplied components, Apple is thought to offer some level of 5G support across the line, but there is some debate as to whether this will include the faster mmWave support for all models.
Update: 12:28 P.M. Eastern Time Multiple venues, citing "sources familiar with the matter," are reporting that the "iPhone 12" will be announced at a later date.