'AirTags' leak reveals circular button design of tracking accessory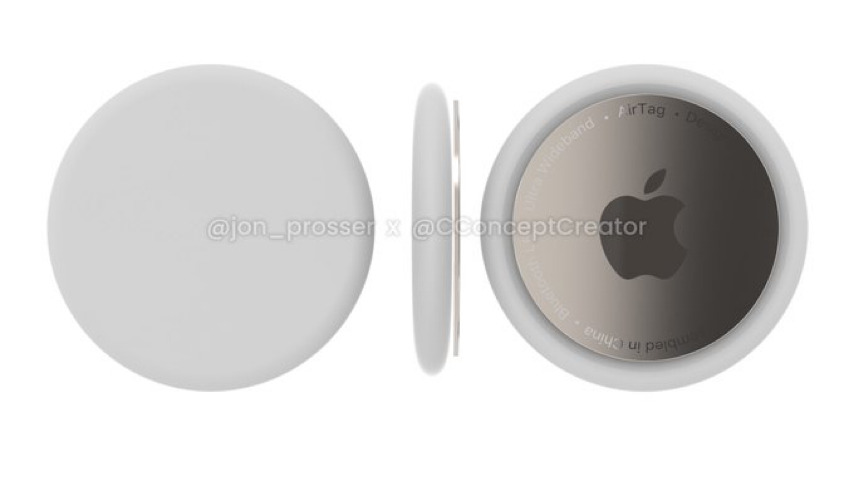 AppleInsider is supported by its audience and may earn commission as an Amazon Associate and affiliate partner on qualifying purchases. These affiliate partnerships do not influence our editorial content.
Just one day before Apple is set to reveal new products as part of its "Time Flies" special event, prolific leaker Jon Prosser has offered more details of what to expect for "AirTags," including renders of what it will look like.
On Sunday, Prosser gave a heads-up to his followers about the video, claiming "AirTags and AirPods Studio look great. I'll show you on Monday."
In the video, Prosser offers renders of what the "AirTags" look like. He claims he was sent video of the accessories, but to protect sources, the footage was sent off to be recreated as a 3D render via ConceptCreator .
As brought up in earlier rumors, the "AirTag" basically consists of a round white disc, with a metal back bearing the Apple logo and other related information. The size of the accessory will be roughly the same as a bottle cap.
According to Prosser, Apple will be supplying a keychain for the tag, which will be sold separately. Pricing remains unknown for either the "AirTag" or the keychain.
The tag's use of Ultra-Wideband is also being heralded as a start of Apple's widespread use of the technology throughout its ecosystem, beyond the iPhone 11's use to enhance AirDrop.
What are AirTags?
"AirTags" are Apple's accessory for tracking down items a user may have lost. At its surface, it is similar to the Tile trackers, in that it takes the form of a small fob that can be attached to the item that needs to be tracked.
On their own, the "AirTags" aren't thought to be able to receive a signal, but are able to broadcast. By using Apple's U1 chip, iPhones including the iPhone 11 and later will be able to track the position of the tag, by taking advantage of both Bluetooth and Ultra-Wideband signals.
In a second tweet, Prosser discussed the U1 chip and UWB as something "coming to all future Apple products."
The tracker transmits both, in the hope of being picked up by a receiving device. Rumors indicate the Find My app will allow users to locate the tags, and for the UWB signals, would be able to pin down the location in the local vicinity with considerable accuracy.
The system also works when outdoors and at further distances, by taking advantage of other iPhones with U1 chips. An iPhone passing by the lost tag may receive a ping, which is able to be transmitted to the original owner using end-to-end encryption, allowing for the general location of the tag to be known.
The idea is feasible in principle, as there are over 1.5 billion active Apple users, many of them using U1-equipped devices, which means there will be relatively few places on the planet that won't be covered. Also, as the "AirTag just transmits on Bluetooth and UWB, this saves battery power, as it doesn't need to transmit GPS coordinates, something that the passing iPhone would be able to determine itself.