Apple Watch Edition, Hermes models come with 5W power adapter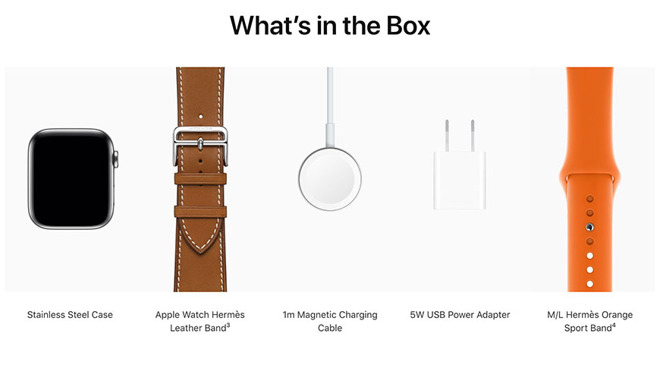 AppleInsider may earn an affiliate commission on purchases made through links on our site.
Apple may have nixed the 5-watt power adapter from a wide swath of Apple Watch Series 6 models, but customers can still get the accessory with the wearable's most expensive configurations.
When it announced that Apple Watch Series 6 devices would lack a USB power adapter in the box, Apple framed the move as being part of continued efforts to offset the impact its popular devices have on the environment. It appears that there are exceptions to that rule, however.
As noted on Apple's website, titanium Apple Watch Edition configurations and Apple Watch Hermes still rate the small plastic puck.
Apple fails to offer an explanation for the adapter's inclusion with its highest-end wearables. While not explicitly stated, the selective application of the new adapter policy suggests parts cost, and not simply environmental concerns, was also a consideration in the decision making process.
This year's Apple Watch lineup is anchored by the Apple Watch SE, a more affordable version of the device designed to deliver advanced health tracking functionality to a wider audience. That model starts at $279 for a 40mm variant.
The new Series 6 flagship adds to last year's technology — ECG, always-on display — with a new blood oxygen sensor, faster S6 chipset, U1 Ultra Wideband support, brighter always-on display, improved battery life and a variety of new finishes. Series 6 models start at $399 and work their way up to $799, depending on included bands.
Apple Watch Edition versions start at $799, while the Hermes collaborations are priced from $1,249.