'AirPods Studio' renders based on leaked video surface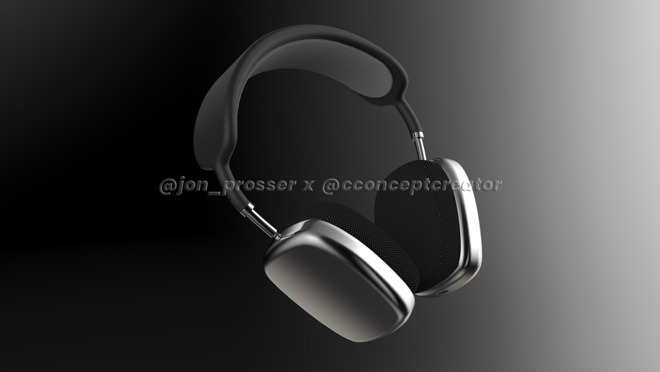 Prolific leaker Jon Prosser has offered a look at what the "AirPods Studio" could look like, with 3D renders showing metal and leather casing with mesh ear pads.
Following Monday's renders of "AirTags" event, Jon Prosser advised a second video was on the way covering "AirPods Studio" in a similar fashion. Prosser did warn in the "AirTags" video that "AirPods Studio" were unlikely to be appearing at the special event, which ended up being true.
Just as with "AirTags," Prosser received video depicting the "AirPods Studio" from his source which he handed over to "ConceptCreator" to produce renders in order to protect his source. Before the renders could be published, however, the leaker known as Fudge shared the video in a tweet.
What are AirPods Studio
In a continuation of the AirPods line, the "AirPods Studio" are thought to be a departure from the wireless earbuds design by being a pair of over-the-ear headphones. The premium personal audio accessory have been long rumored, and could contain quite a few features that AirPods already provide.
On top of the existing sensors in the AirPods and AirPods Pro for determining which earbud is worn, as well as for playing and pausing audio when removed from the ear, the "AirPods Studio" is thought to have more sensors to use. For example, a proximity sensor in the headband would determine how the headphones are being worn, and could automatically play or pause music.
Other sensors covering whether the headphones are worn back to front have also been suggested, meaning there wouldn't be a specific left-ear or right-ear speaker as usual. Active Noise Cancellation from the AirPods Pro is also thought to make an appearance, taking advantage of the enclosed earcups to create a better seal.
There have been suggestions that Apple may offer a lot of customization options for the "AirPods Studio," including lots of swappable parts, such as magnetically-held headbands and ear cups. A sports version may be offered made from plastic and rubber, while a luxury version may feature leather and metal, while the swappable nature could also allow for the use of specialized components, like sweat-resistant earcups.
Speculation from Prosser himself put the price of the "AirPods Studio" at around $349.