Hands on with the new features of Apple Watch Series 6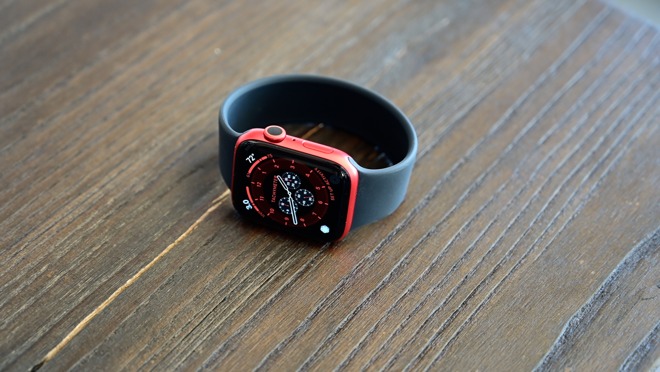 AppleInsider may earn an affiliate commission on purchases made through links on our site.
We've spent 24 hours so far testing out the best new features found on the latest Apple Watch Series 6. Here are our impressions of the new features, how useful they are, and how they compare to the prior generation.
The new colors
Various team members have ordered different colors, but we were only able to get the vivid new (PRODUCT)RED version on launch day. In-person, the color is very bright, regardless of the lighting condition.
We are obsessed with the color but get that it has to match your style. Anytime you choose a bright red color that never changes, you have to love that color greatly.
Going with red does limit the colors of bands you can pair with it. Some clash a bit but we still found a ton of great options that complimented the wearable.
Others may prefer the new blue which is more subdued but still has a pop of color.
This year we also got the new Graphite stainless to replace the old Space Black. Based on the images from Apple, it appears to have a slight grey tint compared to the previously darker Space Black.
S6 SiP
The new S6 system-in-package is based on the A13 Bionic processor and optimized for the Apple Watch. In performance, this should yield around 20% improved speed.
In use though, we didn't see much difference so far. We tried launching applications side-by-side with our Series 5 and they both opened things almost exactly as fast.
That's because the Apple Watch Series 5 was already quite speedy, and everyday tasks don't require a ton of silicon to power them.
The time we noticed the change most was when rebooting the watch, which will probably be welcomed by anyone who has to reboot the wearable.
What the S6 does allow for is more headroom going into the future. As Apple continues to add new features to Apple Watch through watchOS, Apple Watch Series 6 will easily support them.
This is likely going to be quite important as the watch does more of the heavy lifting, lessening its reliance on the iPhone.
Always-on display
With Series 5, Apple adopted an always-on Retina display. This year, Apple has upped it with an always-on display that is brighter on average, but the maximum brightness of the display still sits at 1000 nits.
It is only brighter when the watch is in its inactive state which makes a big difference in bright situations. Apple says it is up to two and a half times brighter when the arm is down and the Watch isn't actively being used.
In our studio, when both the current and last-gen were inactive, we couldn't tell any difference in the brightness of the displays. However, when we took our set of watches outdoors to the midday sun the difference was clear.
The new Apple Watch Series 6 is noticeably brighter which makes it far easier to read our complications without having to wake the watch or raise our wrist.
Originally, as we were just around the studio doing work, we felt this may have been an over-boasted claim. But, throughout the night and rest of the day when we actually got outside and on the go, we realized how many times we instinctively had to raise our wrist to view the time, a complication, or a workout.
Series 6 allowed us to be less active in doing so. More often than not we were able to just glance at the watch and get the info we needed.
Blood oxygen sensor
Apple's most-touted feature of the new watch is the blood oxygen sensor, which has an accompanying app. As many of the early reviews noted, your watch must be snug on your wrist and you need to ensure you don't move.
As long as you meet those requirements, it only takes 15 seconds for the reading to come back.
Our only issue with our O2 reading was the lack of information surrounding it. It reports back a number but most people won't any idea what to do with that number. What is good, what is bad, and how do you improve it?
Apple's vagueness about the value is likely due to its skirting of the medical device requirements. Apple says that the blood oxygen measurement is only for wellness and fitness purposes and not intended to replace a medical device, such as a pulse oximeter which requires federal approval.
If Apple would start giving advice and saying it is good or bad, it may be getting dangerously close to a medical device and the regulation that comes with it.
Faster charging
This is one we've already noticed to be better. We've been using sleep tracking on Apple Watch for months during the beta process, but at times, we'd still end up with a low battery that needed charging.
Apple Watch Series 6 now can charge 20 percent faster. That yields an entire charge in an hour and a half.
In our usage, we don't charge it from zero to 100 often, but we typically topped off half the battery. We'd place it on the charger in the morning while we ready ourselves for the day and in the evening as we shower and prep for bed.
This extra 20 percent speed is noticeable in this and we already feel less worried about charging the watch.
Of course, Apple could just aid us by increasing the battery life but it seems that won't happen without a larger battery and a larger case. At least for now.
Other new features
There were a few other features we tried out on the new Apple Watch as well. Things such as the new always-on altimeter.
This feature is not necessarily something everyone will use, but just another important sensor that will make a big difference for hikers, bikers, and other fitness junkies. You can view it in the Compass app but you can also add it right to your watch face.
It also shows in various workouts in real-time as you are going.
This time around, Apple has baked in its U1 chip, and while this is an exciting new addition, at the moment it does practically nothing. There is no way to interact with the chip, but it does unlock much future potential for Apple to explore.
We can see the ability to AirDrop contacts or images to an Apple Watch which is useful for family members who can now use an Apple Watch without an iPhone of their own. Or perhaps locating lost items like your keys, AirPods, Apple TV remote with the launch of AirTags.
Apple continues to hone the Apple Watch. Many of the new changes aren't exactly flashy but are hugely impactful for those that use them. We aren't sure after a day it warrants an upgrade for Series 5 owners, but it is a big upgrade from anyone coming from the Series 4 or earlier.
Apple Watch 6 pricing and deals