Apple Watch Series 6, SE, or Series 3 - Which Apple Watch to buy in 2020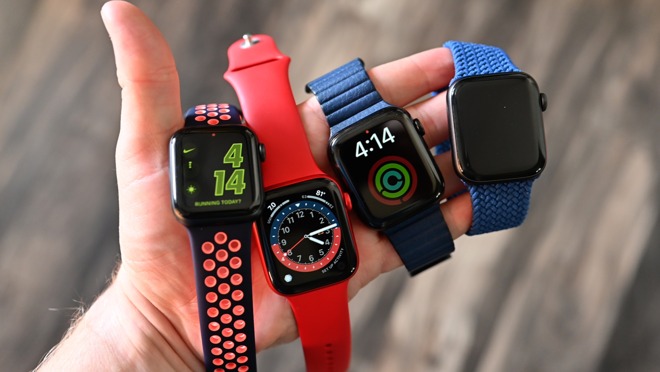 AppleInsider may earn an affiliate commission on purchases made through links on our site.
As Apple's watch lineup continues to expand, it can be hard to decipher the subtle differences and choose which Apple Watch is right for you. We go through all of Apple's 2020 models and break down which one is suited to each type of user.
Apple Watch Series 3
For the third year in a row Apple is offering the Apple Watch Series 3 alongside the new option. It is the cheapest watch in Apple's lineup, coming in at $199.
It is the only Apple Watch with the original design as the Series 4 was overhauled to have a larger display with rounded corners. It's display measures 38mm or 42mm depending on the size you choose which is 2mm smaller than the 40mm and 44mm sizes offered with the Series 4 and on.
It comes in silver and space gray with either a white or black Sports Band.
Should you buy the Apple Watch Series 3?
Unless you're looking for a basic fitness tracker and simple iPhone to Apple Watch communications, the Apple Watch Series 3 should be off the table. It doesn't support some of Apple's newest bands, it doesn't support some of the latest watch faces, as you can't get a LTE version it doesn't support Family Setup.
While it runs watchOS 7, future update support is going to end before any of the other options on this list. It may be the cheapest Apple Watch, but there are better options.
Apple Watch SE
The Apple Watch SE is a new low-cost option that bundles new features with a lower price. It has the design of the Series 4 with the S5 processor of the Series 5 Apple Watch.
Many core features of the Apple Watch experience are present. The only differences between the SE and the Series 6 is that the Series 6 has an always-on display, the blood oxygen app, an always-on altimeter, faster S6 processor, quicker-charging battery, and different case materials.
Apple Watch SE can be picked up silver, space gray, and gold aluminum paired with almost any band and starts at $279. A cellular option is available too which is required when using Family Setup.
Should you buy the Apple Watch SE?
For the vast majority of people, this may absolutely be the Apple Watch to own. It is a great value in terms of features and performance with a lower price tag.
You lose out on a few Series 6 features and have limited color and material choices, but for average daily use, this may be the best choice.
Apple Watch Series 6 — Aluminum
The aluminum Apple Watch Series 6 will be the one most people will choose. It has all features Apple Watch has to offer, including those mentioned above when discussing the Apple Watch SE. That's the S6 processor, new always-on altimeter, brighter always-on display, faster-charging battery, blood oxygen app, and the new case colors.
For the Series 6, Apple has debuted a (PRODUCT)RED version for the first time as well as a new dark blue.
Apple Watch Series 6 starts off at $399 and be customized with any of Apple's band offerings. That includes the new Leather Link, Solo Loop, and Braided Solo Loop.
Should you buy the aluminum Apple Watch Series 6?
If you are looking for something above the Apple Watch SE, then this is the Apple Watch to own. You've got some great new colors to choose from which are clear signs you are sporting the latest wearable Apple has to offer. It is also more capable with additional sensors and features.
If you want the flagship new wearable, but aren't interested in shelling out for premium finishes, this is the Apple Watch to get.
Apple Watch Series 6 — Stainless steel
Stainless steel is the step up model from the mass-appeal aluminum. The stainless steel finish is far more durable than the aluminum and the display is protected by sapphire glass rather than the IonX glass that is on the aluminum and SE variants.
Aluminum is also quite light compared to the steel which is much heftier. Steel comes off more as a piece of jewelry rather than a techy wearable.
For the Apple Watch Series 6 lineup, Apple discontinued the Space Black color and instead exchanged it for a new Graphite colorway. The difference is subtle but is slightly lighter than the last generation. It is also available in gold and silver, starting at $699.
This model also comes with a steel-covered Apple Watch charging puck.
Should you buy the stainless steel Apple Watch Series 6?
There are a couple of specific reasons to opt for the stainless steel Apple Watch Series 6. Perhaps you want the more durable design with the stronger steel body and sapphire glass. Alternatively, you may be ok to pay the premium for the more watch-like glossy exterior rather than the matte finish on the aluminum.
Apple Watch Edition Series 6 — Titanium
Apple has, once more, killed-off the ceramic Apple Watch, making the titanium the most premium case material. It comes in space black as well as "natural" colors that are extremely durable and light. It starts at $799.
This model is also one of the few that still comes with a power adapter bundled in the box.
Should you buy the titanium Apple Watch Edition Series 6?
Titanium is the Apple Watch for you if you want the most durable watch, but you also want a lightweight watch. It is the most premium case material Apple has to offer this time around.
Apple Watch Series 6 — Hermes
Rounding out Apple's 2020 Apple Watch lineup is the Hermes Apple Watch. When you choose the Hermes version, it comes with special packaging denoting the Hermes designation. As a small token, Hermes includes an orange Sports Band alongside whichever luxury leather band you bundle with the watch. It also comes with the stainless steel charging puck.
The Hermes model is special because it comes with custom Hermes Apple Watch faces which adds a bit of additional value to the watch but not enough to necessarily warrant its price for your average user.
Apple still puts a high value on the style of Apple Watch and wants it to be a fashion item. Because of that Hermes name, Apple Watch Series 6 Hermes starts at $1399. There are a number of Hermes bands to choose from including a new thinner double and single tour Attelage band.
Should you buy the Hermes Apple Watch Series 6?
We are confident that you know who you are if you are considering the Hermes Apple Watch Series 6. There are few who are strongly on the fence between a stainless steel Apple Watch and the Hermes model. It carries that elevated price tag and comes bundled with an Hermes band that fashionistas swear by.
Apple Watch deals
Discounts are readily available on a variety of styles, from new deals on the Apple Watch Series 6 to blowout savings on closeout Series 5 models.