Apple starts taking preorders for iPad Air 4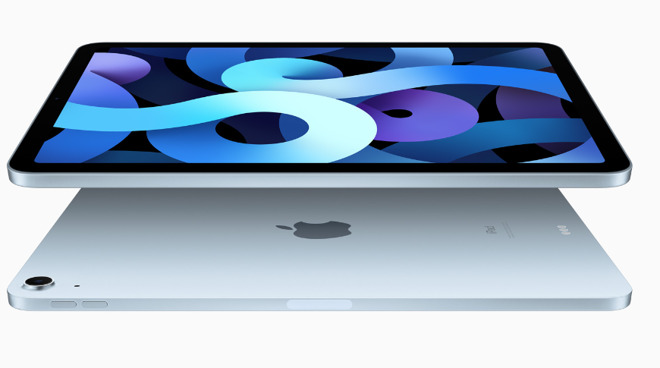 AppleInsider may earn an affiliate commission on purchases made through links on our site.
The new iPad Air 4 is now officially on sale, with pre-orders starting today and shipments beginning next week.
At its September "Time Flies" event, Apple was unusually vague about when the new iPad Air 4 would go on sale, and simply said it would be "next month." Now the device is available for pre-orders in all its configurations, and the first buyers will be receiving their iPad Air 4 from next week.
The iPad Air 4 was a stand-out launch at the September event, bringing as it does many of the iPad Pro's features to the middle-range device. The new 2020 model is significantly improved on last year's iPad Air 3, with a larger screen, faster processor, and improved rear camera.
This 2020 model also received a physical redesign, which makes it more resemble the current iPad Pro range. A combination of the redesign, and the improved specifications, even mean that for some users, the new iPad Air 4 is a better buy than the 11-inch iPad Pro.
That's because the iPad Air 4 features a similar larger screen size — 10.9 inches versus 11 inches — plus the A14 Bionic processor instead of the iPad Pro's A12Z Bionic one. It's also now got the faster USB-C charging connector.
The iPad Air 4 starts at $599 for a 64GB Wi-Fi-only model. It's also available in 256GB, and optionally with LTE cellular. The highest capacity LTE model costs $879, and Apple is promoting how you can buy using Apple Card and spread out the cost with interest-free instalments.