Compared: Apple's 2020 iPad Air versus 2020 11-inch iPad Pro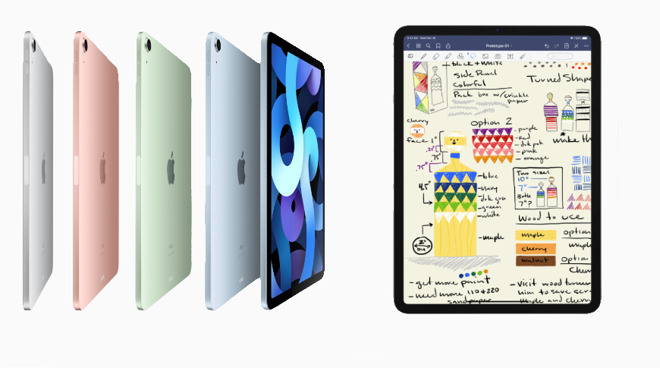 AppleInsider may earn an affiliate commission on purchases made through links on our site.
While there are still reasons to opt for the 11-inch iPad Pro, Apple's new iPad Air 4 brings so many pro features that the two have never been this close.
During Apple's September 15 event, Tim Cook referred to the company's whole lineup a couple of times. He didn't go so far as to say this product slots into this spot in the lineup, but he was emphasizing how Apple is trying to offer products for ever different type of user.
This was one occasion, though, when the introduction of a new device rather upsets that lineup. Just as when, most recently, the updated iMac made it necessary to think twice about buying the iMac Pro, so the same thing has happened with the iPad Air and the 11-inch iPad Pro.
Specifically, the new 10.9-inch iPad Air is sufficiently close to the 11-inch iPad Pro that you could even wonder how much longer that more expensive device can last. If it doesn't get its own update, the 11-inch iPad Pro could be on the way out.
Which would be a shame because this iPad Pro continues to be a first-class machine. It's also just understandable, because the new iPad Air is catching up — and in some ways, exceeding it.
Comparing the 2020 iPad Air to the 11-inch iPad Pro
| | iPad Air (4th Gen, 2020) | 11-inch iPad Pro |
| --- | --- | --- |
| Year | 2020 | 2020 |
| Base price | $599 | $799 |
| Screen Size (inches) | 10.9 | 11 |
| Resolution | 2360 x 1640 | 2388 x 1668 |
| Pixel Density (dpi) | 264 | 264 |
| Brightness (nits) | 500 | 600 |
| Display Type | Retina, True Tone, Wide Color (P3), Fully Laminated | Liquid Retina, ProMotion, True Tone, Wide Color (P3), Fully Laminated |
| Processor | A14 Bionic | A12Z Bionic |
| Apple Pencil | Second Generation | Second Generation |
| Smart Connector | Yes | Yes |
| Dimensions (inches) | 9.74 x 7 x 0.24 | 9.74 x 7.02 x 0.23 |
| Weight (lbs) | 1 | 1.04 |
| Capacities | 64GB, 256GB | 128GB, 256GB, 512GB, 1TB |
| Rear camera (megapixels) | 12 | 12 wide, 10 ultra wide |
| Front camera (megapixels) | 7 | 7 |
| Video recording | 4K 24/30/60fps | 4K at 24/30/60fps (wide) and 60fps (ultra wide) |
| Biometric | Touch ID | Face ID |
| Speakers | 2 | 4 |
| Port | USB-C | USB-C |
Noticeable physical differences
Given that the new iPad Air now has the same kind of flat-edged design as the iPad Pro, there's no practical difference in the hardware. You'd think twice before swapping cases between them, but for putting in a bag or carrying around, they're effectively the same.
That extends to how, for the first time, a non-Pro iPad is able to use Apple's Magic Keyboard.
The one really visibly exception to these devices having the same design is when you see the rear cameras. The new iPad Air 4 has a greatly improved camera, but it's still only one.
For comparison, the 11-inch iPad Pro camera bump on the rear houses a 12 megapixel wide lens, a 10 megapixel ultra wide one — and a LiDAR sensor. While there may not exactly be mainstream uses for that just yet, LiDAR is going to help with Apple AR.
There are already key differences in use between the two devices today, though. Although the screens are so close in size as to be indistinguishable — at 10.9 inches versus 11 inches — the iPad Pro's one is significantly brighter. Its maximum brightness is 600 nits compared to the 500 of the iPad Air.
Then there is ProMotion. This is the feature, introduced with the 2017 iPad Pro, which is arguably what makes these devices feel more responsive than any other iPad.
With ProMotion, the iPad Pro intelligently changes the refresh rate of the screen, the speed at which the display is updated. These iPad Pro models can drive the screen at 120Hz, but it drains the battery.
So rather than driving the entire display at top speed, the iPad Pro assesses where that speed will give you the most benefit. If you're drawing on it with the Apple Pencil, then the area right under your fingers will refresh at 120Hz, but the app's unchanging tool palette will not.
It makes a significant difference — but that difference is also needed now because officially the iPad Air is the faster machine. With its A14 Bionic processor, compared to the 11-inch iPad Pro's A12Z Bionic, there is more power in the new iPad Air.
That's going to be more apparent as you use the new iPad Air, but beyond the performance, there is one more speed difference to consider. The 11-inch iPad Pro has Face ID, which is certainly more convenient and arguably faster than the Touch ID that the new iPad Air has.
Choosing between the iPad Air 4 and the 11-inch iPad Pro
When the 11-inch iPad Pro came out, there was a question over whether Apple was thinking it should replace a traditional laptop. Just a few months on, that question hasn't been answered, but there's also one over who Apple thinks will buy it.
There's a $200 difference between it and the new iPad Air 4. For that, you get the better camera, LiDAR, Face ID, and a Liquid Retina screen with ProMotion. There is also an option to have more storage than the iPad Air 4 is capable of, but for a cost.
Overall, this is quite a lot for the $200 price difference and it means that on paper, the 11-inch iPad Pro keeps its spot as the bottom of the iPad Pro range.
In practical, day to day use, though, the quality of the iPad Air 4 screen is hardly poor. Then there's the small fact that LiDAR remains a niche capability for now, plus the large fact that the iPad Air 4 should outperform the 11-inch iPad Pro.
We won't know the specifics until the new iPad Air 4 can be thoroughly tested, but the difference in the processor guarantees that it will be faster.
So right now, just as with the iMac versus iMac Pro, the choice has to be the lower-cost device — if you're buying the base model. The iMac Pro pulls ahead again if you're looking at the higher-specification versions, and, similarly, the 11-inch iPad Pro does have that extra storage option.
It will cost you $1,299 to get an 11-inch iPad Pro with 1TB. However, you cannot get an iPad Air 4 for that, so this one option may be what forces your decision.