Here's how Apple is shipping EarPods with iPhone 12 orders in France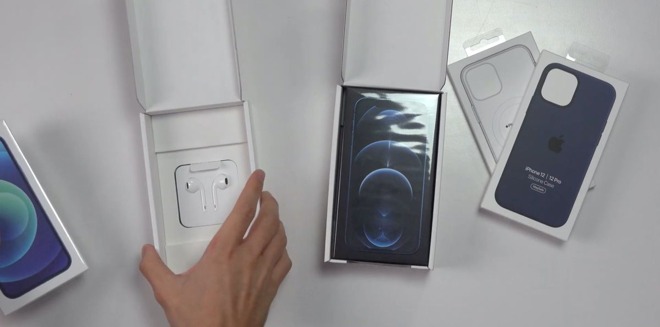 AppleInsider may earn an affiliate commission on purchases made through links on our site.
Apple is continuing to ship EarPods with its iPhone 12 and other models in France. Here's how the company is doing it.
As part of its environmental efforts, Apple stopped shipping EarPods and power adapters with new phone orders worldwide. The only exception is France, where local regulations appear to require the bundling of EarPods with cellular devices.
New iPhone boxes without accessories are thinner than past packaging, however. But instead of shipping larger boxes in a single country, Apple appears to be including actual iPhone boxes within a larger box that includes the EarPods, according to YouTube channel TheiCollection.
It's a fairly elegant solution, since iPhone devices are produced and packaged en masse, which would make it difficult and inefficient to ship different boxes within an individual country. The specific law in France that requires bundled headphones relates to a regulation aimed at limiting exposure to radio-electrical emissions.
Along with the new iPhone 12 models, Apple also stopped shipping audio and charging accessories with any iPhone that it currently sells itself — including the iPhone SE, iPhone 11, and iPhone XR.