Judge limits Apple counterclaims to breach of contract in Epic case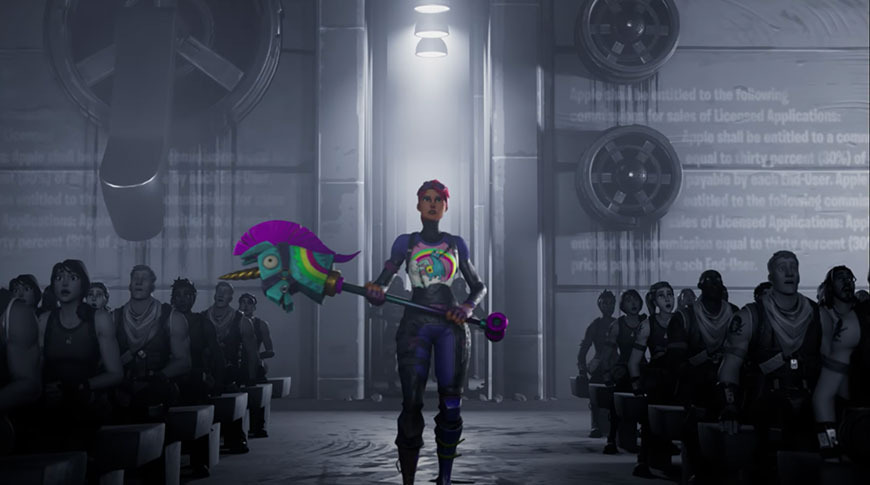 A federal judge on Tuesday tossed a set of Apple counterclaims in its ongoing case with Epic Games, narrowing the tech giant's avenues of relief to breach of contract.
Judge Yvonne Gonzalez Rogers of the U.S. District Court for the Northern District of California granted an Epic motion for judgment on tort-based counterclaims leveled by Apple, ultimately tossing all but those related to breach of contract, reports FOSS Patents.
As noted in the report, Gonzales Rogers was dubious from the outset that certain Apple claims would succeed, but the company opted to move ahead with its arguments.
In defense of its assertions, Apple in October said, "Stated simply, Epic is stealing money from Apple. Theft is a crime, and 'conversion' is its civil-law analogue. The victim of theft has always had the right to sue for conversion to get its property back from the thief— irrespective of the technical means by which the conversion is accomplished."
"And if Epic bypassed IAP to funnel funds that include Apple's revenues and commissions into Epic's coffers, a conversion claim can be— and has been— properly pleaded," the tech giant continued in a court filing.
Epic responded to the filing in short order, saying it "could not and did not 'steal' the proceeds from the sales of its own creative efforts."
Judge Gonzales Rogers in a Zoom conference today said Apple failed to show any independently wrongful act on Epic's part beyond a breach of contract, the report said. The iPhone maker noted Epic continues to generate revenue from in-app purchases despite having its developer account terminated in August. Apple's argument failed to sway Gonzales Rogers, who granted Epic's motion.
Apple issued a statement on the ruling this evening.
"We respectfully disagree with the Court's decision and believe Epic's conduct should be actionable under California tort law. It is clear however that Epic breached its contract with Apple. For twelve years, the App Store has helped developers turn their brightest ideas into apps that change the world. Our priorities have always been to provide customers with a safe and trusted place to download software and to apply the rules equally to all developers. In ways the Court described as deceptive and clandestine, Epic enabled a feature in its app which was not reviewed or approved by Apple, and they did so with the express intent of violating the App Store guidelines that apply equally to every developer who sells digital goods and services. Their reckless behavior made pawns of customers, and we look forward to making it right for them in court next May.
Epic is locked in an antitrust battle with Apple over App Store policies like developer fees and strict rules that prohibit third-party marketplaces. The game developer started the kerfuffle by implementing an alternative in-app payment option for the massively popular Fortnite, sidestepping the App Store's commission mechanism and flouting Apple's developer agreement. Apple pulled the app that same day, triggering a prepared legal thrust and polished media blitz.
Updated with statement from Apple.