First teardowns of iPhone 12 mini, iPhone 12 Pro Max surface online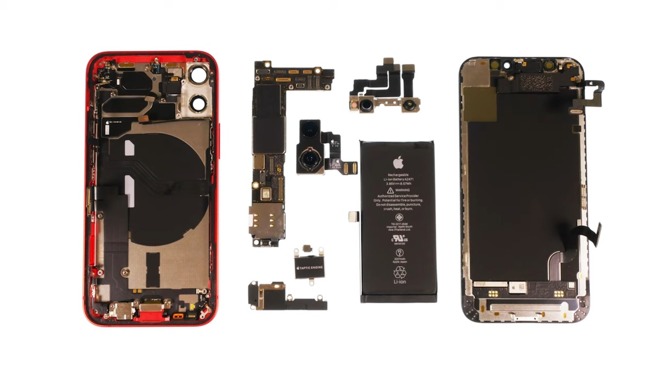 AppleInsider may earn an affiliate commission on purchases made through links on our site.
As orders of the iPhone 12 mini and iPhone 12 Pro Max begin to arrive on customer doorsteps, some early teardown videos have begun to surface.
German repair company Kaputt, for example, has released its initial teardowns of both models on YouTube, revealing few major differences but a couple of interesting tidbits about the internal design and components of the iPhone 12 mini and iPhone 12 Pro Max.
As the teardown reveals, the iPhone 12 Pro Max retains an L-shaped battery design. That's something Apple changed on its other iPhone 12 and iPhone 12 Pro models, including the iPhone 12 mini.
As far as the rest of the internals, they appear to be fairly consistent with the iPhone 12 Pro, which iFixit disassembled in late October.
The iPhone 12 mini, on a similar note, shares much of its internal configuration with the iPhone 12. The major revelation in the teardown for this device is that the iPhone 12 mini uses a much smaller battery due to its size.
The two clips don't feature in-depth analysis of the components and the differences between the two models arriving on Friday and the previous two iPhone 12 devices. With a casual glance, some of the biggest differences could simply be attributed to size.
Separately, iFixit conducted a live teardown of iPhone 12 Pro Max, taking a close look at each component as it was extracted from the handset. While a comprehensive breakdown of parts was not included in the airing, presenters did point out notable technologies like the wide angle camera's sensor shift stabilization.
The repair specialist is also in the process of tearing down iPhone 12 mini. So far, interesting components include a small Taptic Engine and an 8.57 Wh battery. A full report is expected in the coming days.
Of course, it's still early in the release cycle of the iPhone 12 mini and iPhone 12 Pro Max, so expect more detailed teardowns to follow in the days to come.
Previous teardowns of the iPhone 12 and iPhone 12 Pro found that Apple made a lot of compromises to fit 5G compatibility in its 2020 devices, including on the battery and logic board. They found that iPhone 12 camera modules can't be replaced or repaired by third-party technicians.
Updated with iFixit's live iPhone 12 Pro Max teardown and part one of its comprehensive iPhone 12 mini disassembly.
Update, Nov. 14: iFixit has completed its iPhone 12 mini teardown, revealing a stuffed chassis that includes the aforementioned Taptic Engine, a tightly packed stacked logic board, wireless charging coils, a smaller speaker and more. Notably, the new iPhone could boast a new, miniaturized ambient light sensor design similar to the module found in iPhone 12.