Moft MagSafe Wallet review: rivals Apple's offering with far more functionality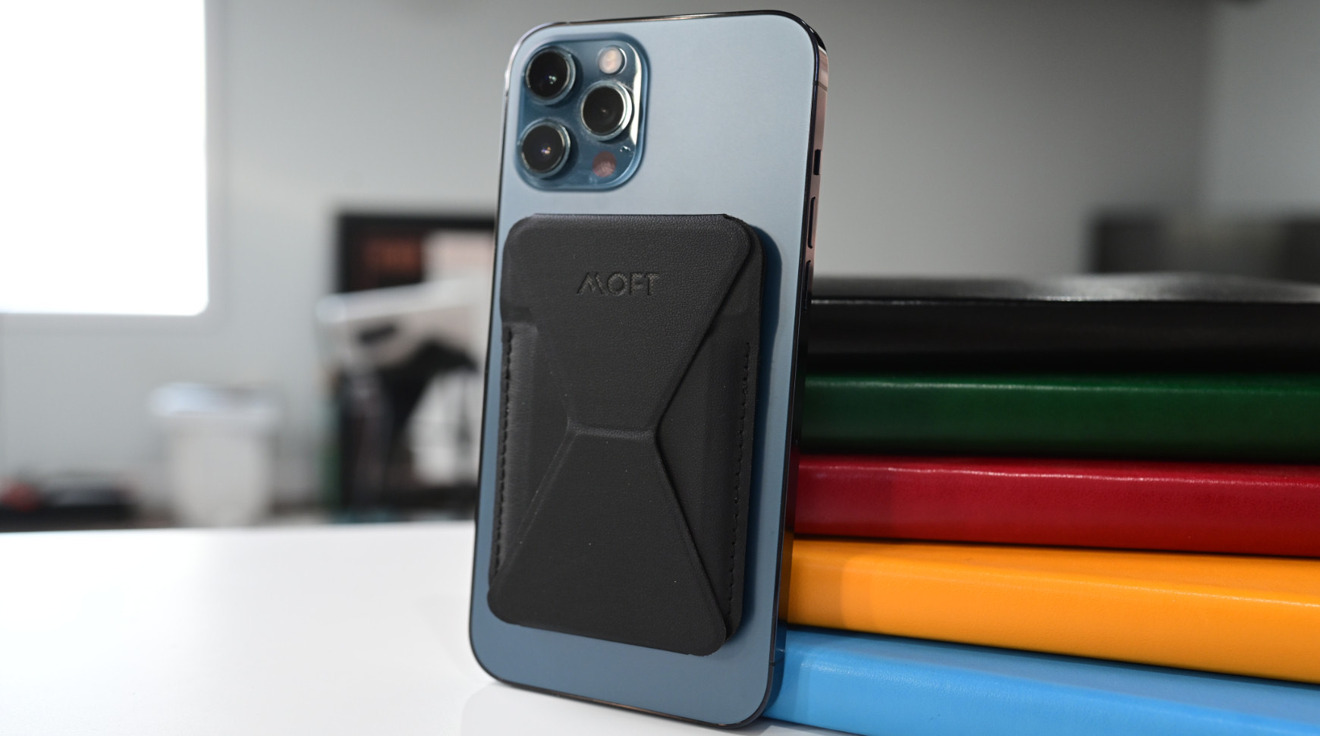 AppleInsider is supported by its audience and may earn commission as an Amazon Associate and affiliate partner on qualifying purchases. These affiliate partnerships do not influence our editorial content.
Apple's MagSafe wallet for iPhone 12 turned quite a few heads on release, and is polarizing for many reasons. It now has competition with the feature-packed Moft iPhone 12 wallet and stand.
Moft is a new alternative hitting the market that checks a lot of boxes, including a lower price tag, a vegan-friendly material, and additional features. We've been using it for the past week, and while we aren't 100 percent sold on it, it is absolutely an option worth considering.
Design
The design of the Moft device isn't all that different from the previous Moft lineup. The company has used the same material and magnetic stand functionality in all of its other products. Moft is known for slim, adhesive stands for Mac, iPad, and most recently, phones.
For the iPhone 12 Moft wallet, the design is approximately as slim as the official Apple wallet, but it is made instead from faux leather that doesn't feel as premium as Apple's but doesn't feel cheap either. On the side facing the phone is the wallet portion that houses your cards, and on the other side is the stand that angles forward.
Moft uses a series of magnets for the stand portion, which helps keep it tight against the phone when not in use and hold the stand out and in position, so it doesn't snap back closed. When open, the top bends down, revealing your cards inside, and the lower half angles outwards to create a fixed wedge that can act as a stand.
The stand portion can support phones up to the iPhone 12 Pro Max, in either portrait or landscape orientation. The magnets are plenty strong enough, and the stand has enough grip not to slide around. It can double as a grip as well, opening up enough to slide in a few fingers behind the phone to help hold on.
Living with Moft
We were massive fans of Apple's wallet, so we were apprehensive about giving it up for a week to use Moft's wallet. We didn't think it could prove to be better than what Apple brought to the table.
Unlike most of its other mounts that require an adhesive, the new version of Moft for iPhone 12, of course, uses MagSafe. Moft included a circle of magnets in the center and the additional alignment magnet, which helps prevent it from rotating on the back of your device.
Like Apple's wallet, Moft can still be bumped free if you don't pay attention, but it holds on well enough that we didn't have issues with it during our testing. The magnet and material hold a bit more securely than Apple's does. However, the edges are slightly more raised than Apple's, potentially making it more likely to get caught.
Storing cards in the wallet is easy, and it fits two to three cards without issue. Apple would require you to remove the wallet to use the window on the back to remove the cards, while Moft lets you pull them from the front. Opening the stand gives you access to your cards — though they can still be tight — and you'll need to take out the top card to get access to the ones behind it.
Since the wallet has plenty of magnets, Moft created an additional adhesive magnet that can be used to hold your phone anywhere you'd like. Put these magnets on your cabinets, your fridge, your desk, or anywhere else. We found this most useful in our kitchen while we prepared dinner.
Opening the stand/grip was where we took issue with the Moft device, as it can be fickle to open. It is a bit hard to describe how the magnets are all coming into play, but if you pull the top of the Moft away from your phone to open the stand, the magnet still holds the bottom half of the stand against your phone. This results in the entire Moft coming free rather than the stand opening.
To properly open the stand, we'd pull back the top just a bit, which made a gap in the side where we could slide our fingers and continue to pull the stand open. It's a bit tricky, and we struggled at first, but eventually, it became second nature.
While simply propping up the phone in portrait mode is cool, it was even more impressive to prop the phone up in the air in landscape mode. It creates a floating display that you can use as a mini workstation at a moment's notice.
The stand has proven quite useful for us, as well as the grip, in day-to-day use. You can pop open the stand to lean your phone back on the couch to watch a video. It also allows you to prop it up, functioning as a stand that doesn't take up any space on your desk.
One criticism we had around the stand will depend on the phone you have. On the iPhone 12 mini, the stand comes down to the bottom of the phone. When propped up, it gives you a great angle for viewing your phone. However, on larger phones, the case is positioned higher up, changing the angle that the phone is held at. So, while we love the angle on the iPhone 12 mini, on our iPhone 12 Pro Max we felt it leaned too far back. This angle yielded an unflattering angle for FaceTime, which meant we had to prop things under the stand to make the angle shallower.
Should you buy the Moft MagSafe wallet and stand?
Despite the online debate around Apple's MagSafe wallet, it has been challenging for users to get. Some find it too expensive, don't like the leather material, or would rather have a stand and grip rather than just a wallet. For whatever the reason, Moft is now a real-world alternative to what Apple has released.
It doesn't feel as polished or premium as Apple's MagSafe wallet, but functionality is far more improved to create a floating display, a stand, a grip, as well as a wallet in a slim device. Not to mention, it is far less expensive than Apple's.
If you want the simplest, most premium choice — go with Apple's MagSafe wallet. But if you would prefer more functionality at a lower price — check out the new Moft for iPhone 12.
Slim design
No animal leather
Acts as a wallet, stand, and grip
Affordable
Floating display is very cool
MagSafe connectivity
Wall mountable
Edges don't lay as flush as Apple's
Material and design don't feel entirely premium
Stand can be finicky to open
Rating: 4 out of 5
Where to buy