How to get the most out of your new AirPods Max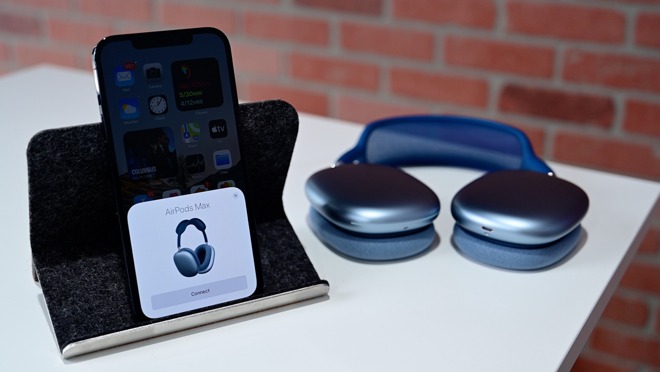 AppleInsider may earn an affiliate commission on purchases made through links on our site.
AirPods Max is a great accessory, and has more capability than it appears on the surface. Here are a few tips and tricks to ensure you get the most out of Apple's new high-end over-ear headphones.
Get into those settings
While it may not be readily apparent, there are settings for AirPods Max. You can use these settings to tinker with a few of the aspects of your AirPods Max and change the noise cancelation mode, though it isn't as convenient as your other options for that.
How to change the direction of the Digital Crown
One thing you may want to change is the orientation of the Digital Crown. To change this:
Open Settings
Head to Bluetooth
Search for your AirPods Max and make sure they are connected
Tap on the encircled i
Tap on Digital Crown
Choose your preference, either back to front or front to back
Disable automatic head detection
Another feature that can be annoying for some is automatic head detection. This will pause your music or video whenever you remove the headphones from your head or even pull back an ear. If you don't like this, it is easy enough to disable.
Open Settings
Head to Bluetooth
Search for your AirPods Max and make sure they are connected
Tap on the encircled i
Toggle Automatic Head Detection off
Disable automatic switching
One of Apple's magical touches is automatic device switching. As you move from your iPhone to your iPad to your Mac and back to your iPhone, your headphones move with you. They switch devices as you need. But sometimes, you don't want them to switch. This feature too can be disabled in the AirPods Max settings.
Open Settings
Head to Bluetooth
Search for your AirPods Max and make sure they are connected
Tap on the encircled i
Tap on Connect to This iPhone
Instead of "automatically" choose "When Last Connected to This iPhone"
Instead of automatically jumping between multiple devices, it will only reconnect to your iPhone if it was the last device the AirPods Max connected to.
Share audio
Between iOS and Apple's custom H1 chip, users are able to share audio with a second set of Apple headphones. This previously applied to AirPods, AirPods Pro, and select Beats headphones but now includes AirPods Max as well.
If you're listening to music or watching a movie on your iPad or iPhone with your AirPods Max, it takes no effort to share that audio with a second set of AirPods Max, AirPods or AirPods Pro, or newer sets of Beats.
To share audio
Swipe down from the top-right corner to access control center
Tap the audio icon in the corner of the "Now Playing" window
Below your AirPods Max, it should say "Share Audio..."
Hold the second set of AirPods, AirPods Pro, AirPods Max, nearby and tap on them when they show on the screen. If you are connecting a set of Beats, you may have to hold the pairing button first
Understanding the LED
On the bottom of the right ear cup, next to the Lightning port, there is a small LED status light. It can be helpful to understand what this light means.
The most useful function of the LED is for battery life. If the AirPods Max are connected to power, and you press the noise control button, it will flash green if the battery is above 95 percent and flash amber if below 95 percent.
If the AirPods Max aren't connected to power, the light will flash green if there is more than 15 percent and will flash amber if it is below.
Reboot your AirPods Max
Should you have issues with your AirPods Max and need to reboot them, it is easy to do.
Press and hold the noise control button simultaneously as the Digital Crown until the aforementioned status light flashes amber.
Have Siri announce your messages
While wearing headphones, it is far too easy to miss a text message coming through. Fortunately, Apple has a feature for its own headphones dubbed Announce Messages with Siri. It is about as straightforward as it sounds. Whenever a message comes in, Siri will announce who it is from and read it to you. You're then able to instantly respond, making the experience as minimally invasive as possible.
This can be easily toggled off, on, or even temporarily muted with a Control Center tool. Once added to Control Center, tap the icon to enable Announce Messages with Siri, mute the feature for an hour, or mute it for the rest of the day.
Listen on
Some of these tips may be a bit rudimentary, but they will undoubtedly be useful for users new to Apple's headphones. Hopefully, even experienced users will find our guide handy.
AirPods Max are available to purchase at leading Apple resellers like Amazon, Adorama and B&H Photo, with the best deals at your fingertips in the AppleInsider AirPods Price Guide.