Best price: M1 MacBook Air (16GB, 512GB, 8-core GPU) on sale for $1,299 ($150 off)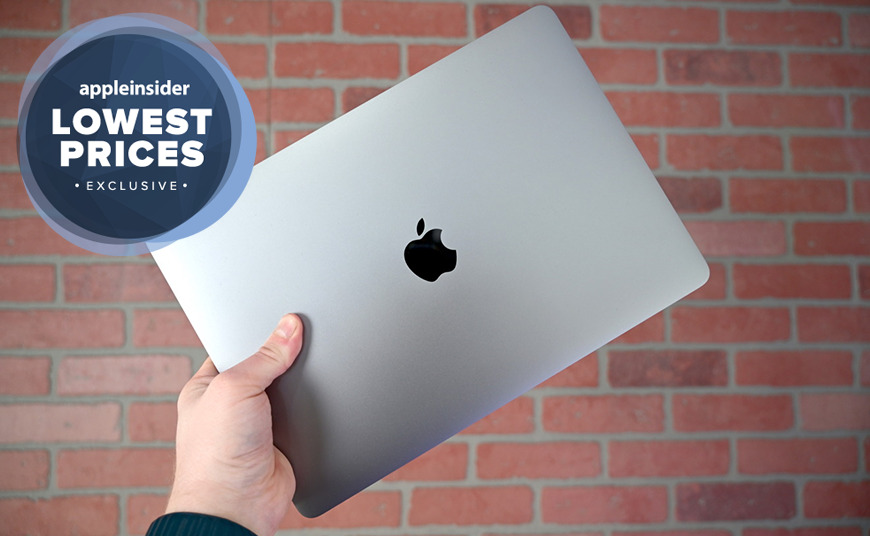 Ringing in as the lowest price available, Apple's new M1 MacBook Air with high-end upgrades is $150 off exclusively for AppleInsider readers. Pick up the 8-core GPU model with 16GB of RAM and a 512GB SSD for $1,299 in your choice of Silver or Space Gray.
Lowest price available
The $1,299 price is courtesy of Apple Authorized Reseller Adorama when you shop through this activation link and enter promo code APINSIDER in the same browsing session. This particular configuration in your choice of Silver (promo code required) or Space Gray features the line's best 8-core GPU, along with 16GB of RAM (the max offered in the new M1 MacBook Air) and 512GB of storage. Our team has spent time with this spec and found the Air to be an excellent value thanks to the M1 chip that's also found in the new MacBook Pro (see our M1 MacBook Air vs. MacBook Pro comparison to learn more about the differences between models).
According to our MacBook Air Price Guide, which tracks the best Mac deals across the web, this exclusive discount is the most aggressive offer available on the 8-core, 16GB, 512GB config, ringing in at least $75 cheaper than other Apple resellers.
For exclusive savings on every other M1 spec, including the M1 MacBook Pro and M1 Mac mini, be sure to check out the AI Mac Price Guide.
Backorder dates
Inventory constraints are causing the MacBook Air to be on backorder, with Apple itself reporting a month+ long delay. Units are on backorder at Adorama as well, with orders drop shipped from Apple directly so you get the same systems Apple sells in its stores, just much cheaper. At press time, delivery estimates from Adorama coincide with Apple's own shipping delays. Orders are processed on a first come, first served basis.
(*) How to apply the APINSIDER coupon at Adorama
Make sure you're using a browser with cookies enabled that isn't in private mode.
Click on the price link to the desired configuration from this article or the Adorama price links in our Price Guides. You MUST click through our links in the same shopping session that you use our coupon. If you try to save a link for late, the coupon WON'T WORK. Once you click through a price link, you'll see a price that's higher than advertised (we'll fix that in a moment).
Add the M1 MacBook Air to your cart anyway, and when you're done shopping, begin the checkout process.
Look for a link that says "Do you have a gift card or promo code?" next to the gift icon. Click that to bring up a coupon code field.

Enter the coupon code APINSIDER in the field and click apply. The discount should appear under "Promo Savings" above the order total.
That's it. As always, if you have any issues, you can reach out to us at

[email protected]

and we'll try and help.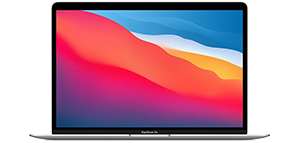 M1 MacBook Air Prices
AppleInsider may earn commission on products purchased through affiliate links.
---
Configurations
Discount
M1, 8GB, 256GB, 7-core GPU Space Gray

$999.00

$895.00

Coupon

Price with $54 promo code APINSIDER. Same code takes $40 off AppleCare. As always, if you have any issues, you can reach out to us at [email protected] and we'll try and help.

$949.05

Coupon

Exclusive AppleInsider pricing when you shop through our Expercom links. Plus, save $30 on AppleCare for the MacBook Air. As always, reach out to us at [email protected] if you have trouble seeing the exclusive deals.

$849.99
$999.00
$849.99
$1,162.00
$994.00
$149.01
M1, 8GB, 256GB, 7-core GPU) Silver

$999.00

$941.00

Coupon

Price with $54 promo code APINSIDER. Same code takes $40 off AppleCare. As always, if you have any issues, you can reach out to us at [email protected] and we'll try and help.

$949.05

Coupon

Exclusive AppleInsider pricing when you shop through our Expercom links. Plus, save $30 on AppleCare for the MacBook Air. As always, reach out to us at [email protected] if you have trouble seeing the exclusive deals.

$849.99
$999.00
$849.99
$1,162.00
$994.00
$149.01
MacBook Air (M1, 8GB, 256GB, 7-core GPU) Gold

$999.00

$929.00

Coupon

Price with $70 promo code APINSIDER. Plus, save $40 on AppleCare with the same code. As always, if you have any issues, you can reach out to us at [email protected] and we'll try and help.

$949.05

Coupon

Exclusive AppleInsider pricing when you shop through our Expercom links. Plus, save $30 on AppleCare for the MacBook Air. As always, reach out to us at [email protected] if you have trouble seeing the exclusive deals.

$849.99
$999.00
$849.99
$1,162.00
$994.00
$149.01
MacBook Air (M1, 8GB, 512GB, 8-core GPU) Space Gray

$1,249.00

$1,085.00

Coupon

Price with $64 promo code APINSIDER. Plus, save $40 on AppleCare with the same code. As always, if you have any issues, you can reach out to us at [email protected] and we'll try and help.

$1,186.55

Coupon

Exclusive AppleInsider pricing when you shop through our Expercom links. Plus, save $30 on AppleCare for the MacBook Air. As always, reach out to us at [email protected] if you have trouble seeing the exclusive deals.

$1,099.99
$1,249.00
$1,099.99
$1,162.00
$1,244.00
$164.00
MacBook Air (M1, 8GB, 512GB, 8-core GPU) Silver

$1,249.00

$1,135.99

Coupon

Price with $64 promo code APINSIDER. Plus, save $40 on AppleCare with the same code. As always, if you have any issues, you can reach out to us at [email protected] and we'll try and help.

$1,186.55

Coupon

Exclusive AppleInsider pricing when you shop through our Expercom links. Plus, save $30 on AppleCare for the MacBook Air. As always, reach out to us at [email protected] if you have trouble seeing the exclusive deals.

$1,099.99
$1,249.00
$1,099.99
$1,162.00
$1,244.00
$149.01
MacBook Air (M1, 8GB, 512GB, 8-core GPU) Gold

$1,249.00

$1,099.00

Coupon

Price with $50 promo code APINSIDER. Plus, save $40 on AppleCare with the same code. As always, if you have any issues, you can reach out to us at [email protected] and we'll try and help.

$1,186.55

Coupon

Exclusive AppleInsider pricing when you shop through our Expercom links. Plus, save $30 on AppleCare for the MacBook Air. As always, reach out to us at [email protected] if you have trouble seeing the exclusive deals.

$1,099.99
$1,249.00
$1,099.99
$1,162.00
$1,244.00
$150.00
MacBook Air (M1, 8GB, 512GB, 7-core GPU) Space Gray

$1,199.00

$1,119.00

Coupon

Price with $80 promo code APINSIDER. Plus, save $40 on AppleCare with the same code. As always, if you have any issues, you can reach out to us at [email protected] and we'll try and help.

$1,139.05

Coupon

Exclusive AppleInsider pricing when you shop through our Expercom links. Plus, save $30 on AppleCare for the MacBook Air. As always, reach out to us at [email protected] if you have trouble seeing the exclusive deals.

n/a

$1,199.00

n/a

n/a

n/a

$80.00
MacBook Air (M1, 8GB, 512GB, 7-core GPU) Silver

$1,199.00

$1,119.00

Coupon

Price with $80 promo code APINSIDER. Plus, save $40 on AppleCare with the same code. As always, if you have any issues, you can reach out to us at [email protected] and we'll try and help.

$1,139.05

Coupon

Exclusive AppleInsider pricing when you shop through our Expercom links. Plus, save $30 on AppleCare for the MacBook Air. As always, reach out to us at [email protected] if you have trouble seeing the exclusive deals.

n/a

$1,199.00

n/a

n/a

n/a

$80.00
M1, 8GB, 512GB, 7-core GPU Gold

$1,199.00

$1,149.00

Coupon

Price with $50 promo code APINSIDER. Plus, save $40 on AppleCare with the same code. As always, if you have any issues, you can reach out to us at [email protected] and we'll try and help.

$1,139.05

Coupon

Exclusive AppleInsider pricing when you shop through our Expercom links. Plus, save $30 on AppleCare for the MacBook Air. As always, reach out to us at [email protected] if you have trouble seeing the exclusive deals.

n/a

$1,199.00

n/a

n/a

n/a

$59.95
MacBook Air (M1, 8GB, 1TB, 7-core GPU) Space Gray

$1,399.00

$1,349.00

Coupon

Price with $50 promo code APINSIDER. Plus, save $40 on AppleCare with the same code. As always, if you have any issues, you can reach out to us at [email protected] and we'll try and help.

$1,329.05

Coupon

Exclusive AppleInsider pricing when you shop through our Expercom links. Plus, save $30 on AppleCare for the MacBook Air. As always, reach out to us at [email protected] if you have trouble seeing the exclusive deals.

n/a

$1,399.00

n/a

n/a

n/a

$69.95
MacBook Air (M1, 8GB, 1TB, 7-core GPU) Silver

$1,399.00

$1,349.00

Coupon

Price with $50 promo code APINSIDER. Plus, save $40 on AppleCare with the same code. As always, if you have any issues, you can reach out to us at [email protected] and we'll try and help.

$1,329.05

Coupon

Exclusive AppleInsider pricing when you shop through our Expercom links. Plus, save $30 on AppleCare for the MacBook Air. As always, reach out to us at [email protected] if you have trouble seeing the exclusive deals.

n/a

$1,399.00

n/a

n/a

n/a

$69.95
MacBook Air (M1, 8GB, 1TB, 7-core GPU) Gold

$1,399.00

$1,349.00

Coupon

Price with $50 promo code APINSIDER. Plus, save $40 on AppleCare with the same code. As always, if you have any issues, you can reach out to us at [email protected] and we'll try and help.

$1,329.05

Coupon

Exclusive AppleInsider pricing when you shop through our Expercom links. Plus, save $30 on AppleCare for the MacBook Air. As always, reach out to us at [email protected] if you have trouble seeing the exclusive deals.

n/a

$1,399.00

n/a

n/a

n/a

$69.95
MacBook Air (M1, 8GB, 2TB, 7-core GPU) Space Gray

$1,799.00

$1,749.00

Coupon

Price with $50 promo code APINSIDER. Plus, save $40 on AppleCare with the same code. As always, if you have any issues, you can reach out to us at [email protected] and we'll try and help.

$1,709.05

Coupon

Exclusive AppleInsider pricing when you shop through our Expercom links. Plus, save $30 on AppleCare for the MacBook Air. As always, reach out to us at [email protected] if you have trouble seeing the exclusive deals.

n/a

$1,799.00

n/a

n/a

n/a

$89.95
MacBook Air (M1, 8GB, 2TB, 7-core GPU) Silver

$1,799.00

$1,749.00

Coupon

Price with $50 promo code APINSIDER. Plus, save $40 on AppleCare with the same code. As always, if you have any issues, you can reach out to us at [email protected] and we'll try and help.

$1,709.05

Coupon

Exclusive AppleInsider pricing when you shop through our Expercom links. Plus, save $30 on AppleCare for the MacBook Air. As always, reach out to us at [email protected] if you have trouble seeing the exclusive deals.

n/a

$1,799.00

n/a

n/a

n/a

$89.95
MacBook Air (M1, 8GB, 2TB, 7-core GPU) Gold

$1,799.00

$1,749.00

Coupon

Price with $50 promo code APINSIDER. Plus, save $40 on AppleCare with the same code. As always, if you have any issues, you can reach out to us at [email protected] and we'll try and help.

$1,709.05

Coupon

Exclusive AppleInsider pricing when you shop through our Expercom links. Plus, save $30 on AppleCare for the MacBook Air. As always, reach out to us at [email protected] if you have trouble seeing the exclusive deals.

n/a

$1,799.00

n/a

n/a

n/a

$89.95
MacBook Air (M1, 16GB, 256GB, 7-core GPU) Space Gray

$1,199.00

$1,099.00

Coupon

Price with $100 promo code APINSIDER. Plus, save $40 on AppleCare with the same code. If you have any issues, you can reach out to us at [email protected] and we'll try and help.

$1,139.05

Coupon

Exclusive AppleInsider pricing when you shop through our Expercom links. Plus, save $30 on AppleCare for the MacBook Air. As always, reach out to us at [email protected] if you have trouble seeing the exclusive deals.

n/a

$1,199.00

n/a

n/a

n/a

$100.00
MacBook Air (M1, 16GB, 256GB, 7-core GPU) Silver

$1,199.00

$1,149.00

Coupon

Price with $50 promo code APINSIDER. Plus, save $40 on AppleCare with the same code. As always, if you have any issues, you can reach out to us at [email protected] and we'll try and help.

$1,139.05

Coupon

Exclusive AppleInsider pricing when you shop through our Expercom links. Plus, save $30 on AppleCare for the MacBook Air. As always, reach out to us at [email protected] if you have trouble seeing the exclusive deals.

n/a

$1,199.00

n/a

n/a

n/a

$59.95
MacBook Air (M1, 16GB, 256GB, 7-core GPU) Gold

$1,199.00

$1,149.00

Coupon

Price with $50 promo code APINSIDER. Plus, save $40 on AppleCare with the same code. As always, if you have any issues, you can reach out to us at [email protected] and we'll try and help.

$1,139.05

Coupon

Exclusive AppleInsider pricing when you shop through our Expercom links. Plus, save $30 on AppleCare for the MacBook Air. As always, reach out to us at [email protected] if you have trouble seeing the exclusive deals.

n/a

$1,199.00

n/a

n/a

n/a

$59.95
MacBook Air (M1, 16GB, 512GB, 7-core GPU) Space Gray

$1,399.00

$1,299.00

Coupon

Price with $100 promo code APINSIDER. Plus, save $40 on AppleCare with the same code. If you have any issues, you can reach out to us at [email protected] and we'll try and help.

$1,329.05

Coupon

Exclusive AppleInsider pricing when you shop through our Expercom links. Plus, save $30 on AppleCare for the MacBook Air. As always, reach out to us at [email protected] if you have trouble seeing the exclusive deals.

n/a

$1,399.00

n/a

n/a

n/a

$100.00
M1, 16GB, 512GB, 7-core GPU Silver

$1,399.00

$1,289.00

Coupon

Price with $110 promo code APINSIDER. Plus, save $40 on AppleCare with the same code. As always, if you have any issues, you can reach out to us at [email protected] and we'll try and help.

$1,329.05

Coupon

Exclusive AppleInsider pricing when you shop through our Expercom links. Plus, save $30 on AppleCare for the MacBook Air. As always, reach out to us at [email protected] if you have trouble seeing the exclusive deals.

n/a

$1,399.00

n/a

n/a

n/a

$110.00
MacBook Air (M1, 16GB, 512GB, 7-core GPU) Gold

$1,399.00

$1,299.00

Coupon

Price with $100 promo code APINSIDER. Plus, save $40 on AppleCare with the same code. If you have any issues, you can reach out to us at [email protected] and we'll try and help.

$1,329.05

Coupon

Exclusive AppleInsider pricing when you shop through our Expercom links. Plus, save $30 on AppleCare for the MacBook Air. As always, reach out to us at [email protected] if you have trouble seeing the exclusive deals.

n/a

$1,399.00

n/a

n/a

n/a

$100.00
MacBook Air (M1, 16GB, 1TB, 7-core GPU) Space Gray

$1,599.00

$1,549.00

Coupon

Price with $50 promo code APINSIDER. Plus, save $40 on AppleCare with the same code. As always, if you have any issues, you can reach out to us at [email protected] and we'll try and help.

$1,519.05

Coupon

Exclusive AppleInsider pricing when you shop through our Expercom links. Plus, save $30 on AppleCare for the MacBook Air. As always, reach out to us at [email protected] if you have trouble seeing the exclusive deals.

n/a

$1,599.00

n/a

n/a

n/a

$79.95
MacBook Air (M1, 16GB, 1TB, 7-core GPU) Silver

$1,599.00

$1,549.00

Coupon

Price with $50 promo code APINSIDER. Plus, save $40 on AppleCare with the same code. As always, if you have any issues, you can reach out to us at [email protected] and we'll try and help.

$1,519.05

Coupon

Exclusive AppleInsider pricing when you shop through our Expercom links. Plus, save $30 on AppleCare for the MacBook Air. As always, reach out to us at [email protected] if you have trouble seeing the exclusive deals.

n/a

$1,599.00

n/a

n/a

n/a

$79.95
MacBook Air (M1, 16GB, 1TB, 7-core GPU) Gold

$1,599.00

$1,549.00

Coupon

Price with $50 promo code APINSIDER. Plus, save $40 on AppleCare with the same code. As always, if you have any issues, you can reach out to us at [email protected] and we'll try and help.

$1,519.05

Coupon

Exclusive AppleInsider pricing when you shop through our Expercom links. Plus, save $30 on AppleCare for the MacBook Air. As always, reach out to us at [email protected] if you have trouble seeing the exclusive deals.

n/a

$1,599.00

n/a

n/a

n/a

$79.95
MacBook Air (M1, 16GB, 2TB, 7-core GPU) Space Gray

$1,999.00

$1,949.00

Coupon

Price with $50 promo code APINSIDER. Plus, save $40 on AppleCare with the same code. As always, if you have any issues, you can reach out to us at [email protected] and we'll try and help.

$1,899.05

Coupon

Exclusive AppleInsider pricing when you shop through our Expercom links. Plus, save $30 on AppleCare for the MacBook Air. As always, reach out to us at [email protected] if you have trouble seeing the exclusive deals.

n/a

$1,999.00

n/a

n/a

n/a

$99.95
MacBook Air (M1, 16GB, 2TB, 7-core GPU) Silver

$1,999.00

$1,949.00

Coupon

Price with $50 promo code APINSIDER. Plus, save $40 on AppleCare with the same code. As always, if you have any issues, you can reach out to us at [email protected] and we'll try and help.

$1,899.05

Coupon

Exclusive AppleInsider pricing when you shop through our Expercom links. Plus, save $30 on AppleCare for the MacBook Air. As always, reach out to us at [email protected] if you have trouble seeing the exclusive deals.

n/a

$1,999.00

n/a

n/a

n/a

$99.95
MacBook Air (M1, 16GB, 2TB, 7-core GPU) Gold

$1,999.00

$1,949.00

Coupon

Price with $50 promo code APINSIDER. Plus, save $40 on AppleCare with the same code. As always, if you have any issues, you can reach out to us at [email protected] and we'll try and help.

$1,899.05

Coupon

Exclusive AppleInsider pricing when you shop through our Expercom links. Plus, save $30 on AppleCare for the MacBook Air. As always, reach out to us at [email protected] if you have trouble seeing the exclusive deals.

n/a

$1,999.00

n/a

n/a

n/a

$99.95
MacBook Air (M1, 8GB, 1TB, 8-core GPU) Space Gray

$1,449.00

$1,399.00

Coupon

Price with $50 promo code APINSIDER. Plus, save $40 on AppleCare with the same code. As always, if you have any issues, you can reach out to us at [email protected] and we'll try and help.

$1,376.55

Coupon

Exclusive AppleInsider pricing when you shop through our Expercom links. Plus, save $30 on AppleCare for the MacBook Air. As always, reach out to us at [email protected] if you have trouble seeing the exclusive deals.

n/a

$1,449.00

n/a

n/a

n/a

$72.45
MacBook Air (M1, 8GB, 1TB, 8-core GPU) Silver

$1,449.00

$1,399.00

Coupon

Price with $50 promo code APINSIDER. Plus, save $40 on AppleCare with the same code. As always, if you have any issues, you can reach out to us at [email protected] and we'll try and help.

$1,376.55

Coupon

Exclusive AppleInsider pricing when you shop through our Expercom links. Plus, save $30 on AppleCare for the MacBook Air. As always, reach out to us at [email protected] if you have trouble seeing the exclusive deals.

n/a

$1,449.00

n/a

n/a

n/a

$72.45
MacBook Air (M1, 8GB, 1TB, 8-core GPU) Gold

$1,449.00

$1,399.00

Coupon

Price with $50 promo code APINSIDER. Plus, save $40 on AppleCare with the same code. As always, if you have any issues, you can reach out to us at [email protected] and we'll try and help.

$1,376.55

Coupon

Exclusive AppleInsider pricing when you shop through our Expercom links. Plus, save $30 on AppleCare for the MacBook Air. As always, reach out to us at [email protected] if you have trouble seeing the exclusive deals.

n/a

$1,449.00

n/a

n/a

n/a

$72.45
MacBook Air (M1, 8GB, 2TB, 8-core GPU) Space Gray

$1,849.00

$1,799.00

Coupon

Price with $50 promo code APINSIDER. Plus, save $40 on AppleCare with the same code. As always, if you have any issues, you can reach out to us at [email protected] and we'll try and help.

$1,756.55

Coupon

Exclusive AppleInsider pricing when you shop through our Expercom links. Plus, save $30 on AppleCare for the MacBook Air. As always, reach out to us at [email protected] if you have trouble seeing the exclusive deals.

n/a

$1,849.00

n/a

n/a

n/a

$92.45
MacBook Air (M1, 8GB, 2TB, 8-core GPU) Silver

$1,849.00

$1,799.00

Coupon

Price with $50 promo code APINSIDER. Plus, save $40 on AppleCare with the same code. As always, if you have any issues, you can reach out to us at [email protected] and we'll try and help.

$1,756.55

Coupon

Exclusive AppleInsider pricing when you shop through our Expercom links. Plus, save $30 on AppleCare for the MacBook Air. As always, reach out to us at [email protected] if you have trouble seeing the exclusive deals.

n/a

$1,849.00

n/a

n/a

n/a

$92.45
MacBook Air (M1, 8GB, 2TB, 8-core GPU) Gold

$1,849.00

$1,799.00

Coupon

Price with $50 promo code APINSIDER. Plus, save $40 on AppleCare with the same code. As always, if you have any issues, you can reach out to us at [email protected] and we'll try and help.

$1,756.55

Coupon

Exclusive AppleInsider pricing when you shop through our Expercom links. Plus, save $30 on AppleCare for the MacBook Air. As always, reach out to us at [email protected] if you have trouble seeing the exclusive deals.

n/a

$1,849.00

n/a

n/a

n/a

$92.45
M1, 16GB, 512GB, 8-core GPU Space Gray

$1,449.00

$1,349.00

Coupon

Price with $100 promo code APINSIDER. Plus, save $40 on AppleCare with the same code. If you have any issues, you can reach out to us at [email protected] and we'll try and help.

$1,376.55

Coupon

Exclusive AppleInsider pricing when you shop through our Expercom links. Plus, save $30 on AppleCare for the MacBook Air. As always, reach out to us at [email protected] if you have trouble seeing the exclusive deals.

n/a

$1,449.00

n/a

n/a

n/a

$100.00
MacBook Air (M1, 16GB, 512GB, 8-core GPU) Silver

$1,449.00

$1,349.00

Coupon

Price with $100 promo code APINSIDER. Plus, save $40 on AppleCare with the same code. If you have any issues, you can reach out to us at [email protected] and we'll try and help.

$1,376.55

Coupon

Exclusive AppleInsider pricing when you shop through our Expercom links. Plus, save $30 on AppleCare for the MacBook Air. As always, reach out to us at [email protected] if you have trouble seeing the exclusive deals.

n/a

$1,449.00

n/a

n/a

n/a

$100.00
MacBook Air (M1, 16GB, 512GB, 8-core GPU) Gold

$1,449.00

$1,349.00

Coupon

Price with $100 promo code APINSIDER. Plus, save $40 on AppleCare with the same code. If you have any issues, you can reach out to us at [email protected] and we'll try and help.

$1,376.55

Coupon

Exclusive AppleInsider pricing when you shop through our Expercom links. Plus, save $30 on AppleCare for the MacBook Air. As always, reach out to us at [email protected] if you have trouble seeing the exclusive deals.

n/a

$1,449.00

n/a

n/a

n/a

$100.00
M1, 16GB, 1TB, 8-core GPU Space Gray

$1,649.00

$1,599.00

Coupon

Price with $50 promo code APINSIDER. Plus, save $40 on AppleCare with the same code. As always, if you have any issues, you can reach out to us at [email protected] and we'll try and help.

$1,566.55

Coupon

Exclusive AppleInsider pricing when you shop through our Expercom links. Plus, save $30 on AppleCare for the MacBook Air. As always, reach out to us at [email protected] if you have trouble seeing the exclusive deals.

n/a

$1,649.00

n/a

n/a

n/a

$82.45
MacBook Air (M1, 16GB, 1TB, 8-core GPU) Silver

$1,649.00

$1,599.00

Coupon

Price with $50 promo code APINSIDER. Plus, save $40 on AppleCare with the same code. As always, if you have any issues, you can reach out to us at [email protected] and we'll try and help.

$1,566.55

Coupon

Exclusive AppleInsider pricing when you shop through our Expercom links. Plus, save $30 on AppleCare for the MacBook Air. As always, reach out to us at [email protected] if you have trouble seeing the exclusive deals.

n/a

$1,649.00

n/a

n/a

n/a

$82.45
MacBook Air (M1, 16GB, 1TB, 8-core GPU) Gold

$1,649.00

$1,599.00

Coupon

Price with $50 promo code APINSIDER. Plus, save $40 on AppleCare with the same code. As always, if you have any issues, you can reach out to us at [email protected] and we'll try and help.

$1,566.55

Coupon

Exclusive AppleInsider pricing when you shop through our Expercom links. Plus, save $30 on AppleCare for the MacBook Air. As always, reach out to us at [email protected] if you have trouble seeing the exclusive deals.

n/a

$1,649.00

n/a

n/a

n/a

$82.45
MacBook Air (M1, 16GB, 2TB, 8-core GPU) Space Gray

$2,049.00

$1,899.00

Coupon

Price with $150 promo code APINSIDER. Plus, save $40 on AppleCare with the same code. As always, if you have any issues, you can reach out to us at [email protected] and we'll try and help.

$1,946.55

Coupon

Exclusive AppleInsider pricing when you shop through our Expercom links. Plus, save $30 on AppleCare for the MacBook Air. As always, reach out to us at [email protected] if you have trouble seeing the exclusive deals.

n/a

$2,049.00

n/a

n/a

n/a

$150.00
MacBook Air (M1, 16GB, 2TB, 8-core GPU) Silver

$2,049.00

$1,999.00

Coupon

Price with $50 promo code APINSIDER. Plus, save $40 on AppleCare with the same code. As always, if you have any issues, you can reach out to us at [email protected] and we'll try and help.

$1,946.55

Coupon

Exclusive AppleInsider pricing when you shop through our Expercom links. Plus, save $30 on AppleCare for the MacBook Air. As always, reach out to us at [email protected] if you have trouble seeing the exclusive deals.

n/a

$2,049.00

n/a

n/a

n/a

$102.45
M1 (16GB, 2TB, 8-core GPU) Gold

$2,049.00

$1,999.00

Coupon

Price with $50 promo code APINSIDER. Plus, save $40 on AppleCare with the same code. As always, if you have any issues, you can reach out to us at [email protected] and we'll try and help.

$1,946.55

Coupon

Exclusive AppleInsider pricing when you shop through our Expercom links. Plus, save $30 on AppleCare for the MacBook Air. As always, reach out to us at [email protected] if you have trouble seeing the exclusive deals.

n/a

$2,049.00

n/a

n/a

n/a

$102.45
Additional Apple deals