Review: Rush Charge Hinge is a good battery and decent stand for your iPhone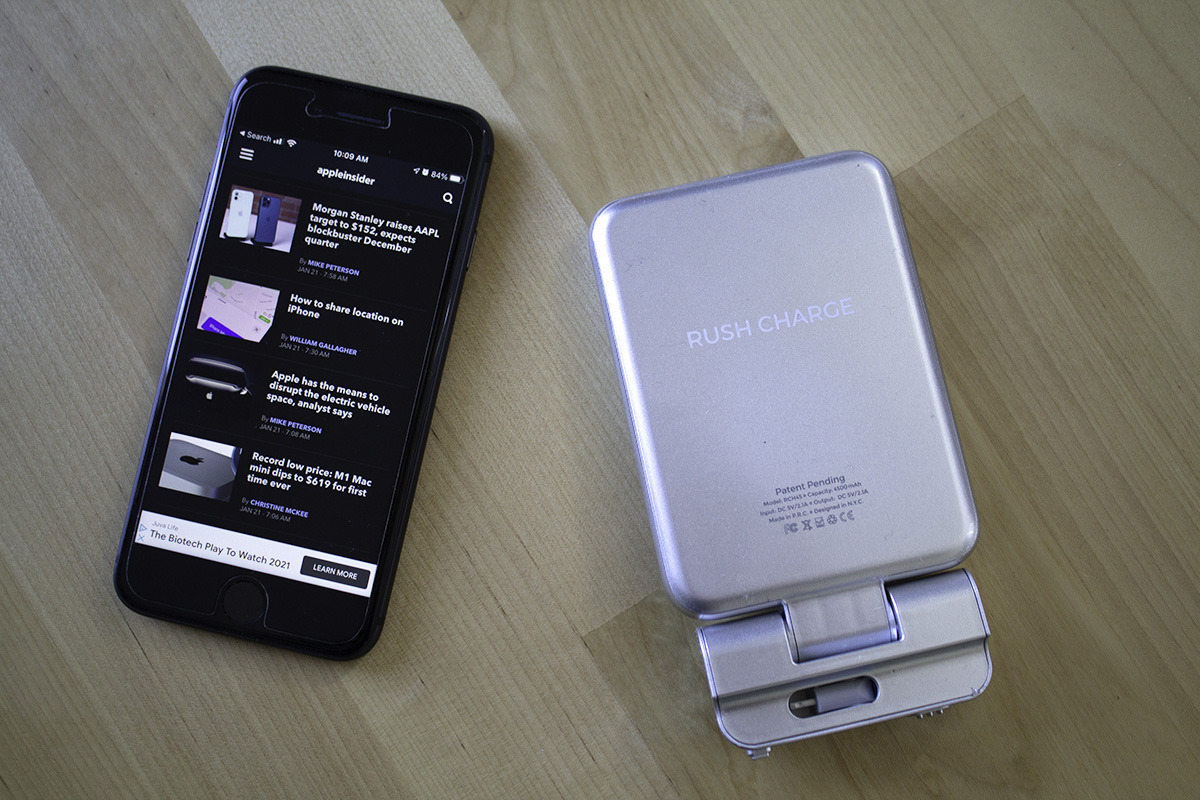 If you're looking for an iPhone accessory somewhere between an external battery and a stand, the Rush Charge Hinge may be your best bet.
The aptly named Hinge is a unique accessory that features a built-in external battery pack and a hinge mechanism allowing it to double as a stand for your iPhones. It's a relatively simple accessory combining two different ideas. It works well enough, though there are a couple sticking points you'll want to know about.
A portable battery pack that works as expected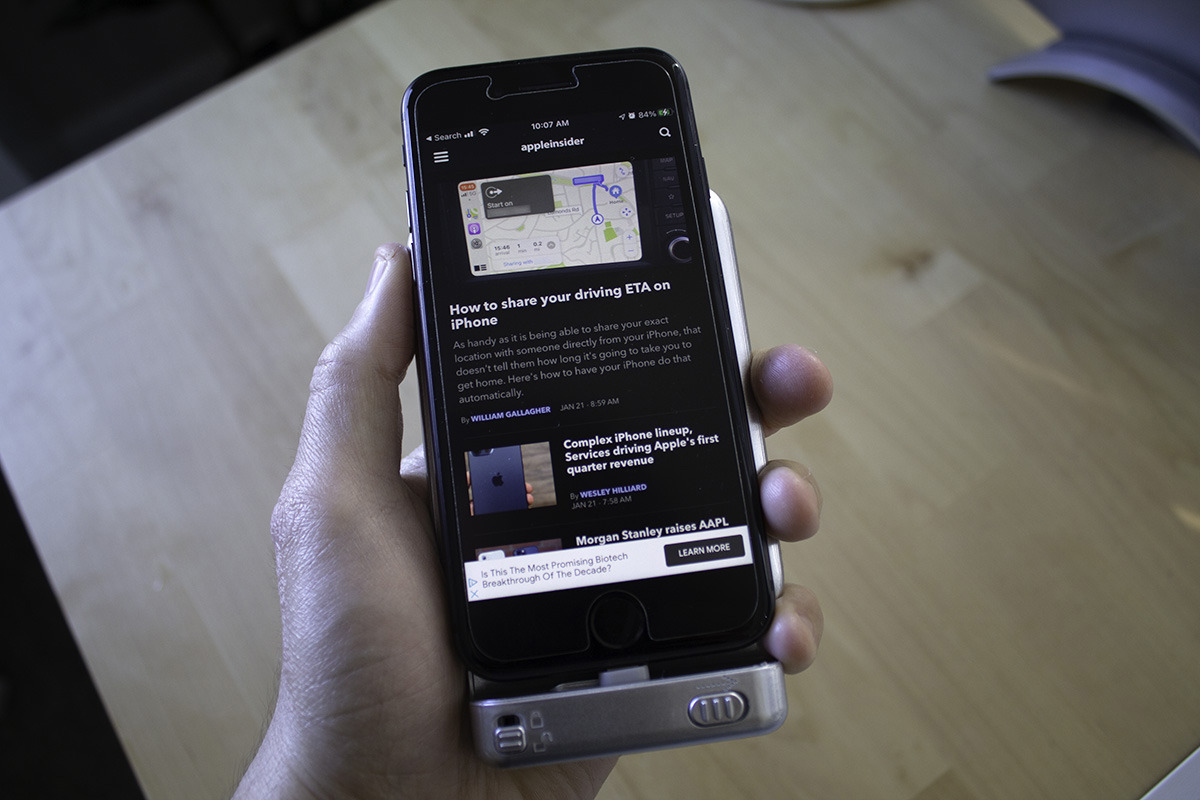 At its core, the Hinge is a 4,500 mAh external battery for your iPhone or other smart devices. Out of the box, it comes pre-charged and ready to power up your handsets.
You won't need a charging cable when using the Hinge — it comes with its own built-in adapter. When purchasing it, you'll get to choose between Lightning, USB-C, or microUSB. We tested the Lightning variant.
As a battery, the Hinge delivers on its promises. According to Rush Charge, it has a 2.1A high speed charging output. This isn't a fast charger by any means, but it does provide additional power for when you're out and about.
When the battery itself needs charging, you'll need to plug in your own smartphone charging cable. In the case of the Lightning variant we had, it used a Lightning cable. It's pass through, so the Hinge can also charge your iPhone while it's being charged.
The built-in charging adapter doesn't provide super sturdy support for your devices. An iPhone 8 and iPhone 11 that we tested wobbled while on the port, and larger devices may be even less secure. Unlike other battery packs, you also won't be able to charge anything other than a smartphone with your chosen connector type.
A hinge mechanism to prop up your iPhone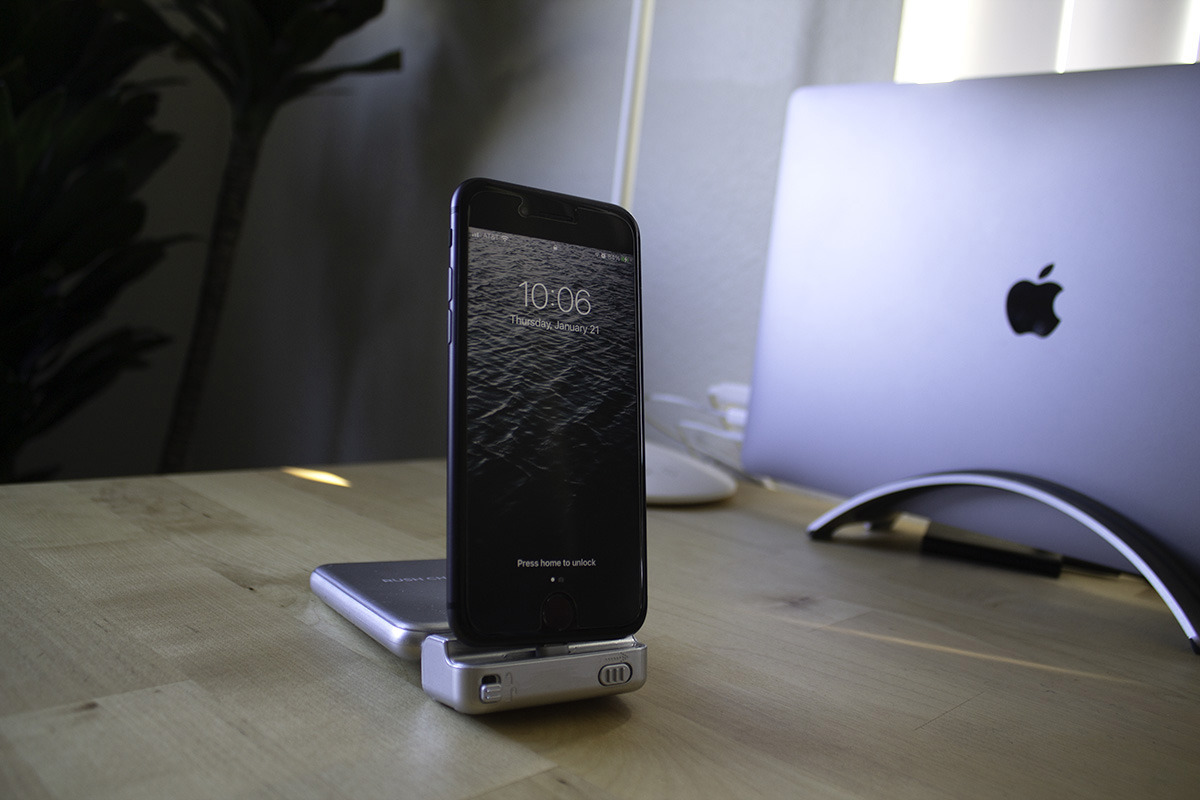 The selling point of the Rush Charge Hinge is that it also doubles as a phone stand.
There is a rear portion of the hinge that pivots downward to rest on a surface. As its name implies, the hinge action can be adjusted to three different angles. Users can also lock the hinge for a sturdier base.
In our testing, there wasn't a use for the middle locking angle. Completely upright was handy for holding the phone while charging and completely down let the device act as a stand.
The Hinge snaps into its locking angles with a satisfying-enough click. The locking button isn't the smoothest, but it seems to lock the hinge action securely enough.
The upright locking angle provided a decent view for video conferencing purposes — though it's slightly tilted up. You might even be able to use it as a tripod alternative, though it doesn't support horizontal orientation.
A decent solution for charging and every day carry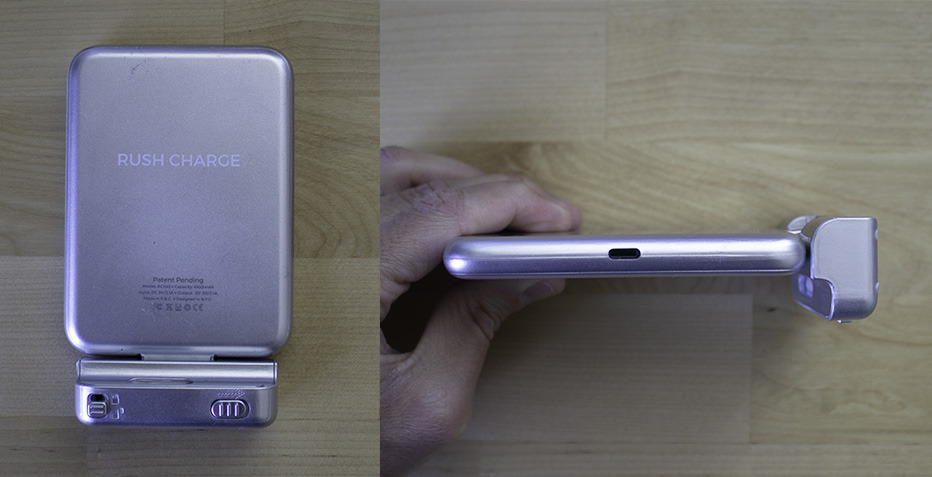 The Hinge represents an interesting enough concept. There are plenty of wireless chargers that double as stands on the market. Yet, building a battery into a charger could bridge the gap between a charging accessory and an on-the-go battery pack.
Users who travel a lot may find the Hinge a good iPhone companion. You can toss it into your bag and use it both as a hands-free phone stand while keeping your devices charged.
It even doubles as a charger itself with pass-through charging, though you'll still need to pack a Lightning cable and power adapter for when its own battery capacity runs out.
For users concerned about overheating and battery wear, the Hinge could also be a good option. It acts like a stand akin to some wireless chargers but relies on a standard Lightning connection.
Ultimately, the Hinge is going to appeal to those who want to consolidate their accessories without compromising on functionality.
Built-in 4,500 mAh battery provided a reliable charge
Uses a Lightning port to charge, so you won't need to carry extra cables
Stand function provides hands-free viewing and teleconferencing
Pass through means it can double as a Lightning charger for your iPhone (but you'll still need a Lightning cable)
Doesn't provide the best support for an iPhone — port connection is a bit wobbly
Adds bulk to your iPhone when held in the hand
You'll need a charging brick and cable to use it as a charger
You can't use it to charge anything other than a smartphone with your chosen connection
Rating: 4 out of 5
How to buy an Rush Charge Hinge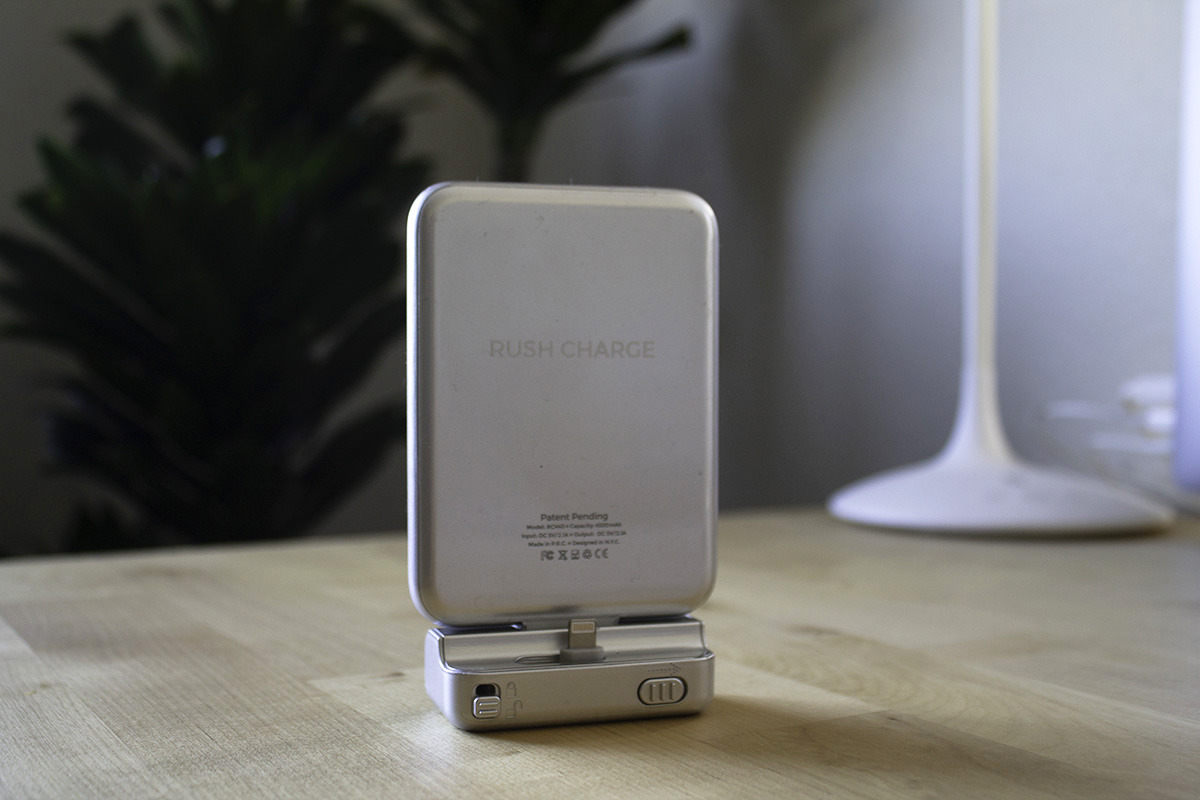 The Rush Charge Hinge costs $49.99 and is available in several color options, including purple, gold, silver, blue, and black.