Jason Sudeikis wins first Golden Globe for Apple TV+ with 'Ted Lasso'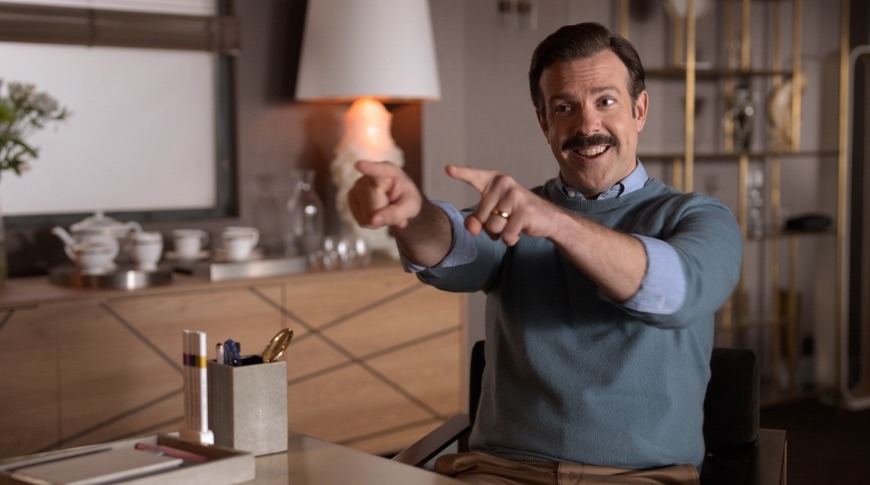 The hit comedy "Ted Lasso" has landed Apple TV + its first Golden Globe award, with star Jason Sudeikis winning the comedy actor trophy.
Having picked up four Golden Globe nominations, Apple TV+ has won one of them with "Ted Lasso" star Sudeikis winning Best Performance by an Actor in a Television Series — Musical or Comedy. He beat out the likes of Don Cheadle and "Schitt's Creek" star Eugene Levy for the award.
"[It's] the coolest thing," he said in his acceptance speech at the 78th annual Golden Globes ceremony. "That's nuts. That's crazy."
"I want to thank everybody that works on this show," he continued. "I read this book to my son, Otis, called 'The Three Questions' by Leo Tolstoy. It has these three questions. When's the best time to do things? What's the right thing to do? And then who's the most important one?"
"That last question, who's the most important one, is whoever the person you're with," he said. "So I kind of reject the premise of being the Best Actor because, in my humble opinion, the best actor is the person you're acting with."
Rival nominee Don Cheadle, from the show "Black Monday," was seen giving Sudeikis a "wrap it up" sign as the winner kept speaking.
"Hey that's just Kansas City love," Sudeikis told Deadline afterwards. "If anyone was going to tell me The guy's got chops, you know?"
Alongside its win, Apple TV+ comedy "Ted Lasso" was also nominated for Best Television Series - Musical or Comedy, where it was beaten by the final season of "Schitt's Creek".
Writer/director Sofia Coppola's "On The Rocks" movie for Apple TV+ saw Bill Murray nominated for Best Performance by an Actor in a Supporting Role in any Motion Picture. That award went to Daniel Kaluuya for "Judas and the Black Messiah."
Apple's remaining nomination was for "Wolfwalkers" as Best Motion Picture - Animated. It was beaten by "Soul," although award presenter Tracy Morgan criticized for seemingly pronouncing the name as "Sal."
The Golden Globes are awarded by the members of the Hollywood Foreign Press Association (HFPA). Often controversial because of the small number of voters, this year's awards were particularly so because the judges snubbed Michaela Coel's acclaimed "I May Destroy You."
Co-host Tina Fey addressed that controversy, and the fact that none of the HPFA members are black, in her opening speech. "You gotta change that," she said.