Compared: Apple AirPods Pro versus Master & Dynamic MW08 wireless earbuds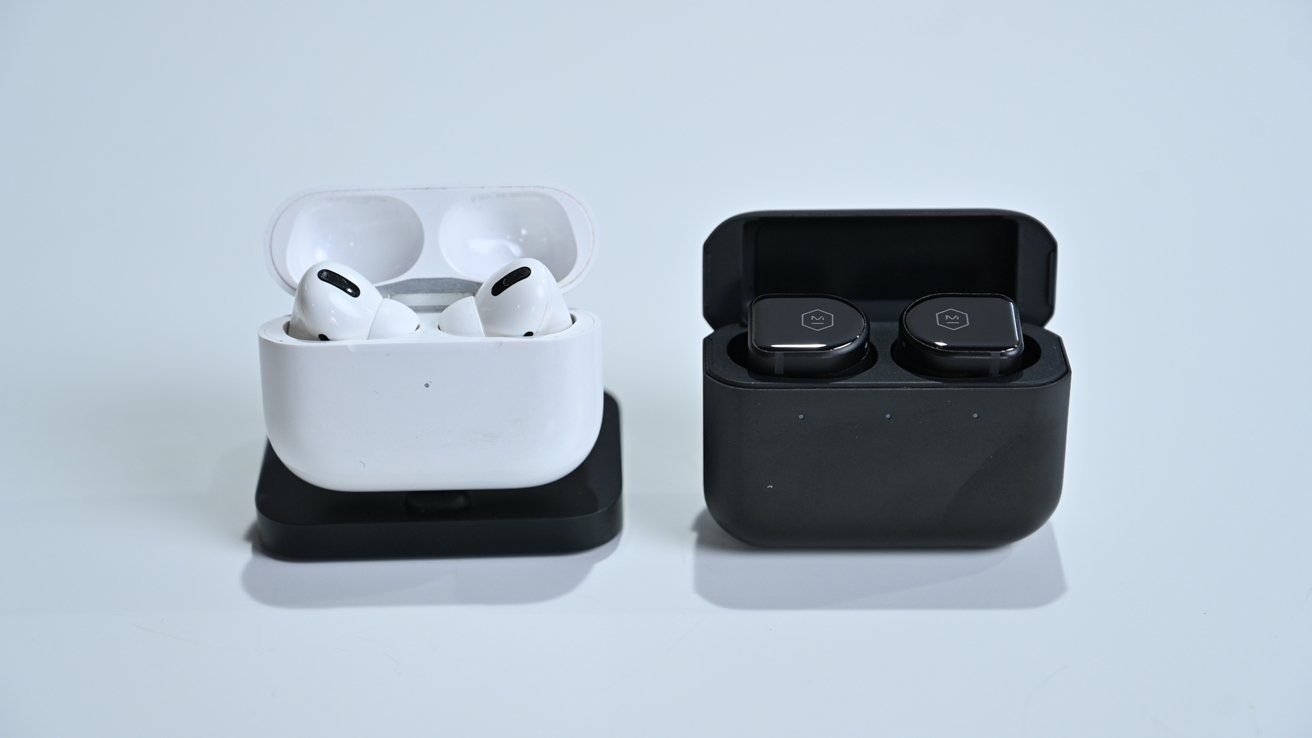 AppleInsider is supported by its audience and may earn commission as an Amazon Associate and affiliate partner on qualifying purchases. These affiliate partnerships do not influence our editorial content.
The new Master & Dynamic MW08 are a great set of true wireless earbuds, but how do they compare to Apple's popular AirPods Pro? We examine everything from build, to ANC, to audio quality in this comparison.
Two side of the same coin
While very different in terms of design, both earbuds are trying to do almost the same thing. And, they both happen to be the most premium offering from each brand. Apple offers standard AirPods and Master & Dynamic offers the last-gen MW07+ and the MW07 Go as more affordable options.
Their makeup, though, couldn't be further apart.
AirPods Pro design
Apple does its best with the AirPods Pro, but they still are only plastic. After copious usage, that plastic starts to wear and weather. We see scuffs, stains, and dust starting to discolor the AirPods Pro.
Each earbud is typical Apple style. They extend from your ears in the iconic white color that AirPods are known for. They are controlled via the force stems that you can squeeze to control playback, invoke Siri, or answer a call.
The AirPods Pro case is relatively small with rounded edges. Its lid has a solid snap or click as it is opened and closed, which is very satisfying. Apple spent a lot of time developing its own hinge. It is charged via Lightning as well as Qi.
While Apple doesn't fully encourage using AirPods Pro for workouts, they have an IPX4 water and sweat resistance.
M&D MW08 design
Conversely, the MW08 feel more premium. The earbuds are made from aluminum with ceramic caps on the outside. Apple used similar ceramic for the Apple Watch Edition. They come in four different colorways.
The earbuds themselves start with a more traditional in-ear design with M&D's signature "D" shape on the outside. The top has physical controls for controlling Siri, calls, playback, as well as volume.
As far as the case, it's made from stainless steel. It wears as well but develops a nice patina rather than grime. It is slightly larger than the AirPods Pro case, but it can stand on its own. It charges over USB-C with no wireless option.
Feature compare
Let's take a closer look at the features of the two sets of wireless earbuds.
| | AirPods Pro | MW08 |
| --- | --- | --- |
| ANC | Yes — On, Off, Transparency | Yes — high, low, voice, awareness mode, off |
| Material | Plastic | Stainless steel, aluminum, ceramic |
| Controls | Force Stems | Physical metal buttons |
| Water Resistance | IPX4 | IPX5 |
| Charging | Lightning, Qi | USB-C |
| Battery Life | 4.5 hours per-charge, 24 hours with case | 12 hours per-charge, 42 hours with case |
| Drivers | Apple custom drivers | Custom 11mm Beryllium drivers |
| Connectivity | Bluetooth 5, 100-foot range, Apple H1 chip | Bluetooth 5.2, 100-foot range |
| Special Features | Spatial audio, auto-switching, direct integration into Apple ecosystem, Hey Siri support | M&D Connect app, wind cancelation, adjustable ANC, auto-off control |
| Price | $249 | $299 |
Apple wins handedly when it comes to features and it's simply hard for third-parties to keep up. Its headphones are integrated deep into the Apple ecosystem. Setup instantly on your iPhone or iPad and those AirPods Pro will show on your Apple Watch, Apple TV, and Mac automatically.
AirPods Pro can also switch between devices as you use them. You can control AirPods Pro via Siri, and you can add a widget to your iPhone's home screen to allow you to keep an eye on battery life. Additionally, AirPods Pro offer spatial mode.
Master & Dynamic can't do any of that, but it focuses on what matters most — audio quality, ANC, and the build. It's able to easily outlast AirPods Pro, though, when it comes to battery life. AirPods Pro last a max of five hours if you disable ANC, but MW08 can last 12 hours. Total battery life is 24 hours on AirPods Pro with the case, but MW08 get up to 42 hours.
Audio quality
Audio quality has continued to improve when it comes to true wireless earbuds— especially compared to where we were just a few short years ago.
When we directly compare the MW08 and the AirPods Pro, there is a noticeable difference in the quality between the two. If we start with the AirPods Pro, they sound excellent, delivering rich, well-balanced audio. We have no significant issues with them other than their size.
The MW08, though, sound better. They have a larger volume cavity that allows them to push more sound and create more substantial bass. Master & Dynamic relies on custom 11mm Beryllium drivers, some of the largest on a set of true wireless earbuds.
Aside from bass, the MW08 have a larger soundstage that doesn't very much sound like you're listening to a set of earbuds. This larger soundstage lets further musical nuances come through as the notes have more room to breathe.
M&D also takes the award for noise cancellation. It does in a few ways — one way is by the fit. It offers a more granular array of silicone ear tips. With smaller differences between sizes, you're more likely to find something that works well for you.
Its six-mic array is also able to block out more noise. During our in-studio testing, AirPods Pro excelled, but the MW08 just went a bit further.
What seals it is the customizable ANC of the MW08. The M&D Connect app lets you choose between multiple versions of ANC and transparency mode so you can prioritize performance or battery.
Call quality — especially with wind cancellation — was better on the MW08 too. However, both did less well with high frequencies centered around your hands. This included tasks such as sliding a cup on your desk or handwashing. The downward-facing microphone picks these noises up, and it is echoed far too loudly into the receiver's ears.
Take your pick
Both of these earbuds are fantastic options, and at full retail price, the $50 price discrepancy between the two puts us firmly in the MW08 camp. The superior build, ANC, and audio quality outshine the smart features and direct integration — at least for us.
Of course, that is never the whole story. AirPods Pro regularly go on sale. At that point, there's a significant difference between the cost of the AirPods Pro cost that of the MW08. That makes it a much tougher decision.
Regardless, you'll be happy either way.
If you'd like to grab a set of AirPods or AirPods Pro, visit our ongoing deals page that has the best offers listed. If you prefer the Master & Dynamic MW08, they go up for order March 30 from its site for $299.