Best Buy gains Apple Business Chat support for customer services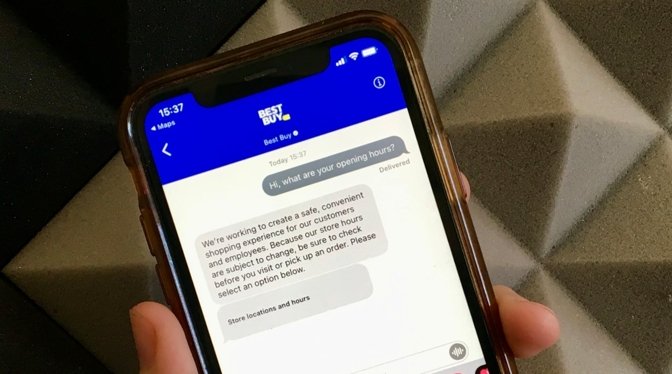 AppleInsider may earn an affiliate commission on purchases made through links on our site.
Best Buy has become the latest major retailer to support Apple Business Chat, allowing customers to ask questions with stores in a similar way to standard iMessage conversations.
Apple Business Chat is Apple's service that allows businesses to handle communications with customers through iMessages apps. On Monday, electronics retailer Best Buy became the latest company to join the roster of firms that can talk to customers via Apple's chat platform.
First reported by Appleosophy, customers can initiate Apple Business Chat for Best Buy via Apple Maps, by searching for their nearest retail outlet and tapping the "Message" icon. The iPhone or iPad will then open up iMessage and start a conversation up between the customer and a Best Buy representative.
While it can be used for general queries, Apple Business Chat can also be used for customers to make payments for goods and services within the conversation, by using Apple Pay.
Introduced in iOS 11.3 in 2018, Apple Business Chat quickly expanded out from the United States into other markets, including the United Kingdom, Japan, and Canada. Since its launch, it has been adopted by many customer-facing outlets and services, ranging from customer services for Sprint and TD Ameritrade to buying drinks from seats at Cleveland's Quicken Loans Arena.