Facebook details impact of App Tracking Transparency to advertisers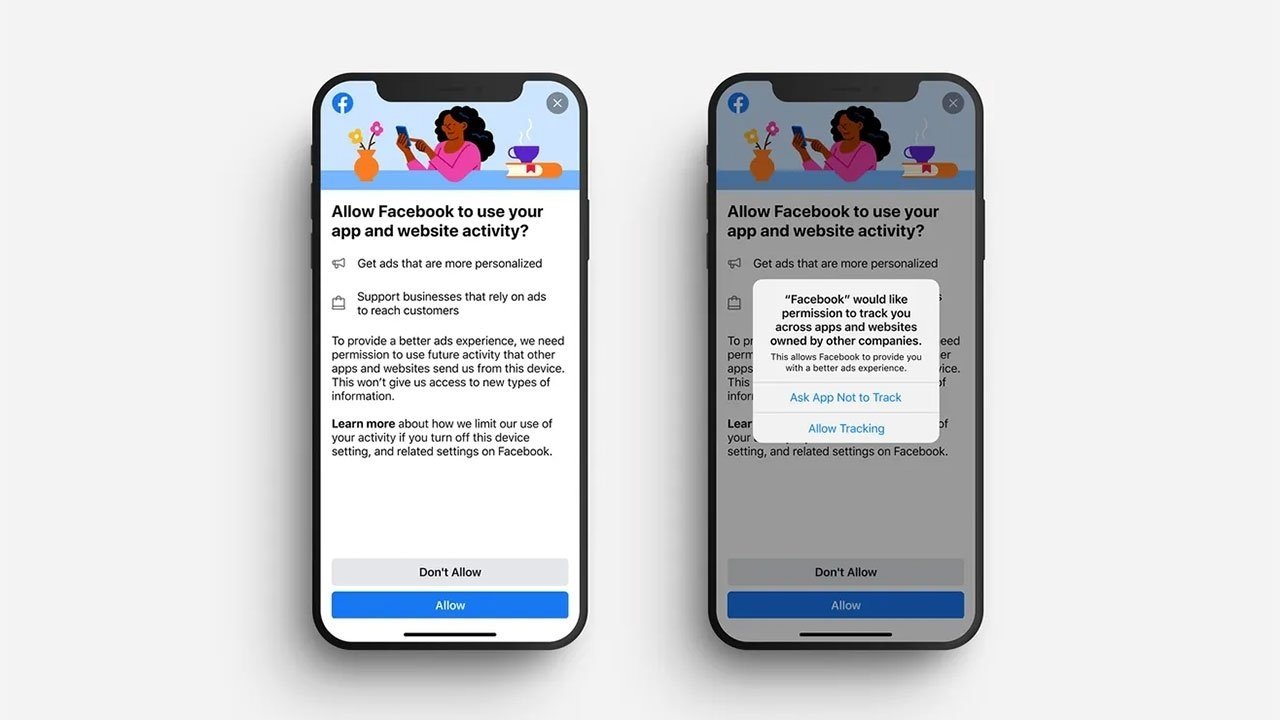 Facebook in a note to advertisers explained how Apple's App Tracking Transparency feature in iOS 14.5 will restrict availability of ad targeting and metrics tools, and potentially impact audience engagement.
The memo, obtained by Insider on Wednesday, outlines important information for advertisers relying on Facebook's vast social networking platform for distribution.
Along with general particulars regarding the launch of ATT in iOS 14.5, including integration of Apple's privacy-focused SKAdNetwork, Facebook notes the new prompt changes how reporting is handled on both the web and in the company's apps. From the memo:
1-day click-through opt-out data will be modeled.
7-day click-through and 1-day view-through attribution settings will no longer include iOS 14.5 opted-out events.
Action and demographic breakdowns will be deprecated for offsite events.
Attribution setting default will change to 7-day click-through for newly created ad sets and web event campaigns.
28-day click-through, 7-day view-through, 28-day view-through attribution settings will be fully deprecated along with the Comparing Windows feature.
Further, attribution methodology shifts from Impression Time to Conversion Time. Due to the rollout period of Facebook's Aggregated Event Measurement, not all advertisers will face limitations this week, the company says, estimating that the tool will be widely available in two weeks.
Facebook expects adoption of iOS 14.5 to create fluctuations in the delivery and reporting of ad campaigns, as well as a potential decrease in addressable audience.
"As more people upgrade to iOS 14.5, opted-out users will automatically be excluded from certain targetable audiences, which may result in decrease of audience sizes," Facebook says.
This is, of course, by design. ATT was created to limit ad targeting by restricting app access to users' Identification for Advertisers (IDFA) tags. With the new feature active, developers are required to ask permission to track users across apps and the web by displaying a prompt on initial app setup.
Many users are expected to opt for more privacy, leaving ad companies in search of new targeting technologies. Apple provides the SKAdNetwork and Privacy Click Measurement as options that do not require user permission because they don't track user data.
On Wednesday, Facebook CEO Mark Zuckerberg during the company's quarterly earnings conference call warned investors that fallout from ATT could begin to crop up in the second half of 2021. After months of decrying Apple's decision to implement ATT, Zuckerberg more recently said the feature might benefit his company if it pushes more traffic toward Facebook platforms.
During Apple's quarterly earnings call, CEO Tim Cook said initial user feedback to the new feature has been "tremendous," but did not have hard numbers on how many people used the feature to opt out of tracking.