Customers receive first M1 iMac, iPad Pro, Apple TV 4K orders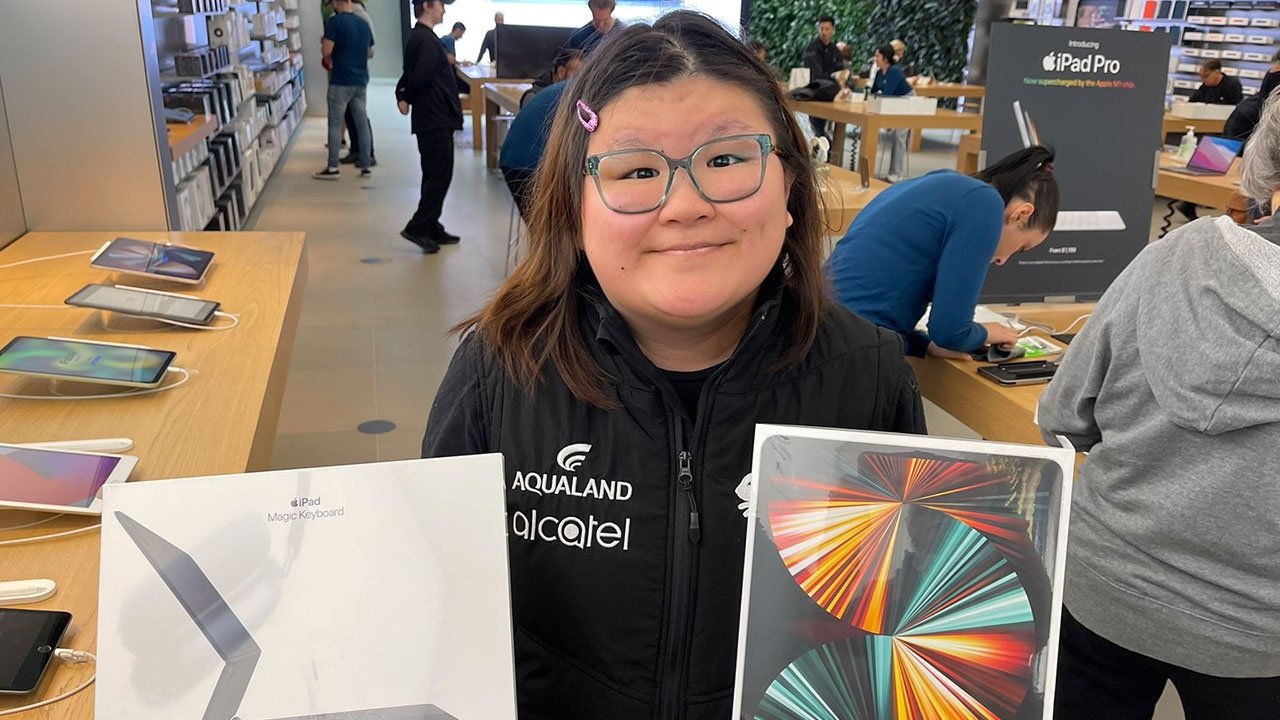 AppleInsider is supported by its audience and may earn commission as an Amazon Associate and affiliate partner on qualifying purchases. These affiliate partnerships do not influence our editorial content.
It's launch day for the M1 iMac, iPad Pro, and Apple TV 4K, and customers in certain parts of the globe are starting to receive their orders.
It's already Friday in Australia and New Zealand, so some early buyers are starting to receive their orders at least a day before their counterparts in the U.S. and other regions.
Customers in the Middle East, Asia, and Europe will be the next in line to start receiving their preorders, while in-store sales will start at Apple Stores and other retailers. The North American launch will be the last.
Despite the official launch being on Friday, at least one Apple TV 4K buyer received their order at least two days early. It isn't clear where that lucky Apple customer lives, however.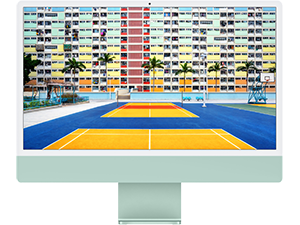 M1 iMac 24-inch Prices
AppleInsider may earn commission on products purchased through affiliate links.
---
Configurations
Discount
M1, 8GB, 256GB, 7-core GPU (Blue)

$1,299.00

Coupon

Price with $100 promo code APINSIDER. Plus, save $30 on AppleCare for iMac with the code. As always, if you have any issues, you can reach out to us at [email protected] and we'll try and help.

$100.00
M1, 8GB, 256GB, 7-core GPU (Green)

$1,299.00

Coupon

Price with $80 promo code APINSIDER. Plus, save $30 on AppleCare with the same code. As always, if you have any issues, you can reach out to us at [email protected] and we'll try and help.

$80.00
M1, 8GB, 256GB, 7-core GPU (Pink)

$1,299.00

Coupon

Price with $80 promo code APINSIDER. Plus, save $30 on AppleCare with the same code. As always, if you have any issues, you can reach out to us at [email protected] and we'll try and help.

$80.00
M1, 8GB, 256GB, 7-core GPU (Silver)

$1,299.00

Coupon

Price with $80 promo code APINSIDER. Plus, save $30 on AppleCare with the same code. As always, if you have any issues, you can reach out to us at [email protected] and we'll try and help.

$80.00
M1, 8GB, 512GB, 7-core GPU (Blue)

$1,499.00

Coupon

Price with $100 promo code APINSIDER. Plus, save $30 on AppleCare for iMac with the code. As always, if you have any issues, you can reach out to us at [email protected] and we'll try and help.

n/a

n/a

$100.00
M1, 8GB, 512GB, 7-core GPU (Green)

$1,499.00

Coupon

Price with $100 promo code APINSIDER. Plus, save $30 on AppleCare for iMac with the code. As always, if you have any issues, you can reach out to us at [email protected] and we'll try and help.

n/a

n/a

$100.00
M1, 8GB, 512GB, 7-core GPU (Pink)

$1,499.00

Coupon

Price with $100 promo code APINSIDER. Plus, save $30 on AppleCare for iMac with the code. As always, if you have any issues, you can reach out to us at [email protected] and we'll try and help.

n/a

n/a

$100.00
M1, 8GB, 512GB, 7-core GPU (Silver)

$1,499.00

Coupon

Price with $100 promo code APINSIDER. Plus, save $30 on AppleCare for iMac with the code. As always, if you have any issues, you can reach out to us at [email protected] and we'll try and help.

n/a

n/a

$100.00
M1, 8GB, 1TB, 7-core GPU (Blue)

$1,699.00

Coupon

Price with $100 promo code APINSIDER. Plus, save $30 on AppleCare for iMac with the code. As always, if you have any issues, you can reach out to us at [email protected] and we'll try and help.

n/a

n/a

$100.00
M1, 8GB, 1TB, 7-core GPU (Green)

$1,699.00

Coupon

Price with $100 promo code APINSIDER. Plus, save $30 on AppleCare for iMac with the code. As always, if you have any issues, you can reach out to us at [email protected] and we'll try and help.

n/a

n/a

$100.00
M1, 8GB, 1TB, 7-core GPU (Pink)

$1,699.00

Coupon

Price with $100 promo code APINSIDER. Plus, save $30 on AppleCare for iMac with the code. As always, if you have any issues, you can reach out to us at [email protected] and we'll try and help.

n/a

n/a

$100.00
M1, 8GB, 1TB, 7-core GPU (Silver)

$1,699.00

Coupon

Price with $100 promo code APINSIDER. Plus, save $30 on AppleCare for iMac with the code. As always, if you have any issues, you can reach out to us at [email protected] and we'll try and help.

n/a

n/a

$100.00
M1, 16GB, 256GB, 7-core GPU (Blue)

$1,499.00

Coupon

Price with $100 promo code APINSIDER. Plus, save $30 on AppleCare for iMac with the code. As always, if you have any issues, you can reach out to us at [email protected] and we'll try and help.

n/a

n/a

$100.00
M1, 16GB, 256GB, 7-core GPU (Green)

$1,499.00

Coupon

Price with $100 promo code APINSIDER. Plus, save $30 on AppleCare for iMac with the code. As always, if you have any issues, you can reach out to us at [email protected] and we'll try and help.

n/a

n/a

$100.00
M1, 16GB, 256GB, 7-core GPU (Pink)

$1,499.00

Coupon

Price with $100 promo code APINSIDER. Plus, save $30 on AppleCare for iMac with the code. As always, if you have any issues, you can reach out to us at [email protected] and we'll try and help.

n/a

n/a

$100.00
M1, 16GB, 256GB, 7-core GPU (Silver)

$1,499.00

Coupon

Price with $100 promo code APINSIDER. Plus, save $30 on AppleCare for iMac with the code. As always, if you have any issues, you can reach out to us at [email protected] and we'll try and help.

n/a

n/a

$100.00
M1, 16GB, 512GB, 7-core GPU (Blue)

$1,699.00

Coupon

Price with $100 promo code APINSIDER. Plus, save $30 on AppleCare for iMac with the code. As always, if you have any issues, you can reach out to us at [email protected] and we'll try and help.

n/a

n/a

$100.00
M1, 16GB, 512GB, 7-core GPU (Green)

$1,699.00

Coupon

Price with $100 promo code APINSIDER. Plus, save $30 on AppleCare for iMac with the code. As always, if you have any issues, you can reach out to us at [email protected] and we'll try and help.

n/a

n/a

$100.00
M1, 16GB, 512GB, 7-core GPU (Pink)

$1,699.00

Coupon

Price with $100 promo code APINSIDER. Plus, save $30 on AppleCare for iMac with the code. As always, if you have any issues, you can reach out to us at [email protected] and we'll try and help.

n/a

n/a

$100.00
M1, 16GB, 512GB, 7-core GPU (Silver)

$1,699.00

Coupon

Price with $100 promo code APINSIDER. Plus, save $30 on AppleCare for iMac with the code. As always, if you have any issues, you can reach out to us at [email protected] and we'll try and help.

n/a

n/a

$100.00
M1, 16GB, 1TB, 7-core GPU (Blue)

$1,899.00

Coupon

Price with $130 promo code APINSIDER. Plus, save $30 on AppleCare with the same code. If you have any issues, please reach out to us at [email protected] and we'll be happy to assist.

n/a

n/a

$130.00
M1, 16GB, 1TB, 7-core GPU (Green)

$1,899.00

Coupon

Price with $130 promo code APINSIDER. Plus, save $30 on AppleCare with the same code. If you have any issues, please reach out to us at [email protected] and we'll be happy to assist.

n/a

n/a

$130.00
M1, 16GB, 1TB, 7-core GPU (Pink)

$1,899.00

Coupon

Price with $100 promo code APINSIDER. Plus, save $30 on AppleCare for iMac with the code. As always, if you have any issues, you can reach out to us at [email protected] and we'll try and help.

n/a

n/a

$110.00
M1, 16GB, 1TB, 7-core GPU (Silver)

$1,899.00

Coupon

Price with $130 promo code APINSIDER. Plus, save $30 on AppleCare with the same code. If you have any issues, please reach out to us at [email protected] and we'll be happy to assist.

n/a

n/a

$130.00
M1, 8GB, 256GB, 8-core GPU (Blue)

$1,499.00

Coupon

Price with $100 promo code APINSIDER. Plus, save $30 on AppleCare for iMac with the code. As always, if you have any issues, you can reach out to us at [email protected] and we'll try and help.

$109.01
M1, 8GB, 256GB, 8-core GPU (Green)

$1,499.00

Coupon

Price with $100 promo code APINSIDER. Plus, save $30 on AppleCare for iMac with the code. As always, if you have any issues, you can reach out to us at [email protected] and we'll try and help.

$100.00
M1, 8GB, 256GB, 8-core GPU (Pink)

$1,499.00

Coupon

Price with $100 promo code APINSIDER. Plus, save $30 on AppleCare for iMac with the code. As always, if you have any issues, you can reach out to us at [email protected] and we'll try and help.

$100.00
M1, 8GB, 256GB, 8-core GPU (Silver)

$1,499.00

Coupon

Price with $100 promo code APINSIDER. Plus, save $30 on AppleCare for iMac with the code. As always, if you have any issues, you can reach out to us at [email protected] and we'll try and help.

$100.00
M1, 8GB, 256GB, 8-core GPU (Yellow)

$1,499.00

Coupon

Price with $100 promo code APINSIDER. Plus, save $30 on AppleCare for iMac with the code. As always, if you have any issues, you can reach out to us at [email protected] and we'll try and help.

n/a

$100.00
M1, 8GB, 256GB, 8-core GPU (Orange)

$1,499.00

Coupon

Price with $100 promo code APINSIDER. Plus, save $30 on AppleCare for iMac with the code. As always, if you have any issues, you can reach out to us at [email protected] and we'll try and help.

n/a

n/a

$100.00
M1, 8GB, 256GB, 8-core GPU (Purple)

$1,499.00

Coupon

Price with $100 promo code APINSIDER. Plus, save $30 on AppleCare for iMac with the code. As always, if you have any issues, you can reach out to us at [email protected] and we'll try and help.

n/a

n/a

$100.00
M1, 8GB, 512GB, 8-core GPU (Blue)

$1,699.00

Coupon

Price with $100 promo code APINSIDER. Plus, save $30 on AppleCare for iMac with the code. As always, if you have any issues, you can reach out to us at [email protected] and we'll try and help.

$100.00
M1, 8GB, 512GB, 8-core GPU (Green)

$1,699.00

Coupon

Price with $100 promo code APINSIDER. Plus, save $30 on AppleCare for iMac with the code. As always, if you have any issues, you can reach out to us at [email protected] and we'll try and help.

$100.00
M1, 8GB, 512GB, 8-core GPU (Pink)

$1,699.00

Coupon

Price with $100 promo code APINSIDER. Plus, save $30 on AppleCare for iMac with the code. As always, if you have any issues, you can reach out to us at [email protected] and we'll try and help.

$100.00
M1, 8GB, 512GB, 8-core GPU (Silver)

$1,699.00

Coupon

Price with $100 promo code APINSIDER. Plus, save $30 on AppleCare for iMac with the code. As always, if you have any issues, you can reach out to us at [email protected] and we'll try and help.

$100.00
M1, 8GB, 512GB, 8-core GPU (Yellow)

$1,699.00

Coupon

Price with $100 promo code APINSIDER. Plus, save $30 on AppleCare for iMac with the code. As always, if you have any issues, you can reach out to us at [email protected] and we'll try and help.

n/a

n/a

$100.00
M1, 8GB, 512GB, 8-core GPU (Orange)

$1,699.00

Coupon

Price with $100 promo code APINSIDER. Plus, save $30 on AppleCare for iMac with the code. As always, if you have any issues, you can reach out to us at [email protected] and we'll try and help.

n/a

n/a

$100.00
M1, 8GB, 512GB, 8-core GPU (Purple)

$1,699.00

Coupon

Price with $100 promo code APINSIDER. Plus, save $30 on AppleCare for iMac with the code. As always, if you have any issues, you can reach out to us at [email protected] and we'll try and help.

n/a

n/a

$100.00
M1, 8GB, 1TB, 8-core GPU (Blue)

$1,899.00

Coupon

Price with $130 promo code APINSIDER. Plus, save $30 on AppleCare with the same code. If you have any issues, please reach out to us at [email protected] and we'll be happy to assist.

n/a

n/a

$130.00
M1, 8GB, 1TB, 8-core GPU (Green)

$1,899.00

Coupon

Price with $130 promo code APINSIDER. Plus, save $30 on AppleCare with the same code. If you have any issues, please reach out to us at [email protected] and we'll be happy to assist.

n/a

n/a

$130.00
M1, 8GB, 1TB, 8-core GPU (Pink)

$1,899.00

Coupon

Price with $130 promo code APINSIDER. Plus, save $30 on AppleCare with the same code. If you have any issues, please reach out to us at [email protected] and we'll be happy to assist.

n/a

n/a

$130.00
M1, 8GB, 1TB, 8-core GPU (Silver)

$1,899.00

Coupon

Price with $130 promo code APINSIDER. Plus, save $30 on AppleCare with the same code. If you have any issues, please reach out to us at [email protected] and we'll be happy to assist.

n/a

n/a

$130.00
M1, 8GB, 1TB, 8-core GPU (Yellow)

$1,899.00

Coupon

Price with $130 promo code APINSIDER. Plus, save $30 on AppleCare with the same code. If you have any issues, please reach out to us at [email protected] and we'll be happy to assist.

n/a

n/a

$130.00
M1, 8GB, 1TB, 8-core GPU (Orange)

$1,899.00

Coupon

Price with $130 promo code APINSIDER. Plus, save $30 on AppleCare with the same code. If you have any issues, please reach out to us at [email protected] and we'll be happy to assist.

n/a

n/a

$130.00
M1, 8GB, 1TB, 8-core GPU (Purple)

$1,899.00

Coupon

Price with $130 promo code APINSIDER. Plus, save $30 on AppleCare with the same code. If you have any issues, please reach out to us at [email protected] and we'll be happy to assist.

n/a

n/a

$130.00
M1, 8GB, 2TB, 8-core GPU (Blue)

$2,299.00

Coupon

Price with $130 promo code APINSIDER. Plus, save $30 on AppleCare with the same code. If you have any issues, please reach out to us at [email protected] and we'll be happy to assist.

n/a

n/a

$130.00
M1, 8GB, 2TB, 8-core GPU (Green)

$2,299.00

Coupon

Price with $130 promo code APINSIDER. Plus, save $30 on AppleCare with the same code. If you have any issues, please reach out to us at [email protected] and we'll be happy to assist.

n/a

n/a

$130.00
M1, 8GB, 2TB, 8-core GPU (Pink)

$2,299.00

Coupon

Price with $130 promo code APINSIDER. Plus, save $30 on AppleCare with the same code. If you have any issues, please reach out to us at [email protected] and we'll be happy to assist.

n/a

n/a

$130.00
M1, 8GB, 2TB, 8-core GPU (Silver)

$2,299.00

Coupon

Price with $130 promo code APINSIDER. Plus, save $30 on AppleCare with the same code. If you have any issues, please reach out to us at [email protected] and we'll be happy to assist.

n/a

n/a

$130.00
M1, 8GB, 2TB, 8-core GPU (Yellow)

$2,299.00

Coupon

Price with $130 promo code APINSIDER. Plus, save $30 on AppleCare with the same code. If you have any issues, please reach out to us at [email protected] and we'll be happy to assist.

n/a

n/a

$130.00
M1, 8GB, 2TB, 8-core GPU (Orange)

$2,299.00

Coupon

Price with $130 promo code APINSIDER. Plus, save $30 on AppleCare with the same code. If you have any issues, please reach out to us at [email protected] and we'll be happy to assist.

n/a

n/a

$130.00
M1, 8GB, 2TB, 8-core GPU (Purple)

$2,299.00

Coupon

Price with $130 promo code APINSIDER. Plus, save $30 on AppleCare with the same code. If you have any issues, please reach out to us at [email protected] and we'll be happy to assist.

n/a

n/a

$130.00
M1, 16GB, 256GB, 8-core GPU (Blue)

$1,699.00

Coupon

Price with $100 promo code APINSIDER. Plus, save $30 on AppleCare for iMac with the code. As always, if you have any issues, you can reach out to us at [email protected] and we'll try and help.

n/a

n/a

$100.00
M1, 16GB, 256GB, 8-core GPU (Green)

$1,699.00

Coupon

Price with $100 promo code APINSIDER. Plus, save $30 on AppleCare for iMac with the code. As always, if you have any issues, you can reach out to us at [email protected] and we'll try and help.

n/a

n/a

$100.00
M1, 16GB, 256GB, 8-core GPU (Pink)

$1,699.00

Coupon

Price with $100 promo code APINSIDER. Plus, save $30 on AppleCare for iMac with the code. As always, if you have any issues, you can reach out to us at [email protected] and we'll try and help.

n/a

n/a

$100.00
M1, 16GB, 256GB, 8-core GPU (Silver)

$1,699.00

Coupon

Price with $100 promo code APINSIDER. Plus, save $30 on AppleCare for iMac with the code. As always, if you have any issues, you can reach out to us at [email protected] and we'll try and help.

n/a

n/a

$100.00
M1, 16GB, 256GB, 8-core GPU (Yellow)

$1,699.00

Coupon

Price with $100 promo code APINSIDER. Plus, save $30 on AppleCare for iMac with the code. As always, if you have any issues, you can reach out to us at [email protected] and we'll try and help.

n/a

n/a

$100.00
M1, 16GB, 256GB, 8-core GPU (Orange)

$1,699.00

Coupon

Price with $100 promo code APINSIDER. Plus, save $30 on AppleCare for iMac with the code. As always, if you have any issues, you can reach out to us at [email protected] and we'll try and help.

n/a

n/a

$100.00
M1, 16GB, 256GB, 8-core GPU (Purple)

$1,699.00

Coupon

Price with $100 promo code APINSIDER. Plus, save $30 on AppleCare for iMac with the code. As always, if you have any issues, you can reach out to us at [email protected] and we'll try and help.

n/a

n/a

$100.00
M1, 16GB, 512GB, 8-core GPU (Blue)

$1,899.00

Coupon

Price with $130 promo code APINSIDER. Plus, save $30 on AppleCare with the same code. If you have any issues, please reach out to us at [email protected] and we'll be happy to assist.

n/a

n/a

$130.00
M1, 16GB, 512GB, 8-core GPU (Green)

$1,899.00

Coupon

Price with $130 promo code APINSIDER. Plus, save $30 on AppleCare with the same code. If you have any issues, please reach out to us at [email protected] and we'll be happy to assist.

n/a

n/a

$130.00
M1, 16GB, 512GB, 8-core GPU (Pink)

$1,899.00

Coupon

Price with $130 promo code APINSIDER. Plus, save $30 on AppleCare with the same code. If you have any issues, please reach out to us at [email protected] and we'll be happy to assist.

n/a

n/a

$130.00
M1, 16GB, 512GB, 8-core GPU (Silver)

$1,899.00

Coupon

Price with $130 promo code APINSIDER. Plus, save $30 on AppleCare with the same code. If you have any issues, please reach out to us at [email protected] and we'll be happy to assist.

n/a

n/a

$130.00
M1, 16GB, 512GB, 8-core GPU (Yellow)

$1,899.00

Coupon

Price with $130 promo code APINSIDER. Plus, save $30 on AppleCare with the same code. If you have any issues, please reach out to us at [email protected] and we'll be happy to assist.

n/a

n/a

$130.00
M1, 16GB, 512GB, 8-core GPU (Orange)

$1,899.00

Coupon

Price with $130 promo code APINSIDER. Plus, save $30 on AppleCare with the same code. If you have any issues, please reach out to us at [email protected] and we'll be happy to assist.

n/a

n/a

$130.00
M1, 16GB, 512GB, 8-core GPU (Purple)

$1,899.00

Coupon

Price with $130 promo code APINSIDER. Plus, save $30 on AppleCare with the same code. If you have any issues, please reach out to us at [email protected] and we'll be happy to assist.

n/a

n/a

$130.00
M1, 16GB, 1TB, 8-core GPU (Blue)

$2,099.00

Coupon

Price with $130 promo code APINSIDER. Plus, save $30 on AppleCare with the same code. If you have any issues, please reach out to us at [email protected] and we'll be happy to assist.

n/a

n/a

$130.00
M1, 16GB, 1TB, 8-core GPU (Green)

$2,099.00

Coupon

Price with $130 promo code APINSIDER. Plus, save $30 on AppleCare with the same code. If you have any issues, please reach out to us at [email protected] and we'll be happy to assist.

n/a

n/a

$130.00
M1, 16GB, 1TB, 8-core GPU (Pink)

$2,099.00

Coupon

Price with $130 promo code APINSIDER. Plus, save $30 on AppleCare with the same code. If you have any issues, please reach out to us at [email protected] and we'll be happy to assist.

n/a

n/a

$130.00
M1, 16GB, 1TB, 8-core GPU (Silver)

$2,099.00

Coupon

Price with $130 promo code APINSIDER. Plus, save $30 on AppleCare with the same code. If you have any issues, please reach out to us at [email protected] and we'll be happy to assist.

n/a

n/a

$130.00
M1, 16GB, 1TB, 8-core GPU (Yellow)

$2,099.00

Coupon

Price with $130 promo code APINSIDER. Plus, save $30 on AppleCare with the same code. If you have any issues, please reach out to us at [email protected] and we'll be happy to assist.

n/a

n/a

$130.00
M1, 16GB, 1TB, 8-core GPU (Orange)

$2,099.00

Coupon

Price with $130 promo code APINSIDER. Plus, save $30 on AppleCare with the same code. If you have any issues, please reach out to us at [email protected] and we'll be happy to assist.

n/a

n/a

$130.00
M1, 16GB, 1TB, 8-core GPU (Purple)

$2,099.00

Coupon

Price with $130 promo code APINSIDER. Plus, save $30 on AppleCare with the same code. If you have any issues, please reach out to us at [email protected] and we'll be happy to assist.

n/a

n/a

$130.00
M1, 16GB, 2TB, 8-core GPU (Blue)

$2,499.00

Coupon

Price with $130 promo code APINSIDER. Plus, save $30 on AppleCare with the same code. If you have any issues, please reach out to us at [email protected] and we'll be happy to assist.

n/a

n/a

$130.00
M1, 16GB, 2TB, 8-core GPU (Green)

$2,499.00

Coupon

Price with $130 promo code APINSIDER. Plus, save $30 on AppleCare with the same code. If you have any issues, please reach out to us at [email protected] and we'll be happy to assist.

n/a

n/a

$130.00
M1, 16GB, 2TB, 8-core GPU (Pink)

$2,499.00

Coupon

Price with $130 promo code APINSIDER. Plus, save $30 on AppleCare with the same code. If you have any issues, please reach out to us at [email protected] and we'll be happy to assist.

n/a

n/a

$130.00
M1, 16GB, 2TB, 8-core GPU (Silver)

$2,499.00

Coupon

Price with $130 promo code APINSIDER. Plus, save $30 on AppleCare with the same code. If you have any issues, please reach out to us at [email protected] and we'll be happy to assist.

n/a

n/a

$130.00
M1, 16GB, 2TB, 8-core GPU (Yellow)

$2,499.00

Coupon

Price with $130 promo code APINSIDER. Plus, save $30 on AppleCare with the same code. If you have any issues, please reach out to us at [email protected] and we'll be happy to assist.

n/a

n/a

$130.00
M1, 16GB, 2TB, 8-core GPU (Orange)

$2,499.00

Coupon

Price with $130 promo code APINSIDER. Plus, save $30 on AppleCare with the same code. If you have any issues, please reach out to us at [email protected] and we'll be happy to assist.

n/a

n/a

$130.00
M1, 16GB, 2TB, 8-core GPU (Purple)

$2,499.00

Coupon

Price with $130 promo code APINSIDER. Plus, save $30 on AppleCare with the same code. If you have any issues, please reach out to us at [email protected] and we'll be happy to assist.

n/a

n/a

$130.00