How to connect iPad Pro & Mac to one LG UltraFine USB-C display simultaneously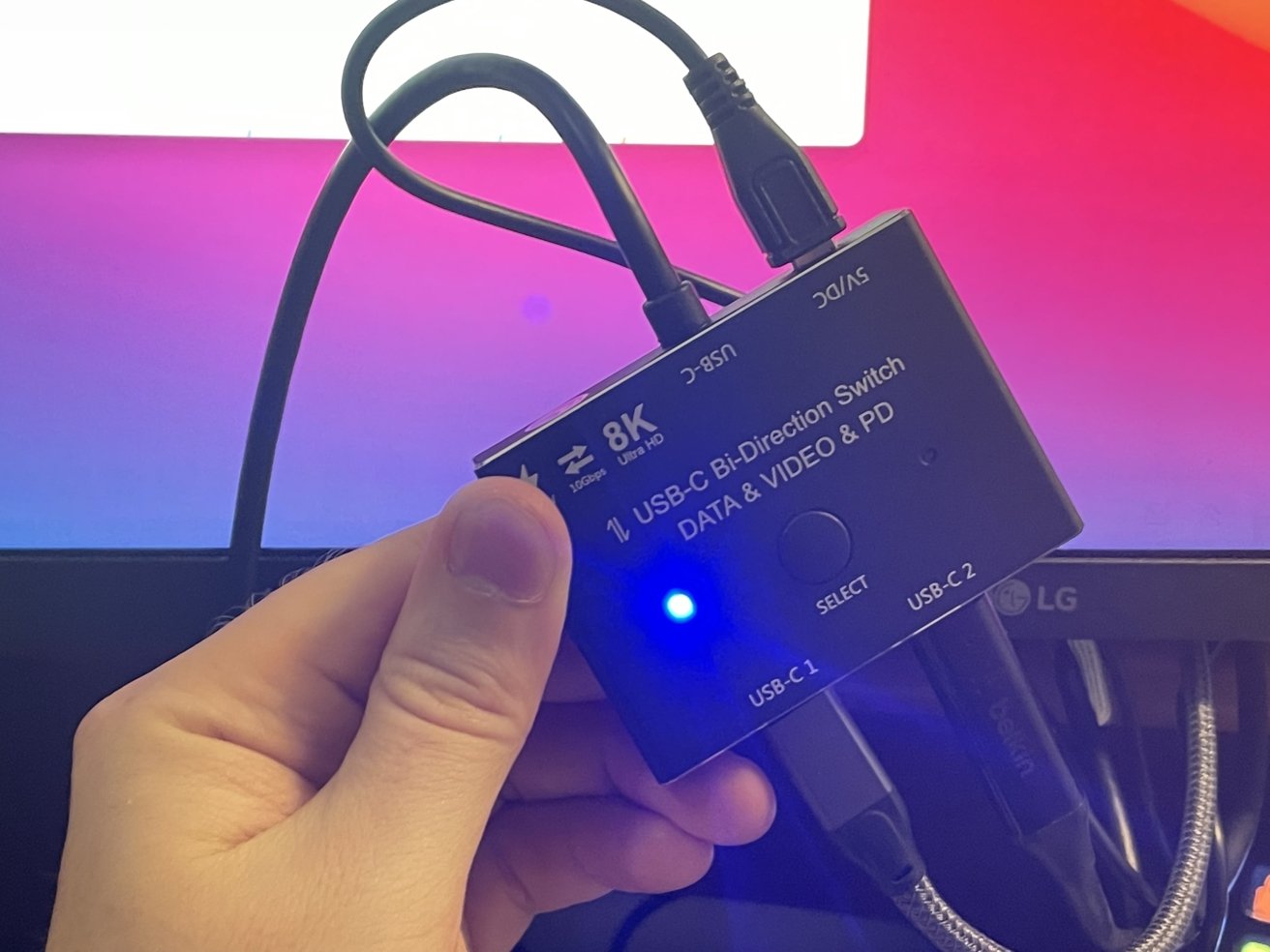 AppleInsider may earn an affiliate commission on purchases made through links on our site.
A new accessory allows two USB-C devices, like an iPad Pro and Mac, to connect to a monitor with a single USB-C input — including the LG UltraFine series of monitors, and potentially Apple's Pro Display XDR.
In June, a Chinese manufacturer called CableDeconn launched a new $59.99 USB-C Bi-Direction Switch that serves as a KVM switch for two USB-C inputs. Notably, the device supports the DisplayPort over USB-C protocol, which means it works with Apple's Mac and iPad lineup, which provide video out over USB-C to USB-C connections.
We tested the newly released USB-C KVM switch with an original 21.5-inch LG UltraFine 4K, which has a single USB-C input. The switch operated fine with a 2018 13-inch MacBook Pro using a BlackMagic eGPU, a 2018 12.9-inch iPad Pro, and a 2021 Intel "Phantom Canyon" NUC running Windows 10.
Notably, the switch also works perfectly with the integrated USB hub built into our LG UltraFine 4K, which means our Magic Keyboard and Magic Trackpad plugged into the display automatically switch between our MacBook Pro and iPad Pro without the need to deal with pairing or device switching.
On our unlocked iPad Pro, the switch takes about two seconds to display on the LG monitor. With the MacBook Pro and eGPU, it's just slightly longer — about five to eight seconds.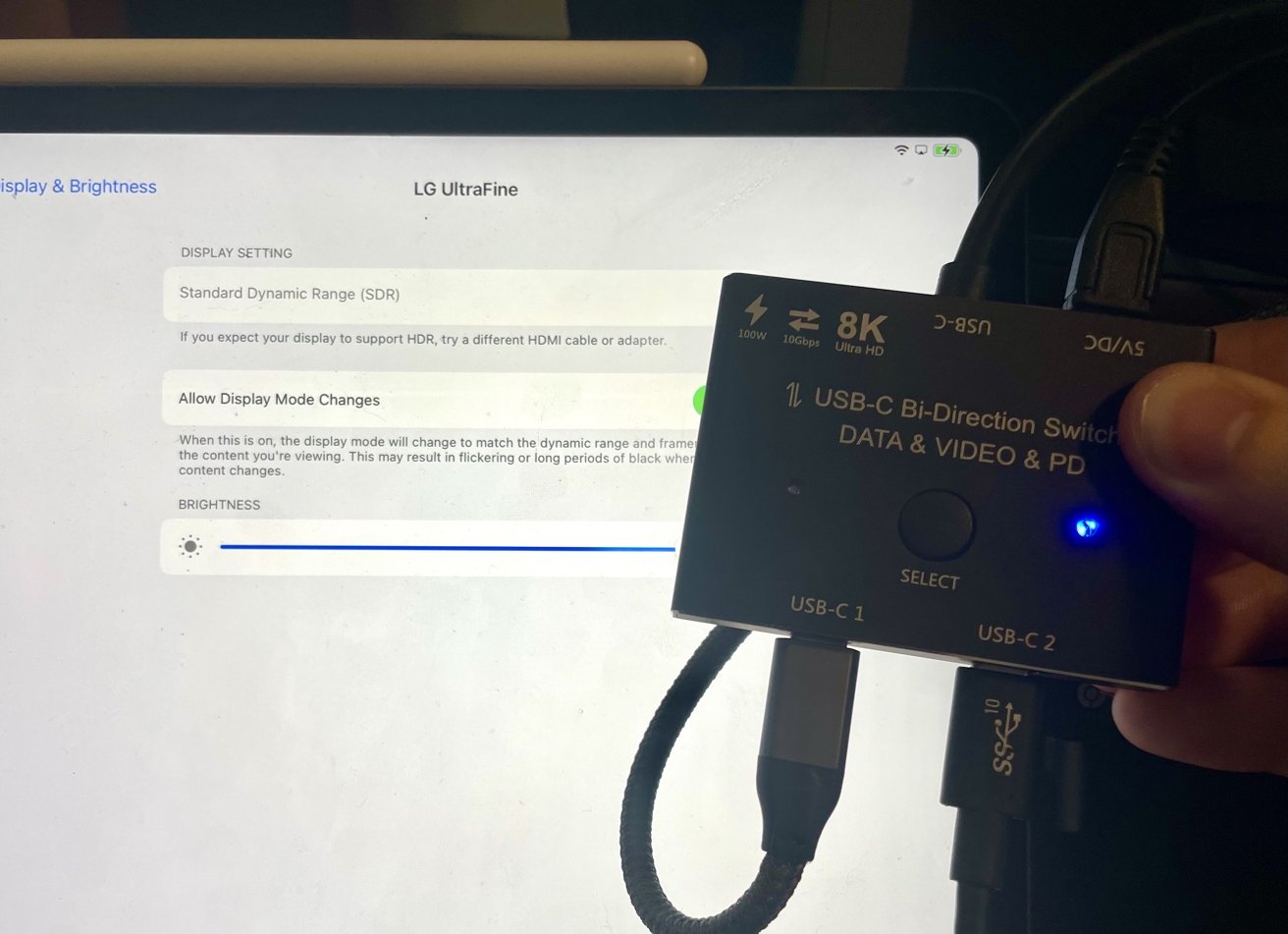 We have confirmed that you can do the same thing with the Pro Display XDR — albeit at a lower resolution than the 6K the monitor is capable of. Since the Thunderbolt input works with the USB-C DisplayPort protocol, used on the 2018 and 2020 versions of the iPad Pro, the new CableDeconn KVM works with the Pro Display XDR as well limited to a 4K resolution at a 60Hz refresh, due to the ceiling on USB 3.1 bandwidth.
That's partially because of a major caveat: The CableDeConn is limited to USB 3.1 Gen 2 speeds of 10Gbps, which is one-quarter of speed offered by Thunderbolt 3. If you have an Apple Pro Display XDR or LG UltraFine 4K or 5K monitor with Thunderbolt 3 input, the devices you connect to the hub within the monitor or daisy chain through the Thunderbolt out port won't operate at full speed, and you won't get the full 6K resolution on the XDR.
As for the LG UltraFine lineup, if you have the original 5K model (model 27MD5KA), it is Thunderbolt 3 only and won't work with the 2018 or 2018 iPad Pro, nor the new USB-C KVM switch. But for owners of the newer LG UltraFine 5K (model 27MD5KL), 4K resolutions are possible with just USB-C.
To date, there are no Thunderbolt 3-capable KVMs known on the market. We'll see what USB4 brings and trickles down, as they aren't expressly disallowed under the new spec like they are under Thunderbolt 3.
For the smaller LG UltraFine displays, any 4K model should work just fine and at full resolution over USB-C. For some, especially those with a 4K UltraFine still running a 2018 or 2020 iPad Pro with USB-C and not Thunderbolt, this USB 3.1 limitation may not matter at all. The same goes for those who might just have low-bandwidth devices like a mouse and keyboard plugged into their display, which do not require the bandwidth capacity of Thunderbolt.
The USB-C switch is advertised to pass through power of 100W — more than enough to charge a MacBook Pro at maximum speed even under load, or any iPad Pro.
The new USB-C KVM is noteworthy because the LG UltraFine series of monitors, along with the Apple XDR Pro Display, are three of the few Retina display-caliber external monitors available on the market. For example, our original LG UltraFine 4K display has a pixel density of 218.58 PPI.
Outside of Apple and LG's offerings, display makers seemingly aren't terribly interested in offering high-pixel-density displays, with many 4K monitors stretched out to 30-plus inches. For anyone used to the gorgeous Retina display on a MacBook or iPad, the pixel density on these monitors might be seen as a major step down.
But because there are no other options for Retina-caliber displays, that means users of the LG UltraFine series, or Apple's Pro Display XDR, are limited to hardware with just one input. CableDeconn's new USB-C KVM switch addresses this, making it the only current option, and saving you the need to swap cables. It's available on Amazon for $59.99.