Facebook's cloud gaming service launches on iOS both in-app and on the web [u]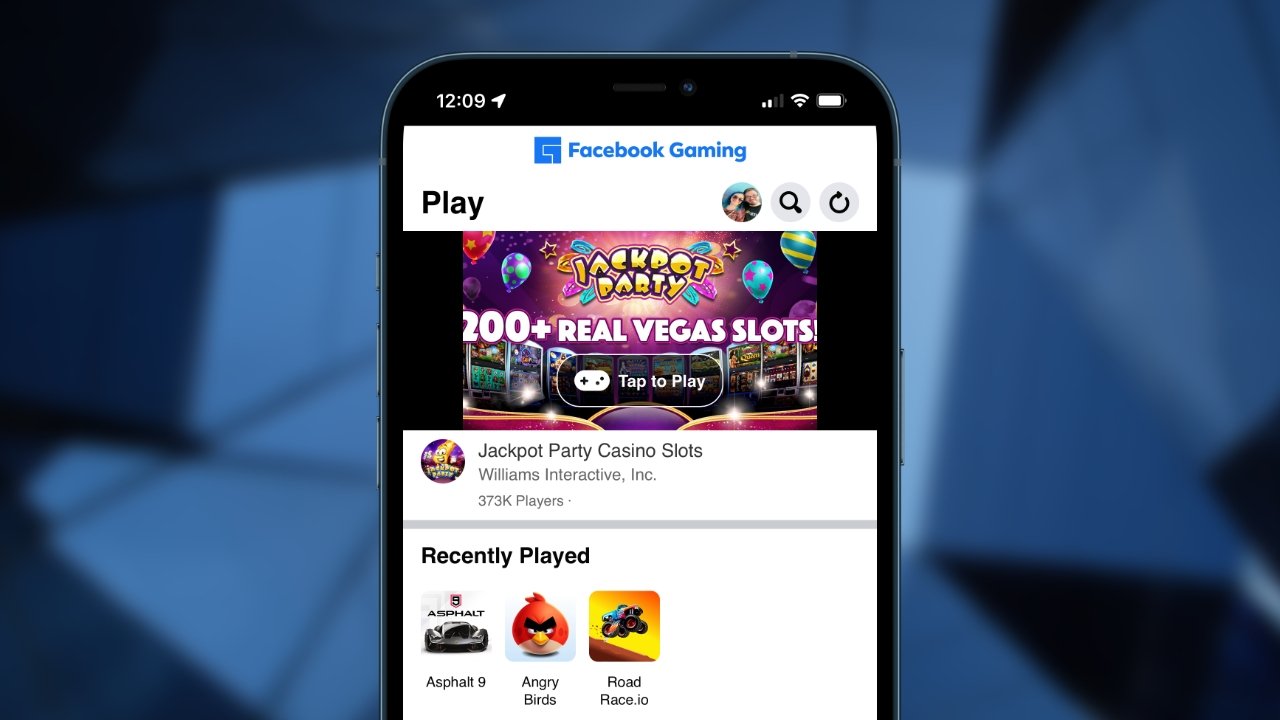 AppleInsider is supported by its audience and may earn commission as an Amazon Associate and affiliate partner on qualifying purchases. These affiliate partnerships do not influence our editorial content.
After months in private beta, Facebook cloud gaming is live and can be accessed via web app on iPhone with some launching inside the app.
Facebook users can access Facebook's cloud gaming platform by visiting a specific URL and adding it to their home screen. Once the bookmark is added, it will launch a dedicated Safari window with the Facebook gaming web app in full screen.
The Verge notes that Facebook is in a tough position for this nascent gaming platform — it cannot advertise the web app within the Facebook app, nor can it run the games natively within Facebook. Apple requires all games for a streaming service to be added to the App Store, or else the service must only exist in a web app.
"We've come to the same conclusion as others: web apps are the only option for streaming cloud games on iOS at the moment," said Facebook's vice president of gaming, Vivek Sharma. "As many have pointed out, Apple's policy to allow' cloud games on the App Store doesn't allow for much at all."
Facebook has been vocal about Apple's App Store guidelines surrounding games before. The company has said the rules aren't fair, especially since a majority of users wouldn't use the app for gaming.
AppleInsider staff have tested a few of the games. Some refuse to launch, while others direct you to the Facebook app. The games appear to not be downloaded to your device, but are streamed as a video you're able to control with touch inputs.
Users who open the Facebook app will see a dedicated gaming block has been added to the interface. We found that Angry Birds works within the Facebook app, where it did not work within the web app.
Facebook's inclusion of games in its app is covered by App Store guideline 4.7, which states that "[a]pps may contain or run code that is not embedded in the binary (e.g. HTML5-based games, bots, etc.), as long as code distribution isn't the main purpose of the app, the code is not offered in a store or store-like interface, and provided that the software adheres to the additional rules that follow in 4.7.1 and 4.7.2. The games in Facebook's app, called Instant Games, are built on HTML5.
Interestingly, Facebook in a statement to AppleInsider said Apple's rule stopped the company from releasing HTML5 games in a standalone Facebook Gaming app. In attempting to persuade Apple to allow a Facebook Gaming title onto the App Store, the social network pointed to its game-centric app on Android, saying that a majority of the title's activity was generated by watching livestreams. Apple didn't bite and Facebook ultimately launched Facebook Games on iOS in 2020 without HTML5 games.
Updated with statement from Facebook and correction on Apple's HTML5 game guidelines. A previous version of this story suggested Facebook was in violation of Apple's App Store rules.