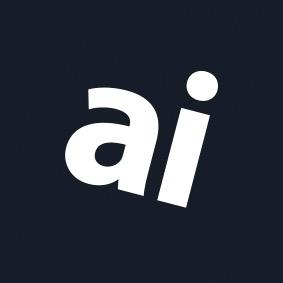 Why you can trust AppleInsider
Nanoleaf Lines review: Beautiful indirect HomeKit lighting of your own design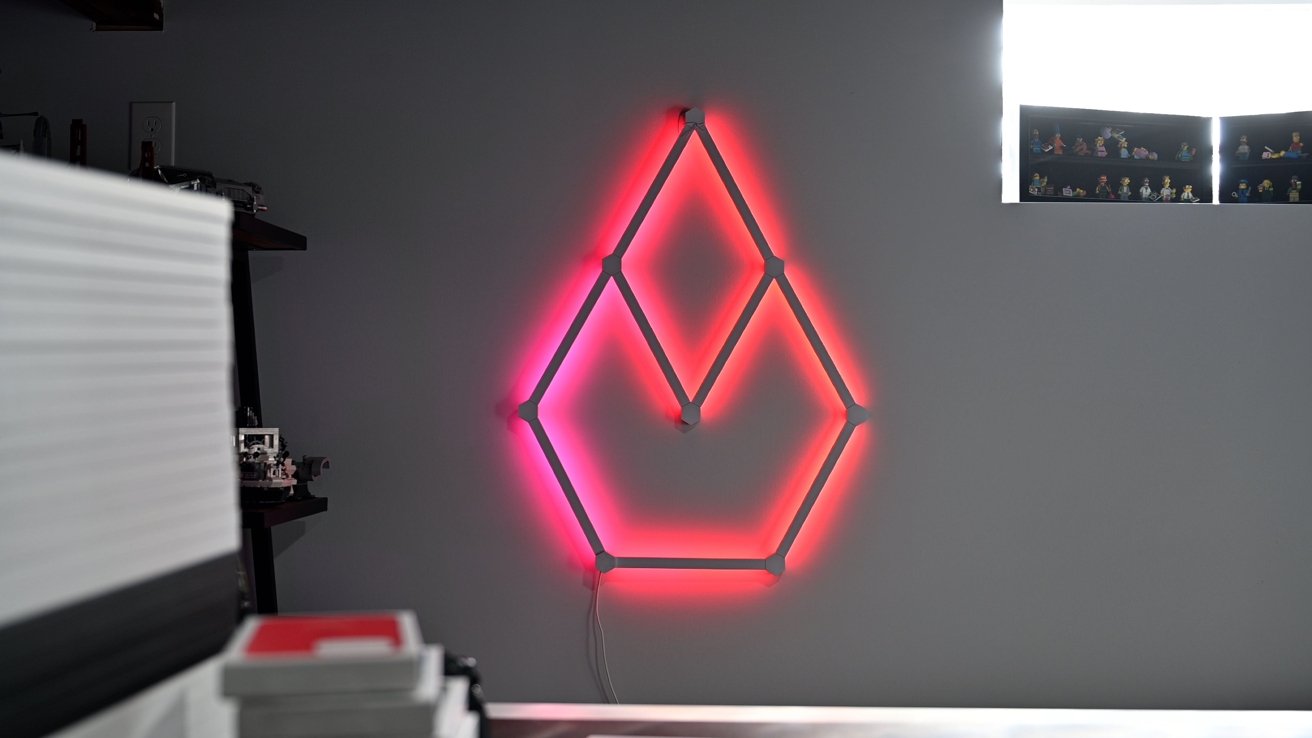 ---
The all-new Nanoleaf Lines are innovative smart lights for your home that can add functional light or strike the perfect mood with rich ambiance effects that also work with Apple HomeKit.
A new take on smart lights
Unlike the litany of smart wall nights Nanoleaf has introduced to date, the new Lines go in a different direction. Quite literally. Rather than focusing the light outward into the room, these provide indirect lighting that faces the wall.
They sit just off the wall — about half an inch — and project diffused, multi-colored light onto the surface that can be shaped into countless designs thanks to the modular system.
The light works with many smart home standards such as Apple HomeKit, Google Assistant, Amazon's Alexa, IFTTT, SmartThings, and Razer Chroma. It connects over Wi-Fi and can act as a Thread border router for your existing Thread endpoints such as Nanoleaf's Essentials line or the several Eve products that have been updated.
Components and setup
The base Nanoleaf Lines Smarter Kit has nine light bars, nine hexagonal connectors with caps, and extra adhesives. Additional light bars can be added in packs of three to increase the number of designs you can create. A power cable is bundled too.
To set this up, you first need to come up with a design. In the box is a helpful card full of design options, but there is a landing page with inspiration.
Before you adhere it to your wall, you can use the augmented reality mode in the app to preview your design and see how it will look.
We picked a basic pattern we liked and tested it on our floor before we set about mounting things on the wall.
Each light bar connects through these hexagonal pieces that act as spacers between the lights and the wall. The wall-facing side has a custom adhesive piece that can easily be removed without causing any damage to your wall, similar to a 3M Command strip. There are also two holes where you could screw this into place instead of using the adhesive. Nanoleaf doesn't provide any screws, however.
The front of these corner pieces has a matte white plastic cap that snaps into place and can be removed during setup or when adding new lights. Behind the cap is a logic board with several triplets of connectors — with one triplet needed for each connected light bar. The light bars feel solid and more secure than the little shims used in other Nanoleaf products when snapped in.
Each end of the light bars has the requisite pogo pins to connect to the corner pieces. A semi-opaque diffuser runs across the back to cover the LEDs. The outward-facing side is just a matte white finish like the caps. Neutral-colored to fit your aesthetic and letting the lights show off.
Each light bar has two distinct zones that meet in the center. So one light bar can have two colors on it at once.
For the install, either stick the adhesive to the wall or screw them in place and continuously connect the light bars as you go. All while keeping in mind the primary connector which has the power cable. This cable can be routed in two ways to be situated in the lower-right or lower-left corner.
Connect it to power and scan the NFC HomeKit pairing code located on the back of a little box halfway down the power cable. The Nanoleaf app will discover the entire assembly, and it will detect the design you've created to allow you to set the proper orientation.
Orientation isn't crucial but does allow for motion effects to animate correctly. Waterfall, for example, will run from the top to the bottom.
There are so many patterns and designs that we could do that it has already made it hard to commit to a plan we love. Nanoleaf has done an excellent job tempting us with larger designs that require more than the nine light bars included in the Smarter Kit.
We haven't tried yet to mount them on our ceiling, but we are planning on it. With enough light bars, even the initial setup pack could cover a good portion of the ceiling and be a statement lighting piece that can provide essential lighting during the day or stylized lighting during parties, when relaxing, or to match the mood of the day.
A bedroom would be a fantastic place for this setup, with a soft animated sunrise effect to wake us up in the mornings.
HomeKit control
As has been the case with every product Nanoleaf has shipped, the new Lines support Apple's smart home standard — HomeKit. Lines will appear in the Home app alongside all other HomeKit accessories and can be controlled from any Siri-enabled device or included in any scenes and automations that you create.
The rub, though, is how HomeKit deals with this type of smart light. Most lights are a single color, be they bulbs or light strips. Nanoleaf's lights are all multi-color affairs with several different hues all present at once.
We've seen this with the original Aura (since renamed to just the Light Panels), the Canvas panels, and the Shapes line. These lights all involve different panels with their own color, yet they show as one combined light within the Home app.
If you were to choose the light directly from the Home app, you'd have a single option. You can choose one color from the Home app's color picker and color the whole light that single color.
Nanoleaf, fortunately, worked with Apple to develop a much more elegant way of dealing with this. While in the Nanoleaf app, you're able to create any design you want. Paint the colors across the bars, add any animations you'd like, and adjust the timing. When this is saved, it is saved as a HomeKit scene and is available in the Home app.
When you use Siri or trigger that scene, all of your colors and animations will take effect. So even though you can't choose colors for each zone, as long as you create your scenes, you're good to go.
Other controls for the Nanoleaf Lines
Outside of HomeKit, there are many other ways to control the Nanoleaf Lines. It supports multiple other platforms that we've outlined above, but it has physical controls as well. The primary controller on the Lines has several buttons for primary functions.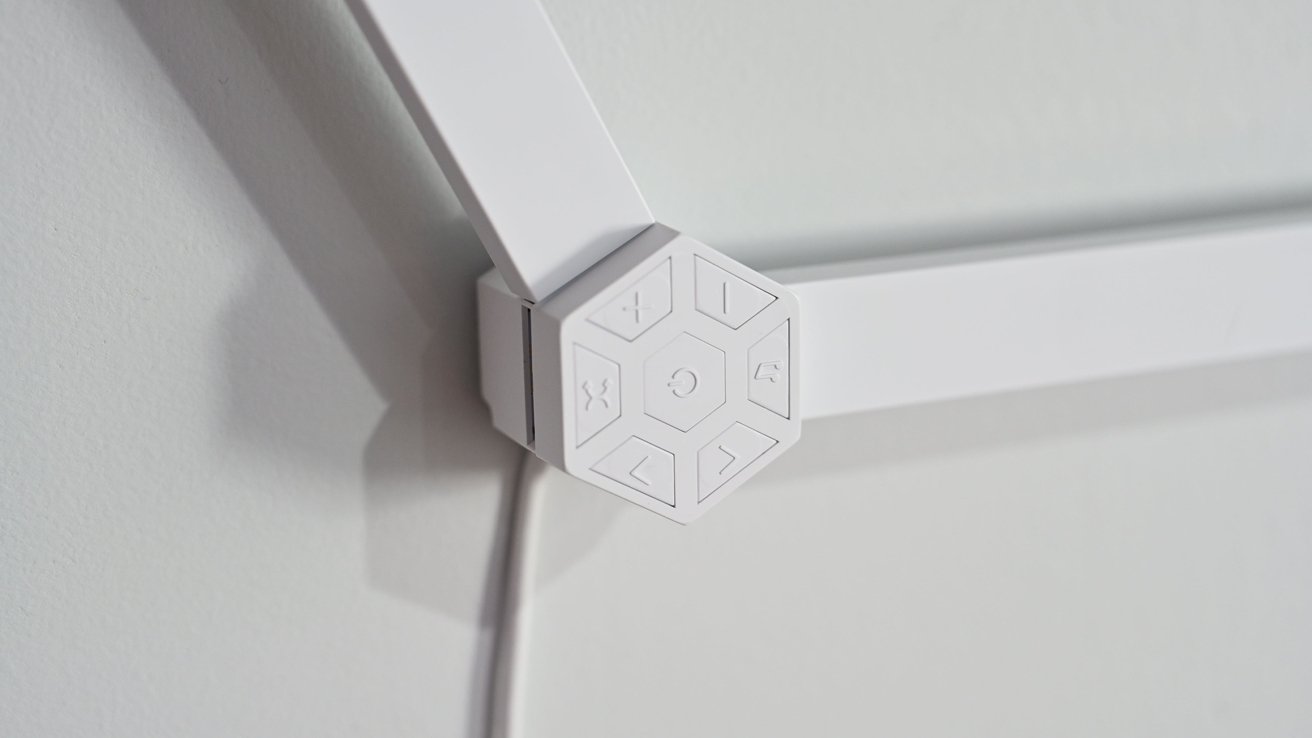 In the center is a power button to turn them on and off. In the same spot, there are brightness controls, scene controls, and a music sync toggle.
If you turn on the music toggle, they will use the onboard microphone to sync the light pattern to the beat of the music you're listening to.
Otherwise, there is the accompanying Nanoleaf app.
When you select the Nanoleaf Lines, the basic info is at the top. You see the shape, what scene is active, an on/off toggle, and a brightness slider. Below are all of the scenes you've created or downloaded from the Nanoleaf Discover tab.
In the settings, you can adjust the mode and the scene transitions.
What's particularly fun is setting the colors. You can create a basic scene where you choose a single color painted across the device as a whole, or create a dynamic scene.
You can paint on the dynamic scene where you choose each section of your design and select each color or choose a palette that will automatically be applied.
Then, you can choose the motion of the effect. There are several options to choose from, including burst, fade, flow, random, and more. Each of them has custom settings such as a delay, the speed, and if they loop.
Between all of these choices, you can create a fantastic lighting effect on your ceiling, a flickering fireplace for your wall, or a surreal sunset.
Functional versus ambiance
As this is indirect lighting, one of our first thoughts was whether this made the most sense as functional lighting or ambiance lighting. We thought about this a lot as we waited for our unit to arrive, and ultimately, it worked as both.
It probably is suited best as ambiance lighting or effect lighting. That is its bread and butter. There is a light sensor built-in so that way it can adjust its brightness based on the brightness of the room. You can choose between ambiance and functional settings, and if set in ambiance mode, the effect will be a bit dimmer.
The rhythm effects are more ambiance than functional as well. The built-in sensor reacts to your music and allows the light to sync to the beat. If you're on a PC, you can mirror the lights to a game or movie for a more immersive experience.
That said, it is bright enough to be a fully functional light to work by. We have quite a bit of light in our studio, yet this is vivid enough to stand out. There are several presets built-in for daylight, reading light, and other hues designed to be used rather than fade into the background. When set as plain white, at full brightness it was too bright in our small space.
For the sake of the functional lighting, we'd prefer that it supported Apple's Adaptive Lighting. That way, during the day, the temperature of the white light could adjust based on the time. As it stands, you have to do this manually.
Should you buy the Nanoleaf Lines?
The only real downside to these lights is that the price is out of range for many. It can spiral quickly with a base price of $199 for a starter set and an additional $79 for three more light bars. Three light bars for $80 seems particularly steep.
If you wanted to get three expansion packs, you might as well get a second Smarter Kit for $200 rather than spending $240, but this feels wasteful as you don't need the power supply or Wi-Fi controller that comes in the box.
Otherwise, this checks all our other boxes. Reliable Wi-Fi connectivity, Thread border router support, HomeKit-enabled, endless configurations, fantastic lighting effects, among other features, make this a must-have addition to our smart home.
We love how many designs you can create, and Nanoleaf has added about every effect, control, standard that we could think of. These will also support Matter in 2022 once the standard fully launches.
Simply put, this is one of our favorite smart lights to debut this far. We haven't stopped trying new designs and color patterns since we got it, and we aren't expecting to stop soon.
The look won't match everyone's decor, but this is for you if you appreciate the modern feel.
Innovative indirect illumination
Sleek, modern design
Tons of layout possibilities
Easy to setup and install
Smooth gradient effects and animations
Support for Apple HomeKit
Wi-Fi connectivity and Thread border router abilities
Matter support in 2022
HomeKit can't set multiple colors for one light and you have to use the Nanoleaf app to create scenes
Expensive
Rating: 4.5 out of 5
Where to buy