Apple Watch Series 7 teardown reveals big screen changes, minor battery upgrade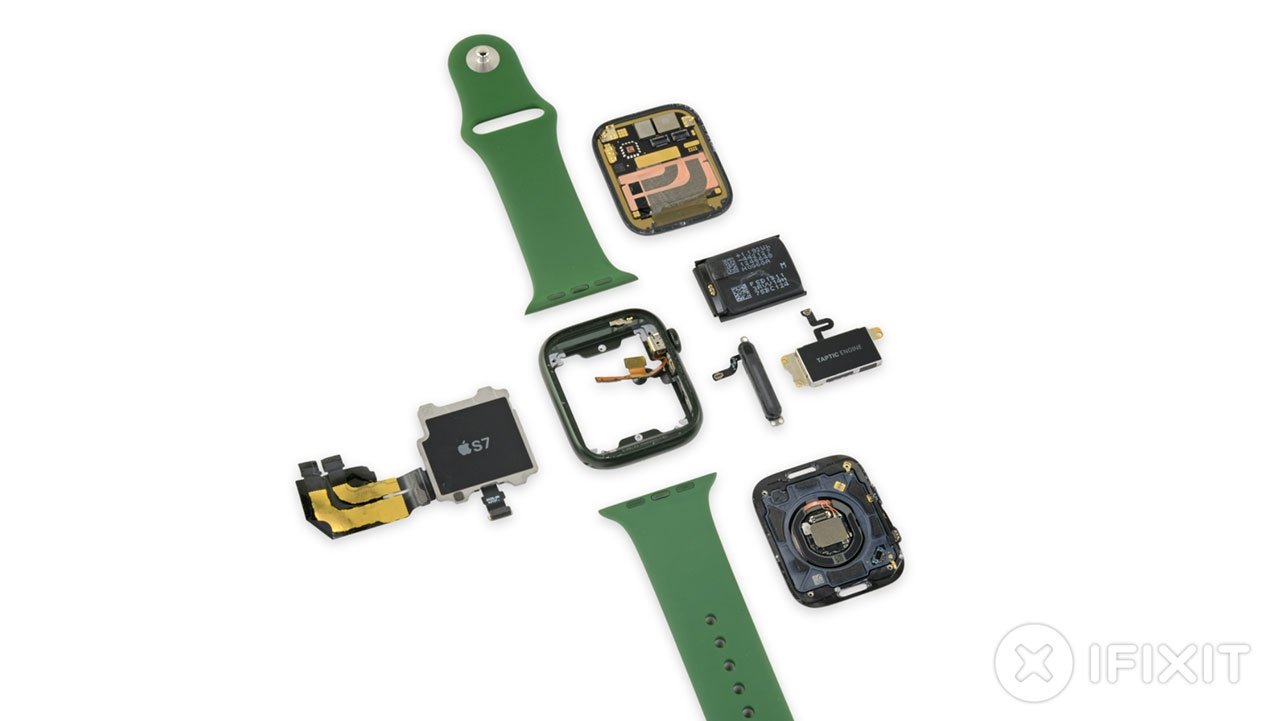 Repair specialist iFixit performed its customary teardown of Apple Watch Series 7 this week, revealing unannounced component specifications and highlighting tentpole features like the wearable's larger screen.
The all-in-one teardown includes both 41mm and 45mm Apple Watch Series 7 variants, exposing component details that have gone unreported by Apple. To offer a more in-depth look at the new wearable, and to compare it against past models, iFixit enlisted the help of three former Apple Watch engineers who work at production defect analysis firm Instrumental.
Looking at power delivery, the 45mm model comes with a 1.189 watt hour battery that is 1.6% more capacious than the 1.17Wh part used in 2020's 44mm Apple Watch Series 6. The 41mm version sports a 1.094Wh battery, a 6.8% increase in capacity over the 1.024Wh cell that powered last year's 40mm Watch.
Though the batteries are physically larger and more energy dense, the changes are unlikely to translate into a substantial increase in operating life in part due to Series 7's larger and brighter displays, iFixit says. The firm also found that Apple adopted a metal pouch battery design for the 41mm model.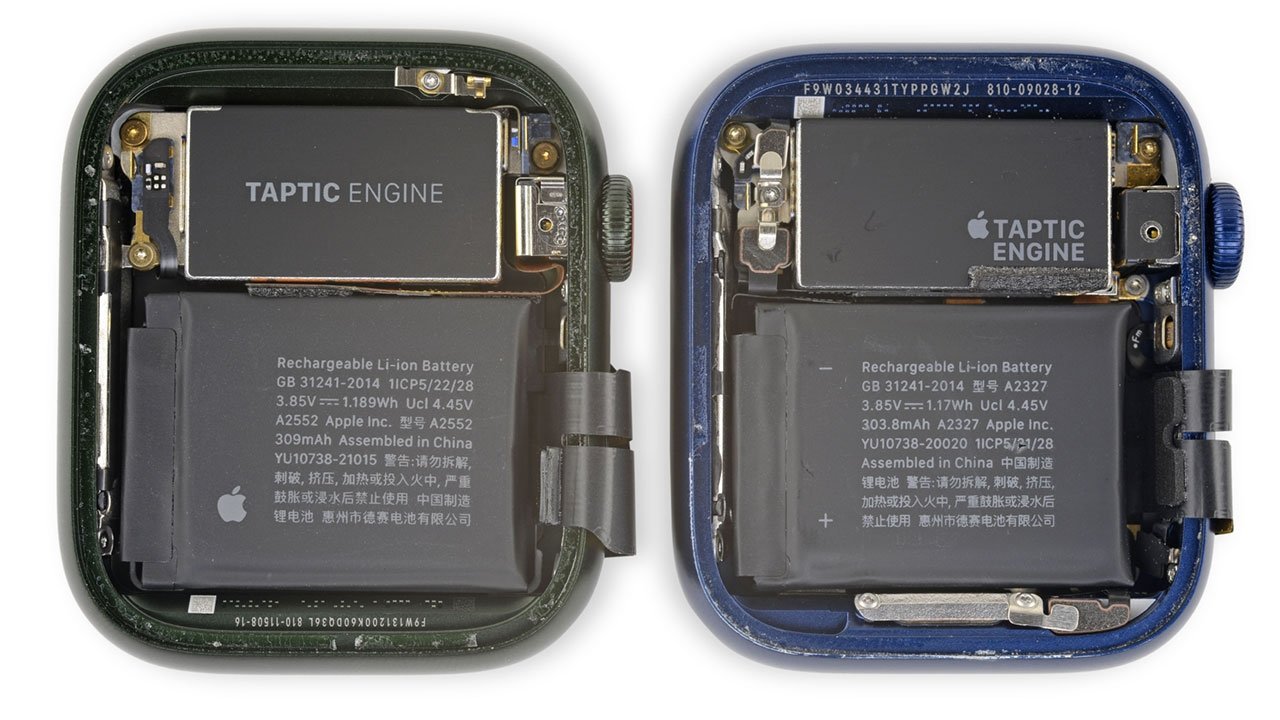 As expected, Series 7's larger display represents this year's most significant upgrade. Apple appears to be utilizing on-cell touch panels that integrate touch sensor and OLED layers to reduce thickness and manufacturing complexity. In addition to space savings, the technology enables Apple to use a single flex cable for touch and display data duties, a change from the two-cable layout of past Watch designs.
According to the report, the new display design most likely led to production delays. Rumors leading up to Apple's announcement of Series 7 in September suggested that manufacturing partners faced significant issues with the screen, problems that pushed back mass manufacture to mid-September.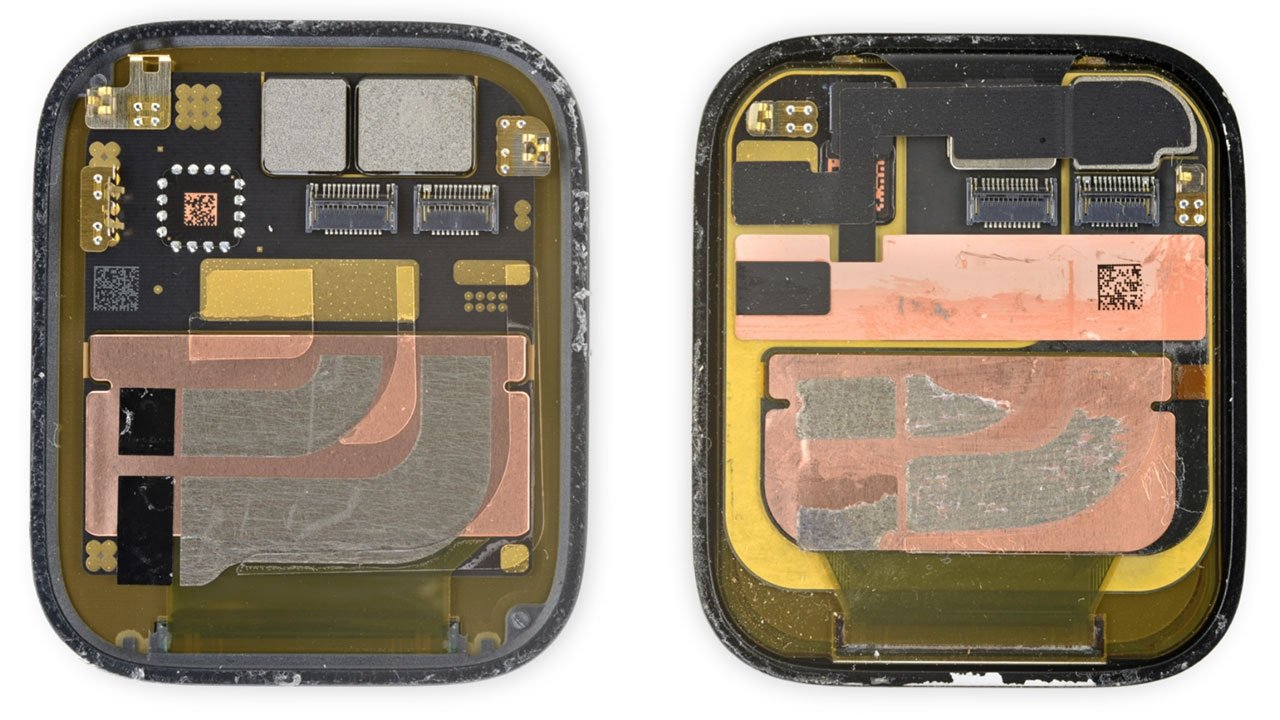 The teardown confirmed the removal of Apple Watch's diagnostic port, which was replaced by a 60.5GHz wireless module that interfaces with a specially designed dock. Transitioning to a wireless solution not only affords more internal space, but also removes a potential ingress point for water and dust. That wireless capability is marked as one of few upgrades to see inclusion in the new S7 system-on-chip, silicon that is largely identical to last year's S6.
Other minor updates include a new speaker grille and a reduction in component brackets.
Overall, iFixit assigned Apple Watch Series 7 a repairability score of six out of ten, citing a modular construction and fairly easy access to the device's screen and battery.