'Apple Watch Series 7' mass-shipments to begin in late September, Kuo says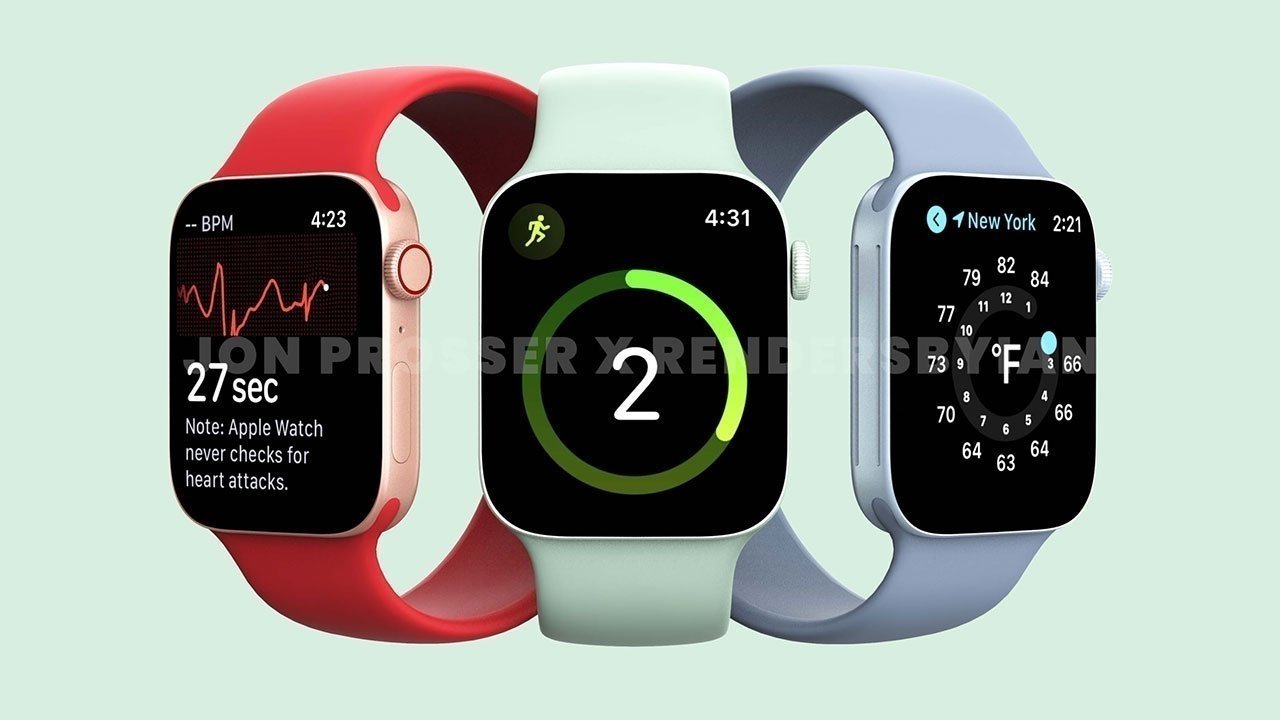 Apple has remedied an "Apple Watch Series 7" manufacturing issue and partner suppliers are expected to start mass production of the next-generation wearable in mid-September, according to analyst Ming-Chi Kuo.
In a note to investors on Friday, Kuo said Apple has solved production issues that threatened to stunt wide availability of the company's new flagship wearable, adding that volume shipments are expected to begin later this month.
As previously reported, the hold-up was caused by complications with new designs and technologies, specifically those related to the device's OLED panel. Apple is for the first time turning to an OLED G6 production line that can improve manufacturing efficiency and reduce panel cost, Kuo says. In addition, the panel module features a new contact cable design that uses a low injection pressure overmolding (LIPO) process that can enhance durability.
"Due to the adoption of many new panel-related production processes for the first time, the Apple Watch 7 panel module encountered reliability issues during the risk-ramp phase before Jabil started mass production, mainly including blinking panel and touch insensitivity," Kuo writes. "Apple has solved the panel module reliability issue by going through different designs of experiments (DOE) to find the best production configuration and adjusting the qualification standards on the panel and assembly sides."
Troubles are thought to be relegated to upstream suppliers, not assembly partners like Luxshare. According to Kuo, Luxshare will produce roughly 70% of all "Apple Watch Series 7" units and its shipments are expected to arrive before those from fellow manufacturer Foxconn. The problems caused an estimated two-week delay in Apple's mass production schedule.
Kuo corroborates past rumors and reports regarding an Apple Watch redesign, saying that the new model will boast flat edges and narrow bezels to afford a "higher screen-to-body ratio." The line is also expected to grow slightly from 40mm and 44mm flavors to 41mm and 45mm versions, enough to accommodate a slight increase in display size.
The analyst forecasts "Apple Watch Series 7" shipments of between 14 million and 16 million units in 2021, with total Watch shipments soaring to between 40 million and 45 million units.
Looking ahead, Kuo believes Apple will select Luxshare to supply a significant portion of panel modules for an "Apple Watch Series 8" in 2022, with Jabil getting a similar order.
Apple is widely expected to debut "Apple Watch Series 7" alongside "iPhone 13" at a special event on Sept. 14.