Mophie Snap+ PowerStation Stand review: A battery with many tricks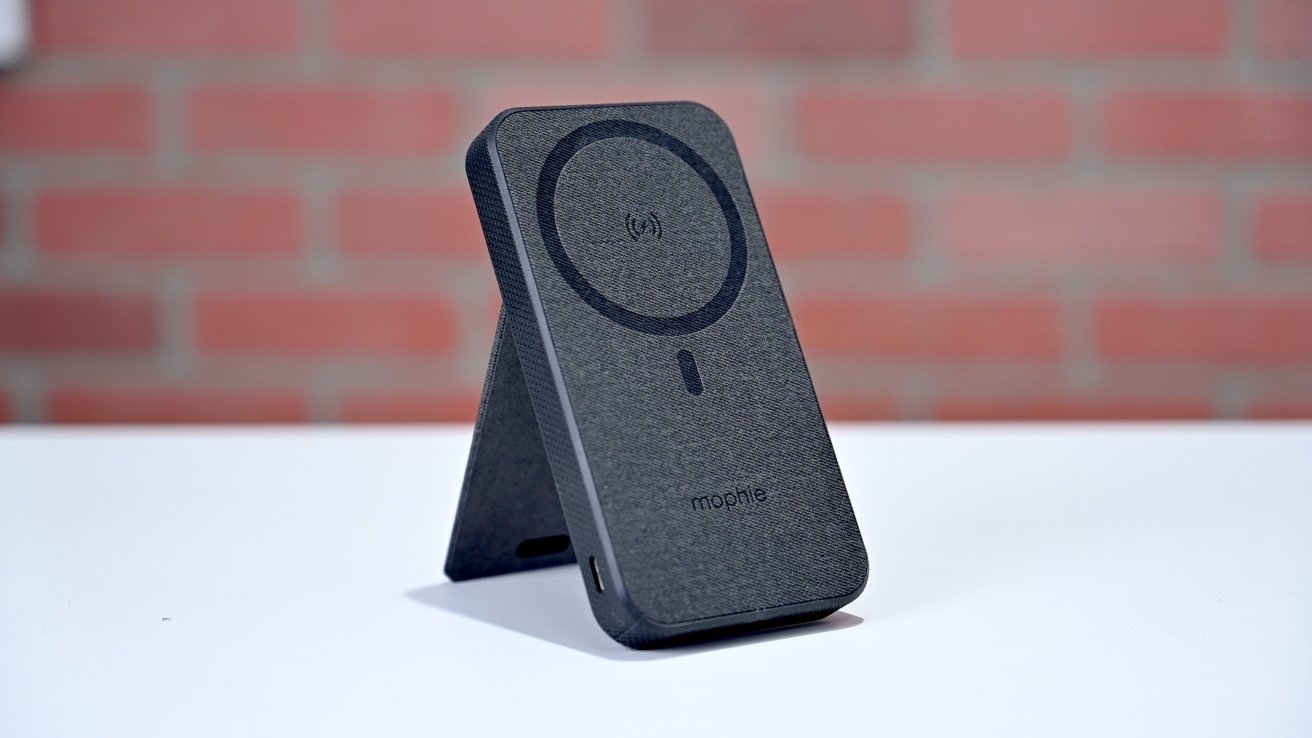 AppleInsider is supported by its audience and may earn commission as an Amazon Associate and affiliate partner on qualifying purchases. These affiliate partnerships do not influence our editorial content.
Mophie's Snap+ Powerstation Stand is multi-functional battery pack designed with your new iPhone in mind.
This new 10,000 mAh battery has several cool tricks that make it a worth accessory including converting into a stand, magnetic connection, and even a tripod mount. More on those cool tricks in a moment, but first, let's talk about the primary function — the battery.
A premium solution
This battery falls into the premium end of Mophie's lineup and borrows aesthetics from its existing Snap+ battery solutions.
It's wrapped in a canvas-like gray material with rubberized sides. There's a stand that pivots out from the back, and it's held shut with a strong magnet. It requires a good pull to leverage it free. The hinge is quite strong, so it doesn't wiggle at all — open or closed.
With a 10K capacity, this is enough to charge an iPhone, which should get you through a weekend of average use, depending on your charging method. You can charge any device using the USB-C port, such as an iPhone or AirPods with a Lightning to USB-C cable. You could also fast-charge the new Apple Watch Series 7 with its bundled USB-C puck.
That USB-C port is also the input for the battery. There's no Qi input, which is fine as it can be frustratingly slow as an input for a high-capacity battery like this. USB-C, being nearly universal, is the ideal input here though because there is only a single port, so it must be used for input and output. You can't charge the battery over USB-C while also charging your iPhone over USB-C.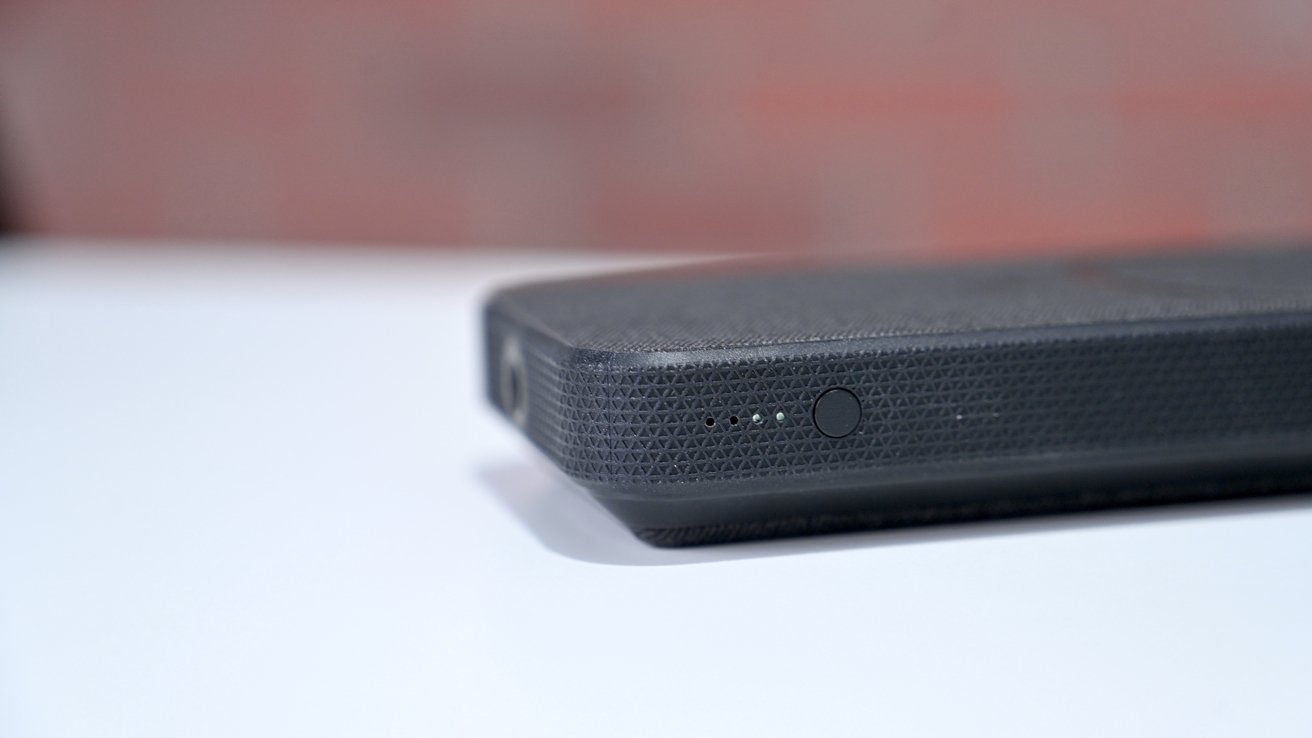 With the USB-C port on one side, there is a single power button on the opposing side. It is situated next to a quartet of tiny LEDs which act as the typical battery capacity indicators. Each light represents roughly 25% charge. Two lights means you have somewhere around 50% battery remaining.
Mophie has tricks up its sleeves
Aside from USB-C, users have one other option for powering up their devices. That would be via Qi. The Snap+ PowerStation Stand has a Qi wireless output, surrounded by a ring of magnets. This is compatible with iPhone 12 and iPhone 13 that each support MagSafe, or any other Qi device with Mophie's Snap adapters.
The MagSafe-compatible magnets don't just help while using this as a stand, but ensure proper alignment to get the most efficient charging.
Typically, we don't love slapping Qi outputs on batteries. Qi is notoriously inefficient, and when you're already limited to the capacity you bring with you, charging over Qi can quickly lower the maximum power utilization. Qi is great with a dedicated dock or charger, but on a battery, you don't have power to spare.
MagSafe — that is official MagSafe — is theoretically more efficient than Qi, but this isn't that. We're ok with the MagSafe here though as it is necessary for the stand aspect.
Using that magnetic mount, you can easily prop up your phone as a mini dock, like a running Twitter feed, or to more easily watch movies and TV. It holds your phone at a great angle. This also couldn't be a better companion for plane rides where you need to keep your battery up, want to watch some videos, and don't have a good place to set your phone.
My favorite trick though is for photography. This battery has a standard 1/4 inch-20 tripod socket. It can connect to any tripod for taking photos, recording videos, and getting selfies you otherwise couldn't get. You could connect this to a tripod, get in a group, and trigger your iPhone using the Camera companion app on Apple Watch.
Should you buy the Mophie Snap+ PowerStation Stand?
Few batteries pack this range. We've got MagSafe support, a built-in stand, a solid 10K battery capacity, tripod threads, and USB-C.
It isn't the smallest battery — especially in the 10K mAh range — but there are enough features here to make this a perfect travel battery, or even just a desk stand that can come with you when needed.
We love the tripod support and applaud Mophie for doing something a little different with quite a few solid features and good build quality.
MagSafe-compatible Qi charger
Soft canvas finish
Strong integrated stand
USB-C input/output
Tripod mount
Qi charging isn't as efficient and wastes power
Large for the capacity
No real MagSafe charging
Rating: 4.5 out of 5
Where to buy