Compared: Jabra Elite 4 Active vs AirPods vs AirPods Pro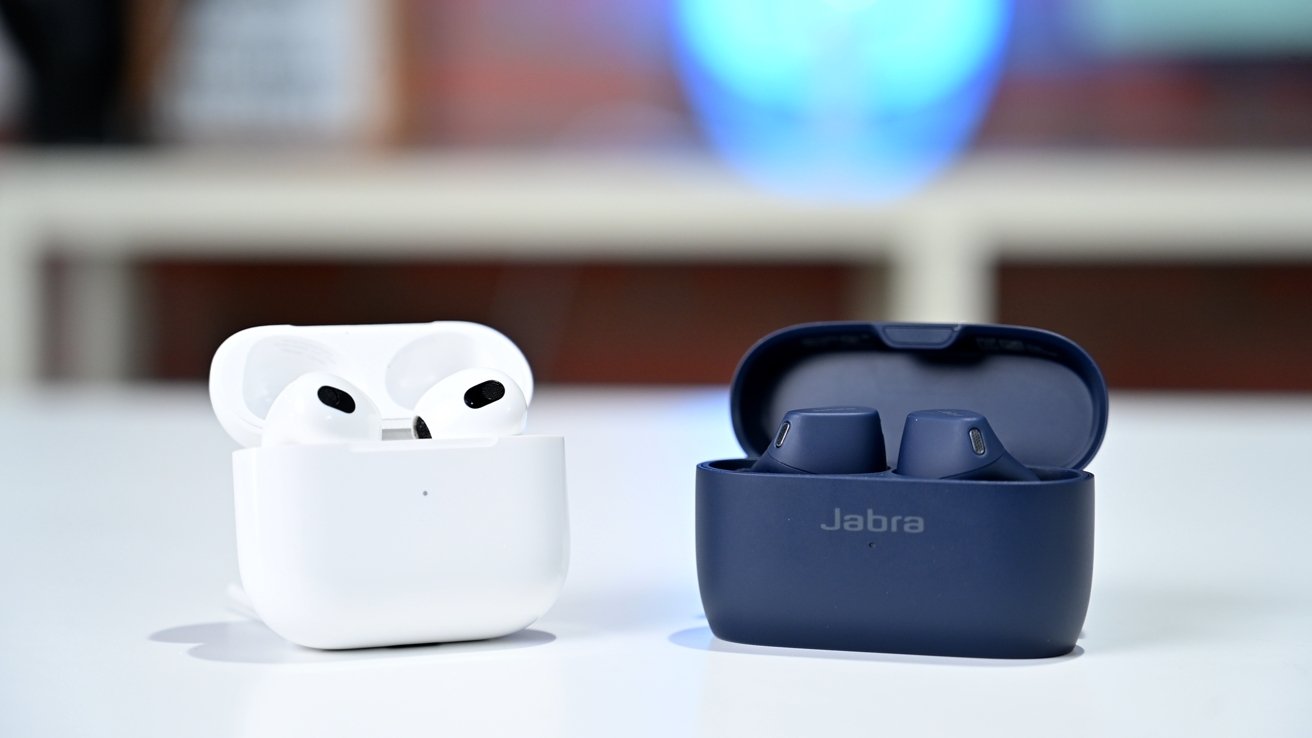 Jabra's Elite 4 Active wireless earphones attempt to provide AirPods Pro-style Active Noise Cancellation in a package cheaper than the second-generation AirPods. Here's how Jabra's latest fares against Apple's audio accessories.
Jabra launched its Elite 4 Active at the start of January, framing them as wireless earphones ideal for workouts. While it included premium features like ANC, the manufacturer also thought the earbuds to be a price-conscious option in the overall personal audio marketplace.
As wireless earphones, it competes against Apple's AirPods range by taking on AirPods Pro with ANC and AirPods on value. It's worth putting Jabra's latest model against the spec sheets of its main rival.
Specifications
Jabra Elite 4 Active
AirPods (Gen 2)
AirPods (Gen 3)
AirPods Pro
Price
$119.99
$129
$179
$249
Dimensions (inches)
1.07 x 0.82 x 0.81
1.59 x 0.65 x 0.71
1.21 x 0.75 x 0.76
1.22 x 0.86 x 0.94
Weight (ounces)
0.176
0.14
0.15
0.19
Case Dimensions (inches)
2.52 x 1.53 x 1.12
2.11 x 1.74 x 0.84
1.83 x 2.14 x 0.84
1.78 x 2.39 x 0.85
Case Weight (ounces)
1.32
1.35
1.34
1.61
Battery Life (earbuds)
7 hours with ANC
5 hours
6 hours
4.5 hours with ANC,
5 hours with ANC off
Battery Life (with case)
Up to 28 hours
More than 24 hours
Up to 30 hours
Up to 24 hours
Connectivity
Bluetooth 5.2
Bluetooth 5.0
Bluetooth 5.0
Bluetooth 5.0
Microphones
Four MEMS microphones
Dual Beamforming
Dual beamforming microphones,
Inward-facing microphone
Dual beamforming microphones,
Inward-facing microphone
Sweat and Water Resistance
IP57
None
IPX4
IPX4
Active Noise Cancellation
Yes
No
No
Yes
Spatial Audio
No
No
Yes
Yes
Colors
Black,
Navy,
Mint
White
White
White
Jabra Elite 4 Active vs AirPods vs AirPods Pro - Physical Features
The Jabra Elite 4 Active are relatively compact earphones designed to sit within the ear folds and have little poking out when viewed from the front. This is a fairly standard design in modern wireless earphones, making it somewhat more compact than Apple's models with their descending elements.
While meant for use by people with an active lifestyle, Jabra's design relies on a silicone tip to hold it inside the ear canal, just like the AirPods Pro. Neither the second nor third-generation AirPods have this feature, making them more susceptible to flying out of the ear when doing an activity.
In terms of size, the Elite 4 Active measure 1.07 inches on its longest dimension, with width and depth at 0.82 inches and 0.81 inches, respectively.
This makes the Elite 4 Active shorter than both AirPods generations, at 1.59 inches for Gen 2 and 1.21 for Gen 3. Jabra has made its earphones bigger than the AirPods in the other two dimensions, at 0.65 and 0.71 inches for Gen 2, 0.75 and 0.76 inches for Gen 3.
The size comparison is closer for the AirPods Pro on the same two dimensions, with the Pro at 0.86 inches by 0.94 inches, but the AirPods Pro is longer at 1.22 inches.
In short, Jabra's wireless earphones are shorter than all AirPods models but roughly as wide as the AirPods Pro and broader than the AirPods.
Since the primary width measurement of the Jabra relates to the element held outside the ear, and by a minimal amount, it only really affects how obvious they are to passers-by. Arguably, it's just as noticeable as the AirPods and AirPods Pro's dangling element.
Jabra included sweat and water resistance, rated at IP57. In effect, that means it has good dust protection and can protect against the impact of a 30-minute submersion in water at a depth of 3 feet.
By contrast, Apple doesn't offer any water or dust assurances for the second-gen AirPods, but the Gen 3 and the AirPods Pro have an IPX4 rating. This translates to protection from water splashes, which should be enough to handle a sweaty workout, but certainly not massive amounts of moisture.
After registering with its companion app, Jabra also includes two years of water and dust failure warranty protection.
Jabra Elite 4 Active vs AirPods vs AirPods Pro - Cases
For its case, Jabra went down the same route as Apple in coming up with a short and squat case for its earphones. The exception in the group is the second-generation AirPods with a taller and generally thinner case.
Jabra has come up with the longest case of the group, with its 2.52-inch length bigger than the 2.39 inches of the AirPods Pro, 2.14 inches of the third-gen AirPods, and the 2.11-inch height of the second-gen.
It's still a reasonably compact case overall, with its height of 1.53 inches a little bit shorter than the 1.74-inch width of the Gen 2 AirPods case, the 1.83-inch height of the Gen 3 case, and the 1.73-inch AirPods Pro case.
Apple maintains a thinner case design overall, at 0.84 inches for both AirPods cases and a marginally thicker 0.85 inches for the Pro case. Jabra's case is 1.12 inches thick.
Looking at how the earphones fit in, there's very little wasted space in the Jabra case at all. Its flatter top and base may make it more capable of being stood up on a desk than the more rounded AirPods cases, but otherwise, it seems to be a highly pocketable case.
Jabra Elite 4 Active vs AirPods vs AirPods Pro - Main Features
The key feature of the Jabra Elite 4 Active is the built-in Active Noise Cancellation, which can help cut out some environmental audio. This is the territory covered by the AirPods Pro, but not the AirPods.
Like the AirPod Pro, Jabra mimics Apple's Transparency mode with its HearThough system. With a tap of the left earbud, the mode engages the four built-in microphones and allows some sounds to pass through to the user's ear.
For setting up and using the Elite 4 Active, Jabra offers a companion app that controls many features, including a customizable equalizer.
Control of the earbuds is performed by a series of presses into the body of each earbud, rather than a defined button. This is arguably similar to the AirPods and AirPods Pro way of handling controls, albeit not through interacting with the stalks.
For Android users who happen to subscribe to Spotify, there's Spotify Tap, which will let users start a playlist from the music streaming app without needing to interact directly with their smartphone. This is configurable from the companion app, but it isn't available for iOS users.
Android users also have a choice between two voice assistants, with the ability to use Alexa or Google Assistant. On iOS, you're using Siri.
While Apple offers use of its Find My network for relocating the third-generation AirPods and AirPods Pro, the Elite 4 Active has its own "Find My Jabra" feature to aid in tracking an errant earbud down.
One thing that the third-gen AirPods and AirPods Pro do have as a bonus is Spatial Audio support, something neither the Jabra earphones nor the second-gen AirPods have.
Jabra Elite 4 Active vs AirPods vs AirPods Pro - Battery Life
Jabra claims the Elite 4 Active can provide up to 7 hours of usage from a single charge. After some digging, it appears that this figure is based on ANC being enabled throughout, but there's no official word on battery life without ANC engaged.
This works out to be considerably longer than Apple's range can offer, with the AirPods Pro capable of 4.5 hours with ANC, 5 hours without. On the AirPods, Gen 3 can manage up to 6 hours, while Gen 2 can reach 5 hours.
The charging case certainly helps Jabra here, with the Elite 4 Active able to run for up to 28 hours using the case. Apple claims "more than 24 hours" of usage for the second-gen AirPods case, up to 30 hours for the Gen 3, and up to 24 hours on the AirPods Pro.
Jabra's case provides fast-charging abilities, with a 10-minute charge providing the earbuds with up to an hour of usage time. This isn't quite as fast as Apple's earbuds for recharging, with each capable of gaining an hour of listening time after five minutes of charging.
The cases can all recharge using a wired connection, with Jabra using USB-C versus Lightning for Apple's collection.
Wireless charging is available by default for the MagSafe-equipped third-gen AirPods and AirPods Pro cases, with the option to acquire a wireless case for the second-gen AirPods instead of the default non-wireless case. Jabra's version doesn't offer wireless charging.
Jabra Elite 4 Active vs AirPods vs AirPods Pro - Connectivity
All of the earphones connect over Bluetooth, with Apple erring for Bluetooth 5.0, while the Elite 4 Active can support Bluetooth 5.2. While Bluetooth 5.0 is still entirely usable, Bluetooth 5.2 is more efficient, can pair faster, and has low-energy features like LE Audio.
Within Apple's ecosystem, the AirPods and AirPods Pro are easier to connect and use due to the level of integration into operating systems. Jabra doesn't have that, so you will have to head to the companion app to make any tweaks to your earphones.
Over on Android, Jabra has a somewhat better existence. Like iOS, you have to use the companion app to make changes, but there are some benefits, such as using Alexa or enabling Spotify Tap.
There's also support for Google Fast Pair, which means the Elite 4 Active can quickly connect and be up and running on an Android device.
Jabra Elite 4 Active vs AirPods vs AirPods Pro - Pricing
Jabra's offering enters the market at $119.99 and is available in a choice of Black, Navy, and Mint.
Apple's AirPods Gen 2 with the default case costs $129, but you can also buy the Wireless Charging Case as a $79 accessory. Since this increases the total cost to $208, most who want wireless charging will probably go for the third-gen model.
The third-gen AirPods cost consumers $179 and include the MagSafe Charging Case by default. AirPods deals are regularly available with double-digit savings on every model.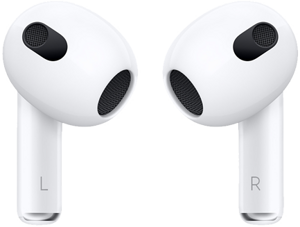 AirPods (3rd Generation)
---
Apple AirPods (3rd Generation) feature Spatial Audio with Dynamic Head Tracking. Prices are in USD and are subject to change at any time.
AirPods Pro and its MagSafe Charging Case cost $249.
All AirPods models are sold in white, but with free case engraving.
Audio quality
Both sets of earbuds have solid audio quality, but Jabra has a slight edge. This could be due to the seal when placed into your ears. AirPods, with their open design, have a slight airiness to them versus the tight seal of the Jabra.
Jabra and Apple have better-sounding earbuds in their lineups but they sound good for their price points.
One thing we love about the Jabra though is that they have adjustable EQ. You can choose from many presets from "rock" to "speech" or tune it yourself.
ANC on a budget
Jabra's proposition is a remarkably good one when pitched against Apple's personal audio lineup. It tackles the headline ANC and Transparency feature of the AirPods Pro but does so in a budget-friendly manner.
So budget-friendly that it even undercuts the previous generation of AirPods on price. Make no mistake, Jabra certainly isn't considered a premium audio brand, so the price is almost always going to sway in Jabra's favor.
Its earbud battery life is also a bonus, as it gives longer periods of usage before a recharge is needed. It may not be Apple-fast for quick-charging, but it's still reasonable, especially if you're usually leaving earbuds to recharge for a long while between uses.
What the Elite 4 Active can't compete against AirPods with is integration with Apple's ecosystem, since you have to use the companion app if you want to tweak or change settings. The ease of use and connectivity will always be in Apple's corner. That, and wireless charging.
ANC is such a powerful feature to add to earphones, though. Apple would be sitting pretty if we were to compare just the Jabra and the comparatively-priced second-generation AirPods and took ANC out of the equation.
The inclusion of ANC arguably makes the Jabra Elite 4 Active a better buy than the second-generation AirPods. For especially price-conscious users, the $60 price difference may sway them away from the third-gen AirPods in favor of the Jabra.
As for the AirPods Pro, consumers may see the Elite 4 Active providing ANC at less than half the price of Apple's premium earphones. That's a $130 difference that AirPods Pro has to counter with deep integration with iOS and iPadOS, wireless charging, and the Apple brand itself.
On paper, it seems to be a bit of a stretch to buy AirPods Pro for double the money of the Jabra Elite 4 Active, especially if you're looking for ANC from a budget-focused perspective.
There are certainly shortcomings, but it's pretty easy to overlook them at this price range to save a bit of money.
Where to buy
You can buy the Jabra Elite 4 Active for $119.99 from Amazon. AirPods are also on sale, with prices often dipping to under $120. The cheapest prices are at your fingertip in our AirPods Price Guide.