Tau Power Bank review: a handy power source on your keyring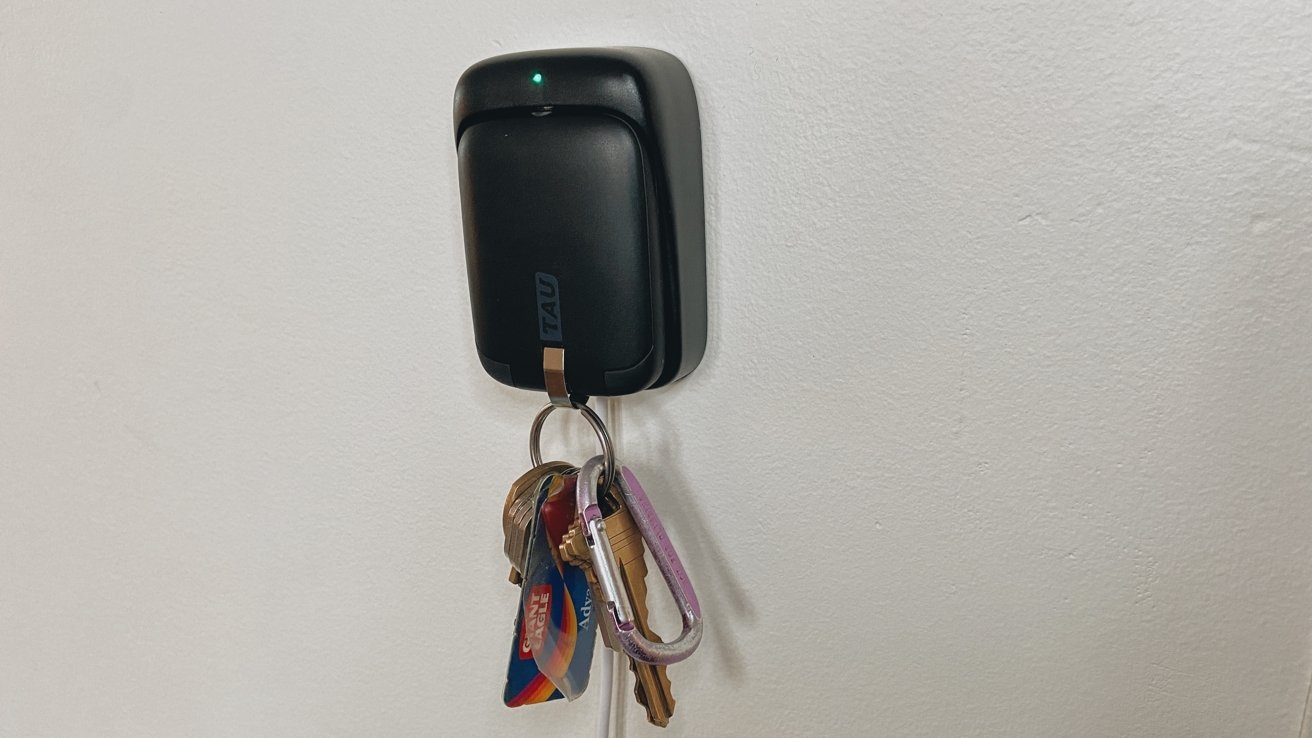 AppleInsider may earn an affiliate commission on purchases made through links on our site.
Tau helps encourage you to keep your power bank changed by easily clipping to your keys, and it charges with a unique magnetic charging base.
We've all been there — you're just about ready to end your day, and when you check your phone, you realize you're minutes away from a dead battery. Sometimes this isn't a big deal, but it's a massive problem if you anticipate a critical phone call or text, or need to hail an Uber to get home.
Rolling Square has attempted to solve this problem with Tau, a keyring-sized power bank that hooks onto your keys, ensuring that you've always got power wherever you go.
Design
Tau is a small power bank, a little larger than a key fob, that attaches to your keys. The idea is that you'll always have a backup battery wherever you go, since it's connected to an item you're going to carry around anyway.
The battery portion recharges via a magnetic charging base, one designed to hang on your wall via an adhesive strip or screws. While Tau provides a piece of nanosuction adhesive that you can use, we opted for a 3M strip out of an abundance of caution, as certain types of paints can be prone to pulling up with nanosuction adhesives.
This is especially nice, as it gives you a dedicated spot to recharge Tau and hang your keys. The design is great because it solves both our issues of losing our keys and routinely forgetting to charge a power bank before leaving for the day.
However, there is a bit of a downside to the design, as Tau only recharges via the magnetic dock. There's no way to manually recharge the battery by other means.
Should you want to recharge the battery while out, you're out of luck.
However, if you want to take Tau's dock with you, we appreciate that the charging base can be slid off of the back cover. This feature allows you to take Tau — and its charger — on the road.
Specs
Tau weighs just a little over 1.4 ounces and can hold up to 12 ounces. On its own, we didn't think the battery was too large while attached to a set of keys, but if you've got a key fob and an AirTag, you might find it a little cumbersome.
The battery is 1,400mAh, which should recharge an iPhone 13 from 0% to 45%. Sure, it's not going to recharge your phone entirely, but it would undoubtedly be more than enough to keep your phone functioning while you wait for your rideshare of choice to pick you up.
To charge your phone — or any other rechargeable electronics you have — Tau comes equipped with a USB-C charger along with a Lightning and micro USB dual charger.
Overall
Tau is not designed to be a charger to keep heavy phone users up and active all day, but it is a fantastic solution for those who worry about their phone dying before their day is up.
It's a perfect backup for emergencies, and its budget-friendly price makes it an excellent gift for anyone.
Charging dock gives users a convenient place to charge Tau, hang keys
Small size is easy to take anywhere
Can charge USB-C, microUSB, and Lightning devices
May be too large to fit comfortably on keys with existing key fobs
Battery life is relatively low compared to other powerbanks on the market
Rating: 4 out of 5
Where to buy
If you'd like to pick up a Tau of your own, they're available in charcoal black, pure white, and agave green. You can pick one up from Rolling Square for $29.