Notes of interest from Apple's Q2 2022 earnings report and conference call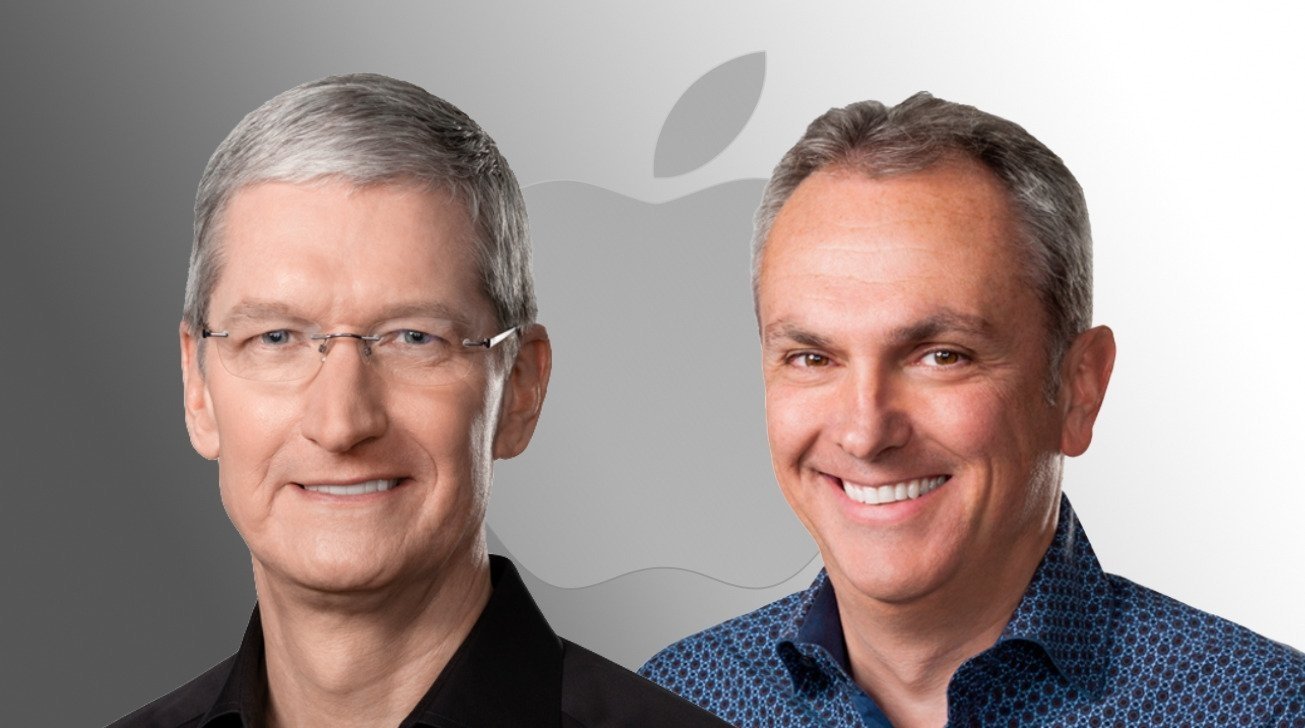 Apple posted another record-breaking quarter, beating the street consensus in nearly every regard. Here are some notes of interest from the report, including remarks from Apple CEO Tim Cook and CFO Luca Maestri.
Ahead of the usually-scheduled conference call with analysts, Apple reported $97.28 billion in revenue for the quarter ending March 2022, an increase year-over-year from the $89 billion reported in Q2 2021.
The quarter's gross margin reached 43.7%, up from the year-ago quarter's 42.5% figure. Operating expenses shifted from $10.6 billion in Q2 2021 to $12.6 billion in Q2 2022. The diluted earnings per share is set at $1.52.
Apple's board of directors declared a cash dividend of $0.23 per share, an increase of 5 percent. The dividend is payable on May 12, 2022 to shareholders of record on May 9, 2022.
The board of directors also authorized an increase of $90 billion to the existing share repurchase program.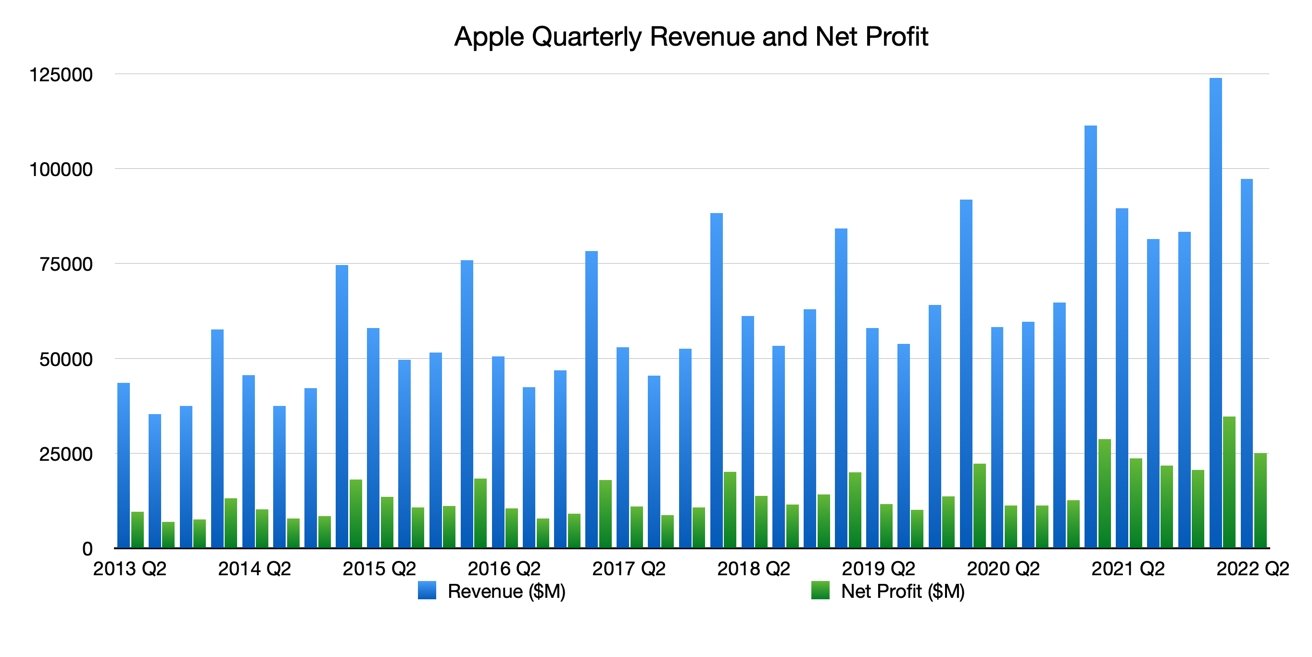 As he usually does, Apple CEO Tim Cook had a statement on the earnings.
"This quarter's record results are a testament to Apple's relentless focus on innovation and our ability to create the best products and services in the world," said Apple CEO Tim Cook in reference to the financial report.. "We are delighted to see the strong customer response to our new products, as well as the progress we're making to become carbon neutral across our supply chain and our products by 2030. We are committed, as ever, to being a force for good in the world — both in what we create and what we leave behind."
Apple CFO Luca Maestri chimed in on the earnings as well.
"We are very pleased with our record business results for the March quarter, as we set an all-time revenue record for Services and March quarter revenue records for iPhone, Mac, and Wearables, Home and Accessories. Continued strong customer demand for our products helped us achieve an all-time high for our installed base of active devices," said Luca Maestri, Apple's CFO. "Our strong operating performance generated over $28 billion in operating cash flow, and allowed us to return nearly $27 billion to our shareholders during the quarter."
Highlights from the earnings report, and the conference call
Immediately after the report, Apple stock climbed about $3 in after-hours trading, in a day that saw gains before the market closed
Q2 was Apple's third-highest revenue of all time, eclipsed only by the last two holiday quarters
CNBC reports that China Tim Cook noted that China shut downs did not impact Q2 as they started just as Apple was closing out fiscal Q2.
Cook talking about donations to Ukraine humanitarian aid, without naming figures
Touches on China and COVID, but we expect more of that in the analysts' questions
"We will never stop striving to be a force of good in the world" - Cook
"Slight constraints" on Mac, M1 MacBook Pro main driver, says Maestri
The last seven quarters have been the best ever for Mac
"Nearly half" of Mac buyers in the quarter were new to Mac, same for iPad
Wearables business alone about the same size as a Fortune 100 company
More than 825 million paid subscriptions across Services, up 165 million in the last 12 months
$193 billion in cash and marketable securities, total debt $120 billion
Annual increases in dividend going forward
Given "continued uncertainty" - no revenue guidance
YOY revenue performance for June impacted by supply constraints, silicon shortages
Constraints to be in the range of $4 billion to $8 billion, more than experienced during March
Forex expected to be a headwind, additionally Russian sales have ceased
Double-digit Services growth expected in June quarter, but deceleration expected
Question time!
Katy Huberty - Morgan Stanley : Consumer spending questions, what metrics is Apple watching?
Cook: "Monitoring daily sales very closely." Apple is seeing inflationary impacts, assumed in the guidance provided
Huberty: "How will that impact the consumers in the business, and influences purchases."
Cook: "Our main focus is on the supply side."
Huberty: China impacts?
Cook: Q2, restrictions in China had not started but there were still supply constraints.
Cook: Legacy nodes still most impacted, but looking ahead COVID disruptions, and continued silicon shortages
Cook: Constraints around Shanghai corridor
Cook: Final assembly factories have restarted
Amit Daryanani - Evercore : Would like more detail geographically
Maestri: Happy in US, good quarter in Europe including Russia sales loss for a month of the quarter
Maestri: In-line with expectations in Europe, China March quarter record.
Maestri: Year-over-year launch timing of iPhone had an impact (later in 2020 than in 2021)
Maestri: Japan impacted by foreign exchange with dollar appreciation against most currencies
Daryanani - Is the supply constraint causing deferred demand or destroyed demand?
Cook: It will effect most of the categories. There's a percentage that's recapturable, and some likely not
Cook: Ratio of captureable to lost difficult to estimate, and won't be shared
Chris Caso - Raymond James : Are constraints going to be mostly on supply or labor?
Cook: "Hard to answer a question about unannounced products"
Cook: The up to $8 billion in impact for the June quarter is being worked around as best as possible
Caso: Inflation. Is it possible to deal with inflation without gross margin impacts or price increases?
Cook: Some of this is in the last quarter, and some of it is in the guidance. Some components falling, some rising
David Voight - UBS : Product disruption. Should we expect similar impacts to the past?
Cook: "It will affect most of the product categories." Apple will optimize to minimize the effect on the user.
Voight : Anything to share about demand that may be out of the ordinary?
Cook: Apple was happy with iPhone growth in the quarter, and the year-over-year comp
Cook: US was quite strong in the quarter
Jim Suva - CitiGroup : What's Apple thinking about the future for the supply chain after COVID ends?
Cook: "Our supply chain is truly global. The products are made everywhere."
Cook: "Will probably do more in the US when more chips are here"
Cook: Top issue is the silicon shortage
Cook: "In this business, you don't want to hold a ton of inventory."
Cook: "In today's world, it's not really possible for us to have a buffer on silicon."
Suva: Is there a timetable from suppliers for recovery?
Cook: "I don't want to predict that" citing economy and other unpredictable factors
Cook: "Varying levels of outcomes" as it pertains to the when and where of post-COVID supplies
Samik Chatterjee - JP Morgan : iPhone SE, how does it compare to previous SE cycles?
Cook: "We don't get to that level of granularity. We view it as sensitive data."
Cook: "When you look at iPhone as a total, we could not be happier with the iPhone 13 family of products"
Chatterjee: Services. Is this margin a good range for services longer-term?
Maestri: Speaks about momentum, including install base growing "very nicely" - but doesn't really answer the question
Maestri: Growth rates can change a bit, based on lockdowns, and reopenings.
Krish Sankar - Cowen & co : Supply constraints - does the up to $8 billion imply a drop year-over-year? Buffer of semiconductors?
Maestri: Constraints limited to silicon shortages in the last quarter. That won't be the case next quarter.
Maestri: Different constraints for the June quarter than the previous
Sankar: Have the app stores increased as lockdowns have increased?
Maestri: Too early to tell this quarter
Wamsi Mohan - Bank of America : Are you expecting a year-over-year revenue growth for the next quarter?
Maestri: We're not guiding to a specific revenue number, repeats statements on supply chain shortages
Maestri: Foreign Exchange expected to be an increased headwind for the June quarter.
Maestri: On the positive side, product demand and services revenue are very strong
Maestri: Most of the iPad and Mac models are constrained today
Mohan: Why is this not the right time to buy companies instead of buying back stock?
Cook: "We're looking, and we always look." Standard disclaimer about when and why Apple buys companies
Kyle McNeely - Jefferies: When can Macs be delivered within a week?
Cook: Working hard to get it done. Result of COVID disruptions and silicon shortages. Apple is not really forecasting when silicon shortage will end
Ben Bollin - Cleveland Research : Product mix between consumer and enterprise, how has strategy evolved with respect to freight and geographic production footprint
Maestri: "We do appreciate that enterprise is a great opportunity for us." Repeats what Apple Business Essentials is
Cook: "Freight is a huge challenge and today both from an inflationary point of view and an availability point of view." Right now the focus is on getting hardware to the customers however Apple can.
Cook: Hoping that both ocean and air freight rates will drop in the short term
Cook: "Constantly making tweaks here and there" as it pertains to geographic production.
Call ends 5:58 PM ET