Apple posts record $89.6B in Q2 revenue on back of across-the-board growth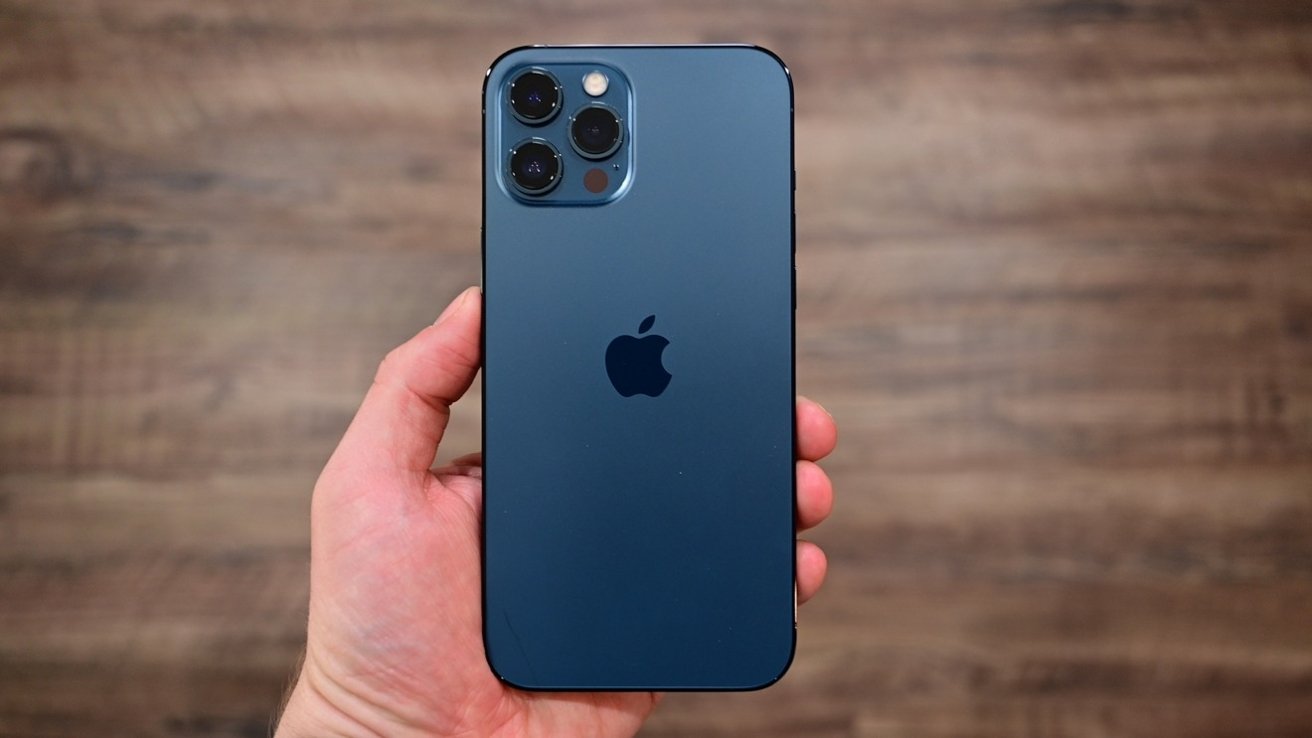 Apple earned $89.6 billion in revenue for the second fiscal quarter of 2021, a huge Wall Street beat attributed in large part to strong growth in iPhone, wearables and services.
Released ahead of its customary conference call with analysts, Apple has confirmed revenue of $89.6 billion for the quarter ending March 2021. This represents a year-on-year growth of 54% from Q2 2020, when Apple reported $58.3 billion at the start of the COVID-19 pandemic. Net profit rose a gargantuan 110% to hit $23.6 billion.
"This quarter for Apple wouldn't have been possible without the tireless and innovative work of every Apple team member worldwide," said Apple CEO Tim Cook. "We're gratified by the enthusiastic customer response to the unmatched line of cutting-edge products that we delivered across a historic holiday season. We are also focused on how we can help the communities we're a part of build back strongly and equitably, through efforts like our Racial Equity and Justice Initiative as well as our multi-year commitment to invest $350 billion throughout the United States."
The gross margin for the quarter reached 42.5% and is up from the year-ago quarter, which was 38.4%. Operating expenses for the period were $10.6 billion, above Q2 2020's $9.5 billion. Diluted earnings per share is reported at $1.40.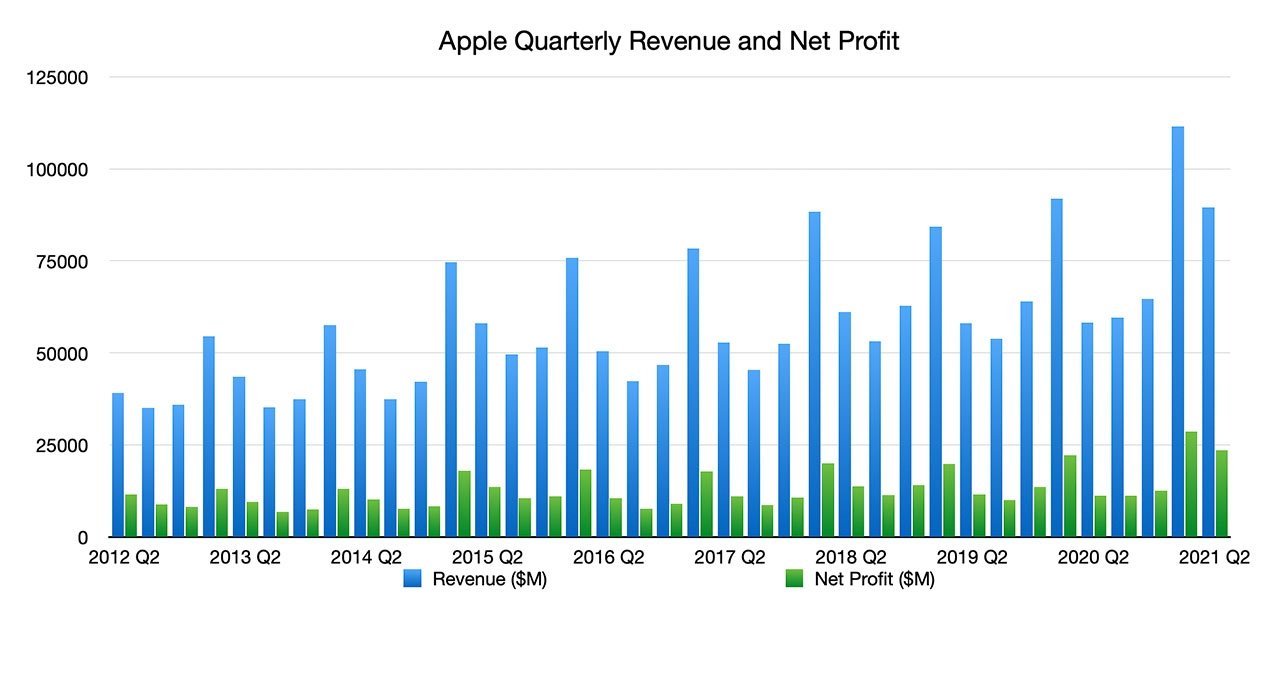 Ahead of the results release, the Wall Street consensus reckoned Apple would report revenue of $77.4 billion, with an earnings per share of $0.99.
While Q2 2020 was rocked by the initial effects of the pandemic, Q2 2021 follows after a year when Apple worked to mitigate its effects.
The record-setting Q1 revenue of $111.4 billion was aided by considerable growth in iPhone sales, due to the release of the iPhone 12 range. Q2 benefits from Q1's lead, with iPhone revenues hitting $47.9, up from the $28.96 billion seen in Q2 2020.
Revenue from iPad is $7.8, up from $4.4 billion one year ago, Mac revenue of $9.1 billion is up from Q2 2020's $5.4 billion, and Wearables, Home, and Accessories is up to $7.8 from $6.3 billion this time last year.
The ever-reliable growth of Apple's Services arm continued, rising to $16.9 billion from $13.4 billion in the same period of 2020.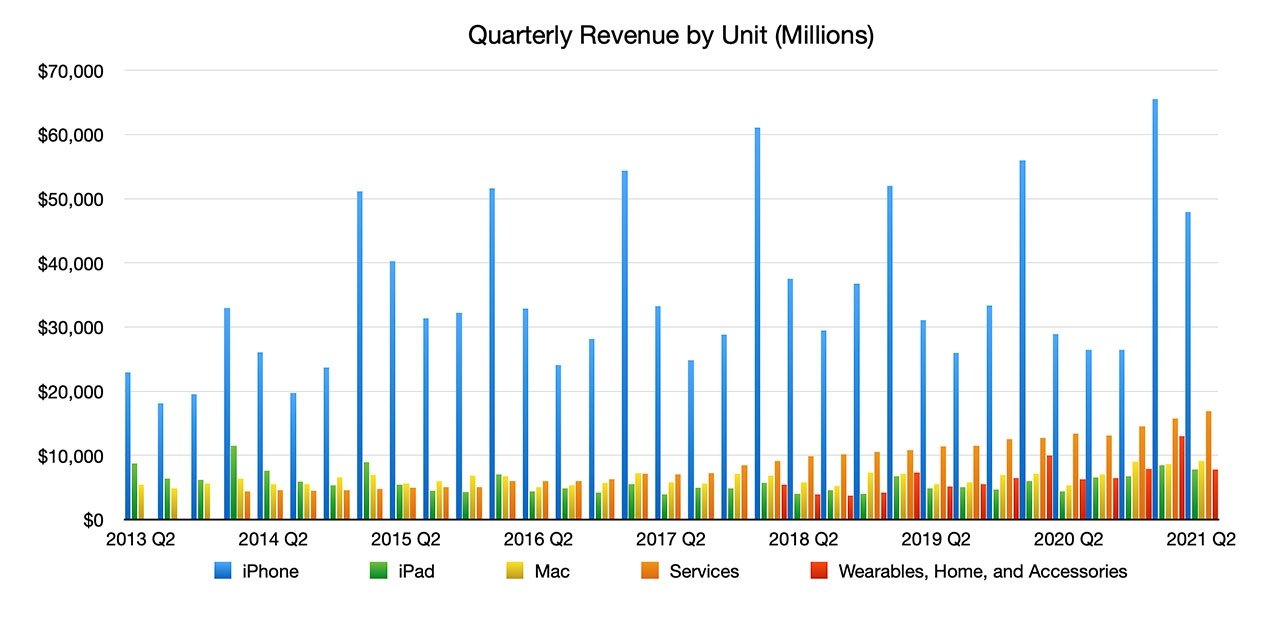 It is unknown whether Apple's results meet the company's own forecast, as it has refused to issue quarterly forecasts since the start of the pandemic. However, for the Q1 results, CFO Luca Maestri said he expected Apple's revenue growth to accelerate year-on-year in the second quarter.
Naturally, Apple hasn't provided a forecast for Q3 2021.