Apple's $111.4B Q1 shatters quarterly record with massive growth across all categories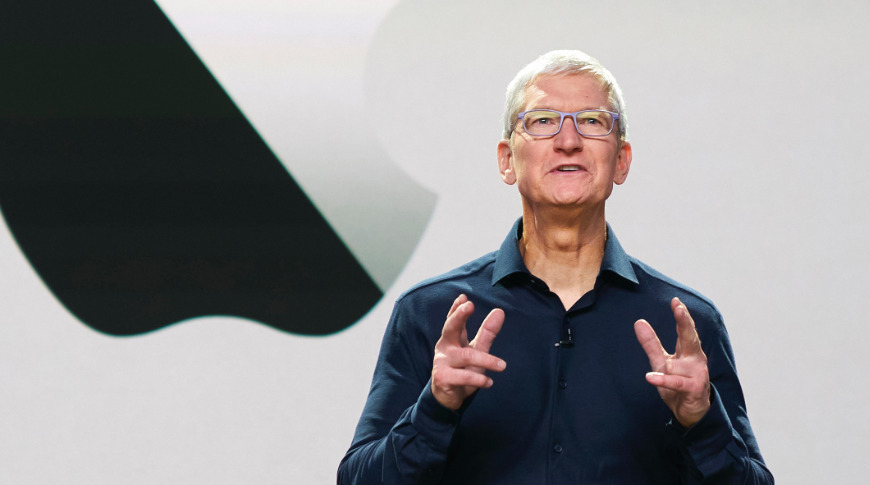 Apple earned $111.4 billion in revenue in the first quarter of 2021, blasting past the $100 billion barrier for the first time on double-digit growth across all product categories.
Announced before the company's usual conference call with analysts, Apple's revenue of $111.4 billion for the quarter ending December 2020 represents growth of 21% on the $91.8 billion seen one year prior, itself a record-setting set of results. Earnings per share is set at $1.68, comparatively higher than the $4.99 seen in Q1 2020 before the four-way stock split.
The gross margin of $44.3 billion is up from Q1 2020's $35.2 billion, while operating expenses are up/down year-on-year to $10.8 billion from $9.6 billion. Net profit is $28.8 billion, an improvement from $22.2 billion one year prior.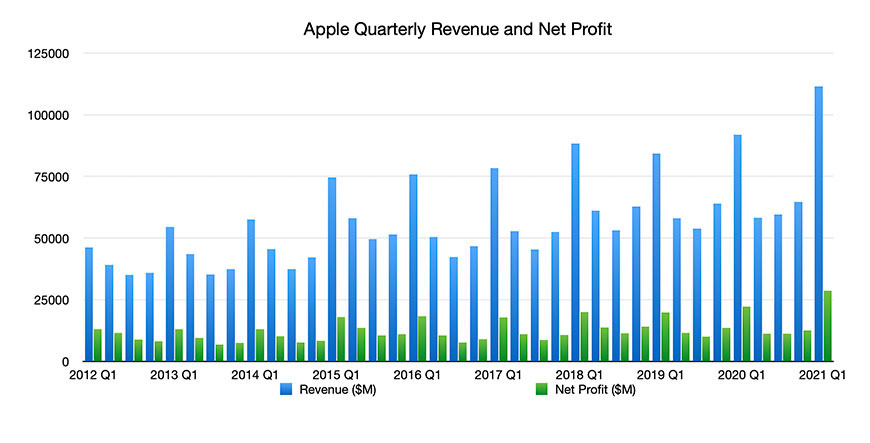 "This quarter for Apple wouldn't have been possible without the tireless and innovative work of every Apple team member worldwide," said Apple CEO Tim Cook. "We're gratified by the enthusiastic customer response to the unmatched line of cutting-edge products that we delivered across a historic holiday season. We are also focused on how we can help the communities we're a part of build back strongly and equitably, through efforts like our Racial Equity and Justice Initiative as well as our multi-year commitment to invest $350 billion throughout the United States."
The high revenue is partly down to the seasonally higher sales of the iPhone 12 range, which reached $65.6 billion, up from $56 billion last year. It is likely that Apple's decision to ship the new models later meant that the usual sales from the last few weeks of the fourth quarter carried over to Q1, helping to inflate the figures.
Revenue for the iPad reversed its 11.2% drop to $5.98 billion in Q1 2020 by being reported at $8.4 billion for Q1 2021. Mac also saw a change in fortunes, upgrading last year's flat growth of 0.2% and $7.2 billion in revenue to nearly 18% growth and $8.7 billion for the latest quarter's result.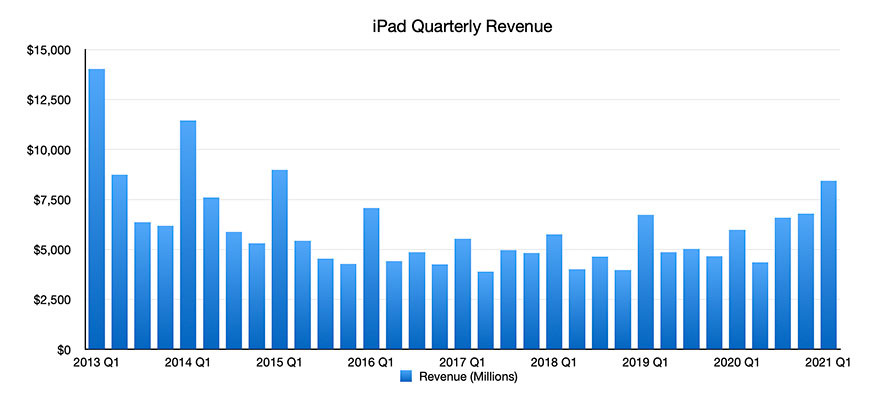 Services continued to enjoy its regular increase, keeping up its growth at 41% year-on-year and posting revenue of $8.4 billion. Lastly, Wearables, Home, and Accessories continued to rise from $10.1 billion in Q1 2020 to $12.97 billion for Q1 2021.
As well as the iPhone 12 range, the quarter saw many product launches, including the Apple Watch Series 6, Apple Watch SE, 2020 iPad, iPad Air, HomePod mini, M1 Mac mini, M1 MacBook Air, and the M1 13-inch MacBook Pro. While the AirPods Max were also released during the period, they were only available toward the end of the quarter, so wouldn't have made a significant impact on revenues.
Apple's Board of Directors declared a cash dividend of $0.205 per share payable on Feb. 11, 2021, to shareholders of record at the close of Feb. 8, 2021.
Apple is continuing its trend of refusing to provide forecasts for the following quarter, something it has been doing for a number of quarters due to the uncertain nature of the pandemic. In a cautious statement, CFO Luca Maestri said Apple expects revenue growth to accelerate year-over-year in the second quarter.