Zens announces charging products for Apple devices at CES 2023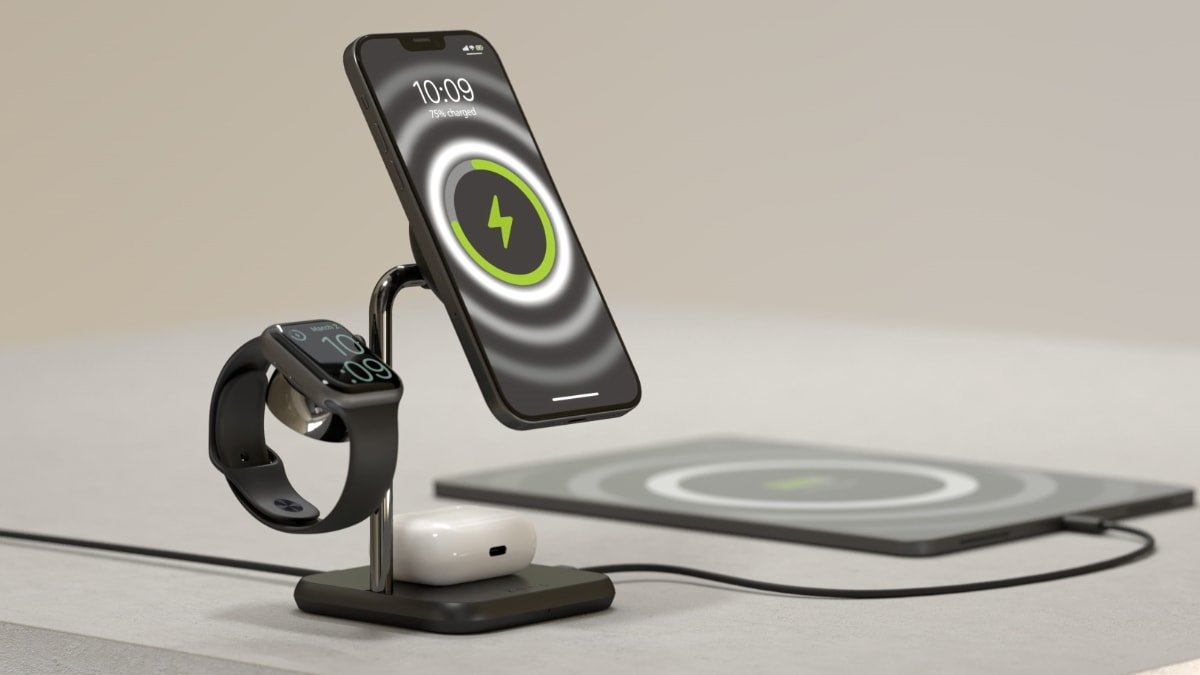 At CES 2023, Zens revealed a host of new charging devices to celebrate the new year, including a charging station for iPad and iPhones with MagSafe.
The Dutch company is releasing what it calls the world's first 4-in-1 charging station for iPad, iPhones with MagSafe, AirPods, and Apple Watch.
4-in-1 charging station
Users can vertically dock an iPad on the stand and charge via the USB-C connector. The connector can be manually adjusted in height and is, therefore, compatible with most iPad cases.
The position of the stand allows it to function as a working station for the iPad, and on the front side of the charging station is a specific spot to store an Apple Pencil.
A powerful 45W adapter is included, providing enough power to charge the iPad and three other Apple devices. It supports iPhone 12 and later for the MagSafe charger that provides a 15W fast charge.
Wirelessly rechargeable AirPods and an Apple Watch can also be charged simultaneously, making this a one-of-a-kind charger. The device is also MFM, MFi, and Qi certified.
More chargers
Zens is also launching a wireless 4-in-1 MagSafe + Watch charging station and the 2-in-1 MagSafe + Watch travel charger to kick off the New Year.
With the wireless 4-in-1 MagSafe + Watch charging station, users can quickly charge four devices simultaneously — the MagSafe charger fast charges at 15W an iPhone 12, iPhone 13, or iPhone 14.
The Apple Watch charger is compatible with all Apple Watch Series, including the Apple Watch Ultra. In addition, the 5W Qi charging pad allows wirelessly rechargeable AirPods or any other Qi-compatible device.
The built-in USB-C 18W port on the right side of the charger allows charging the fourth device. This charger is made from high-grade aluminum and comes with a 45W USB-C PD universal power adapter.
The 2-in-1 MagSafe + Watch travel charger is a versatile and compact charger for the iPhone and Apple Watch. The front of the device includes a MagSafe charger that charges the iPhone 12 and up with up to 15W power.
On the backside, an Apple Watch charger is fully compatible with every Apple Watch, including the Apple Watch Ultra. A travel case is included and securely stows the 2-in-1 MagSafe + Watch travel charger and the USB-C to USB-C charging cable.
Pricing & Availability
Zens has released all of these products for preorder and expects to start shipping before the end of January.
The 4-in-1 Charging Station for iPad, iPhone, AirPods, and Apple Watch comes in black for $179.99, while the 4-in-1 MagSafe + Watch station costs $149.99 in black or white.
Finally, the 2-in-1 MagSafe + Watch travel charger is $99.99 and comes in white.
AppleInsider will be covering the 2023 Consumer Electronics Show in person on January 2 through January 8, where we're expecting Wi-Fi 6e devices, HomeKit, Apple accessories, 8K monitors, and more. Keep up with our coverage by downloading the AppleInsider app, and follow us on YouTube, Twitter @appleinsider and Facebook for live, late-breaking coverage. You can also check out our official Instagram account for exclusive photos throughout the event.