AMD trying to take on Apple Silicon with Ryzen 7040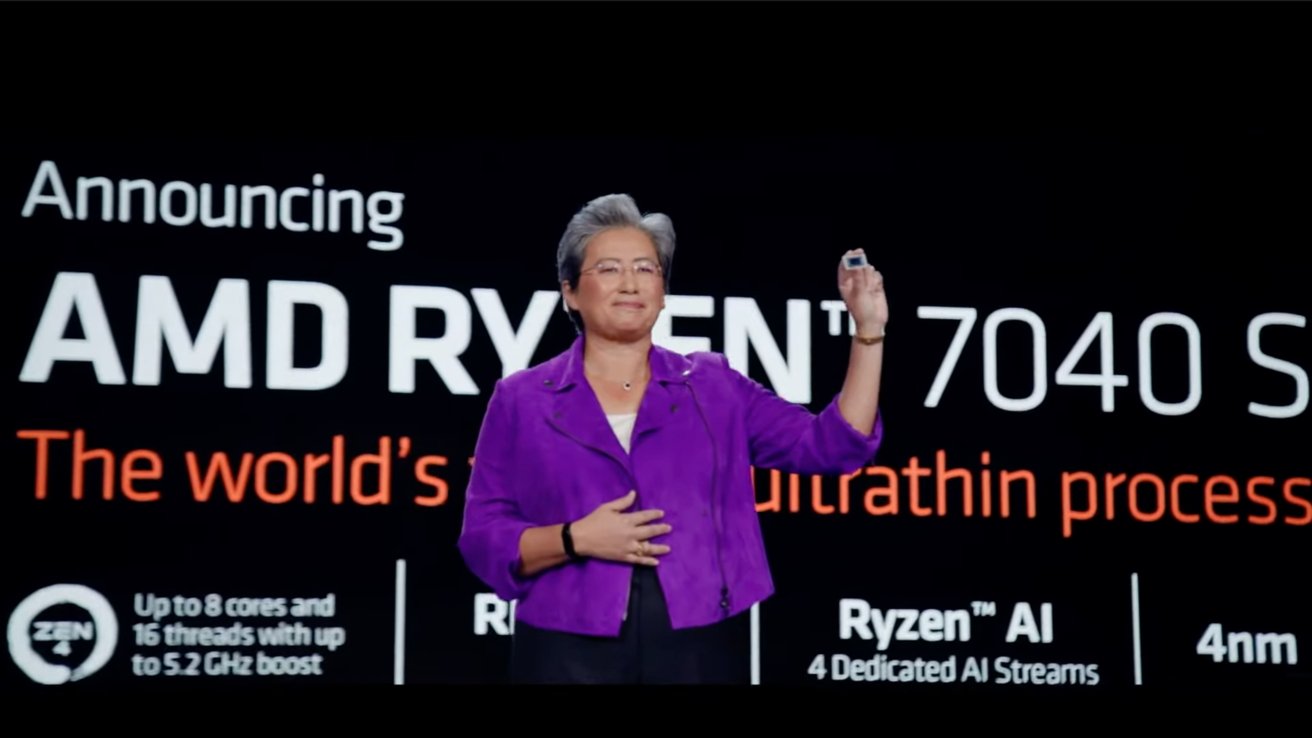 AMD has shown off its Ryzen 7040 series processor that is able to edge out the year-old Apple Silicon M1 Pro processor in cherry-picked benchmarks.
The AMD Ryzen 7040 is built on the 4nm process with 25 billion transistors. The Zen4 technology offers up to 8 cores and 16 threads with up to 5.2 GHz boost and a 12-core GPU.
Comparatively, Apple's M1 Pro that debuted in November 2021 has 33.7 billion transistors on the 5nm process. It is a 10-core processor with two high-efficiency cores and eight high-performance cores. It uses a 16-core GPU.
In a "live" demonstration of Blender running a render, AMD shows the Ryzen 9 7940HS with a clear lead on Apple's M1 Pro. The demo shows Apple with the advantage over Intel, but AMD's processor finished several seconds before Apple.
The AMD processor has a clear advantage in being the newer processor and using the superior 4nm platform. However, the extent of its capabilities will be unknown until it is tested following release in everyday workflows.
It's also not clear how power-efficient the chip will be. There's also questions surrounding the overall technology stack which is maintaining legacy X86 architecture, thermal overhead, and more once it is placed in an actual laptop.
Apple is also guilty of overplaying its hand in a keynote presentation with selective benchmarks, though it rarely calls out the competition directly. AMD is not the first competitor to claim it has bested Apple's powerful silicon.
AMD claims up to 30 hours of video playback thanks to the efficiency gains and a powerful on-chip AI.
AMD notably doesn't mention the M1 Max or M1 Ultra, as it seemingly doesn't have direct competitors for those chipsets. The other high-end processors announced at the event run on the 5nm process, and AMD didn't compare those chips to the higher-end Apple Silicon.
The AMD Ryzen 7040 series will launch in March 2023 across a wide array of computers. Pricing and availability are not yet known.
Apple's M2 processor debuted in the summer of 2022. The M1 Pro and Max hit shelves in November 2021.
The M1 and variants are still based on the 5nm process, so it is expected that the upcoming M2 Pro and M2 Max will continue to use the same one. However, Apple's vertical integration of hardware and software give it an advantage, even when compared to newer technologies.
The A16 processor was rumored to use the 4nm process before Apple had to backtrack and use the 5nm process again. It is claimed that thermal efficiency was one of the reasons for this backtracking. The iPhone 15 and the A17 processor are rumored to skip 4nm to 3nm, which may pave the way for Apple's future M3 processor.
How well the AMD Ryzen 7040 series actually competes with Apple's M1 Pro, M2, and possibly the M2 Pro will be determined after the March launch. The M2 Pro is expected in the first half of 2023.
And, AMD presented the announcement on a 14-inch MacBook Pro, presumably with M1 Pro processor.
AppleInsider will be covering the 2023 Consumer Electronics Show in person on January 2 through January 8 where we're expecting Wi-Fi 6e devices, HomeKit, Apple accessories, 8K monitors and more. Keep up with our coverage by downloading the AppleInsider app, and follow us on YouTube, Twitter @appleinsider and Facebook for live, late-breaking coverage. You can also check out our official Instagram account for exclusive photos throughout the event.