Daily Deals March 3: 20% off Eve Outdoor Cam & Eve Room, 45% off Apple iPod nano, 80% off Lefant Robot Vacuum & more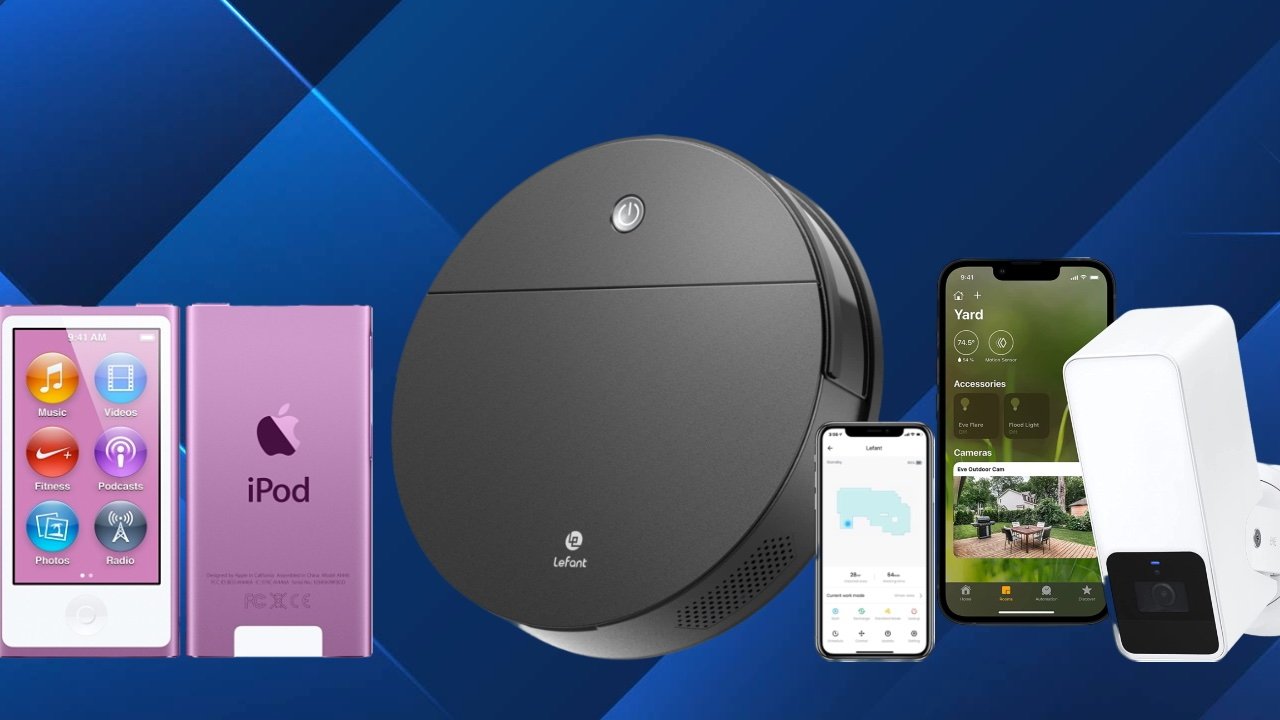 Today's top deals include 27% off an Acer Aspire Vero Green PC, $100 off a Sceptre 43" UltraWide LED monitor, 50% off a USB microphone, 40% off a JBL 5-channel virtual Dolby atmos soundbar and more.
The AppleInsider staff explores the internet for deals at online retailers to curate a list of amazing deals on the top tech items, including discounts on Apple products, TVs, accessories, and other gadgets. We share our top finds in our Daily Deals list to help put get the most bang for your buck.
Top deals for March 3rd
Apple 61W USB-C Power Adapter & Apple USB-C Charging Cable (2M): $36.99 in new, bulk packaging at Woot
Eve Outdoor Cam (normally $269.95, 20% off coupon) for $215.96 at Amazon
Eve Room (normally $99.95, 20% off coupon clip) for $79.96 at Amazon
Acer Aspire Vero Green PC (normally $699.99, 27% off) for $509.99 at Amazon
Sceptre IPS 43.8" UltraWide 32:9 LED Monitor (save $100) for $379.97 at Amazon
JLab Talk Go USB Microphone (normally $49.99) for $25 at AT&T
Surge Protector Power Strip, 8 Outlets with 4 USB Ports (normally $26.99, 14% off) for $14.99 at Amazon
JBL BAR 5.0 5-Channel Virtual Dolby Atmos Soundbar with MultiBeam Technology (normally $399.95, 40% off) for $239.95 at Woot
Lefant Robot Vacuum Cleaner (normally $599.99, 80% off coupon) for $131.40 at Amazon
Apple iPod Nano,16GB, Purple, 7th Gen, Renewed (normally $349.99, 45% off) for $189.99 at Amazon
iDOO WiFi Hydroponics Growing System with APP Controlled, Indoor Garden with Pump System (normally $129.99, 23% off + an extra 50% off coupon) for $49.99 at Amazon
Nuraphone G2 Wireless In-Ear/Over-Ear Noise-Canceling Headphones (save $250) for $149 at B&H
Fire TV Stick 4K (normally $49.44, 54% off) $22.99 at Woot
Even more tech deals
You can still get most of the deals we posted Thursday. Check out the top discounts you can still buy.
Top deals for March 2nd
Even more Apple products on sale
There are plenty of additional sales going on, discounting Apple Watches, MacBook Air hardware, software and more. Here's a sampling of our top picks, with hundreds of exclusive bargains available in the AppleInsider Apple Price Guide.