Apple executives detail Apple Pencil hover update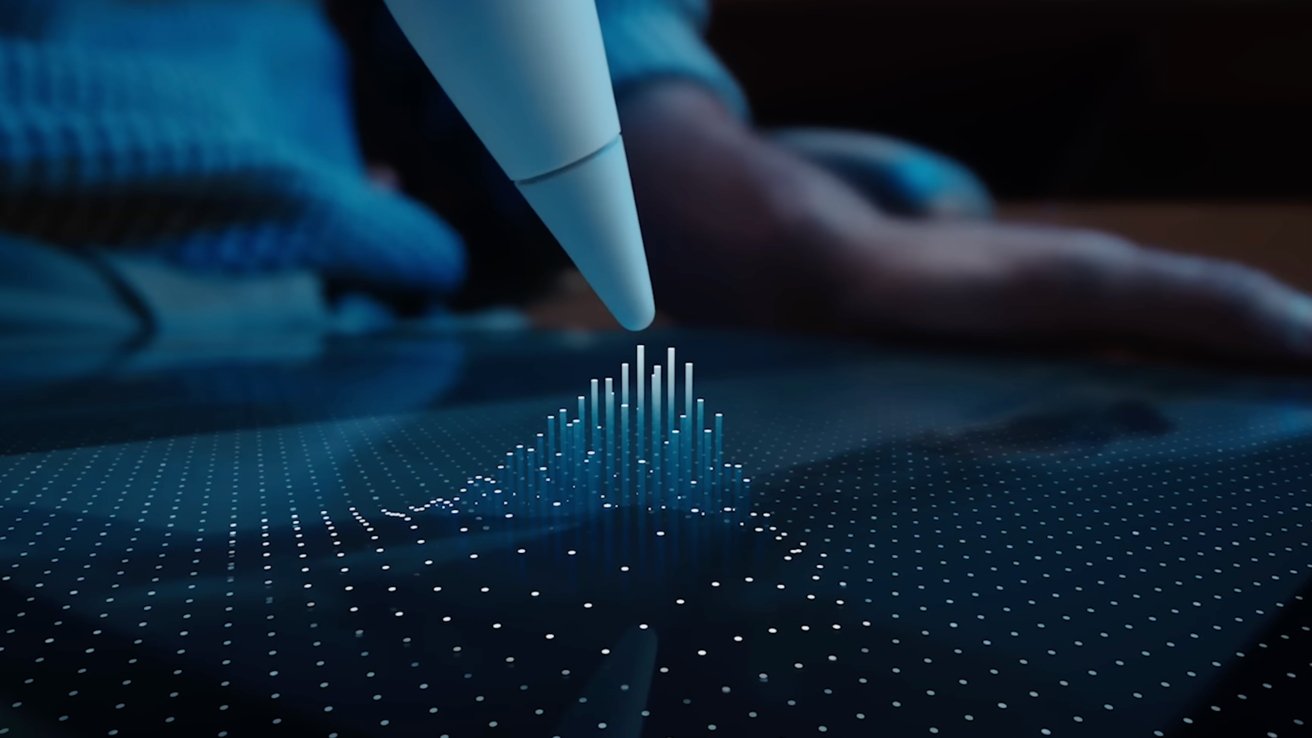 Tilt and azimuth for Apple Pencil hover were introduced in iPadOS 16.4, and Apple executives share details about the update.
Apple Pencil hover is an exclusive new feature for the iPad Pro models released in 2022. The feature was updated with additional metrics that can determine Apple Pencil tilt and azimuth for improved functionality.
In an interview with TechCrunch, Apple's Director of Input Experience Leslie Ikemoto shared information about the updated features for Apple Pencil hover. Developers have embraced the hover feature since its release in iPadOS 16.1 for the M2-equipped iPad Pros, but the latest update makes it even more capable.
"If you look at Procreate, they have the pencil brush, which is small and thin when you're perpendicular to the display, and then gets wider as you Tilt for shading," said Ikemoto. "With Tilt and Azimuth, Procreate can render an exact outline of the mark that you're going to make when you set down your pencil brush, and that's a huge accelerator for their users."
Initially, the hover feature showed a simple preview of the brush in apps like Procreate or indicated which tool the Pencil was hovering over before selection. It was useful for previewing how the brush would look on a page based on selected thickness and opacity, but it was missing some key details.
Now, Apple Pencil hover can account for the device tilt and azimuth, showing exactly how the angle of the Pencil will affect the drawn line.
Don't overthink the geometric terms. Both simply refer to the iPad's ability to calculate precisely what angle the Apple Pencil is being held at, not just where the tip is hovering and how far it is from the display.
For example, if a pencil tool is selected in Procreate, users can tilt the pencil onto its side for a shading effect. This stroke is now correctly previewed in iPadOS 16.4.
Apple shared that handwriting is a more popular use for Apple Pencil than drawing and painting. That's why hover worked across various apps and didn't require developers to change code for simple adoption.
"We wanted hover to be as easy to adapt as possible, so we used the existing APIs that we used for the Magic Keyboard Trackpad," Ikemoto shared. "That's UIPointerInteraction and UIHoverGestureRecognizer. For developers who have already adopted UI pointer interaction in their app, they get Apple Pencil hover for free without doing any work. It will just work."
"Developers who want a more custom experience with hover can use UI hover gesture recognizer," Ikemoto continued, "which we've extended to report the location of the tip of the Pencil in 3D and also the angle at which the Pencil is being held."
Director of Platform Product Marketing Stephen Tonna also talked with TechCrunch about the iPad Pro. They emphasized the importance of the iPad's ability to morph into whatever device a person needs in the moment.
"iPad is, first and foremost, a touch-first device. You hold this sheet of glass," said Tonna. "As you add different accessories to it, a keyboard or a trackpad, it unlocks different capabilities. The Pencil adds to the incredible experience. That's another way to think about the Pencil and iPad."
Apple Pencil hover and other updates are partly attributable to customer feedback. Even the Procreate app developers admit they've been hoping for a hover feature since Apple Pencil launched.
"We're always listening to customer feedback," Tonna stated. "One important part of building great products is taking that feedback and listening to what's going on. And, of course, building things our customers didn't even think of. They see it, they love it, they take it further. We listen."
Apple released iPadOS 16.4 with the updated Apple Pencil hover feature on March 27. Customers who own the M2 iPad Pro and Apple Pencil 2 can take advantage of the feature.