What to expect from Apple's Q2 2023 earnings report on Thursday, May 4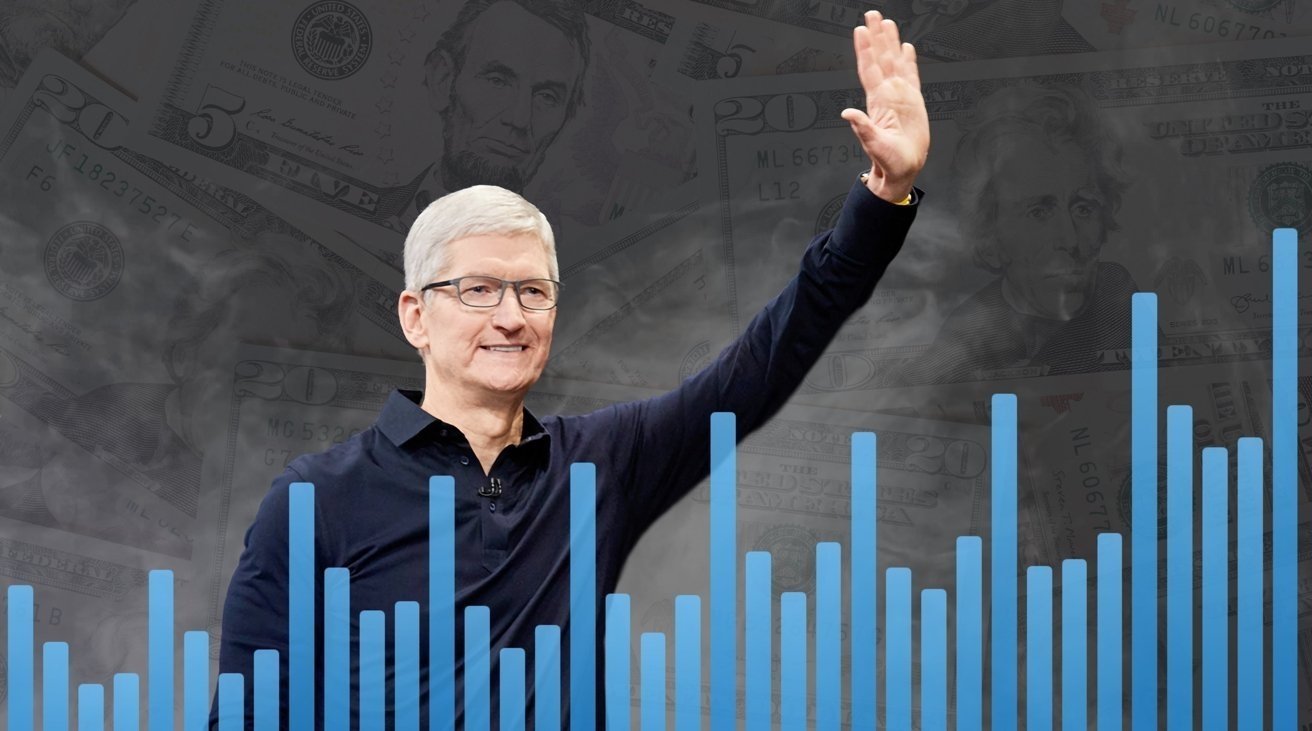 Apple's Q2 2023 fiscal results will be released on May 4, followed by the standard call with analysts over the figures. Here's what to expect, and what Wall Street forecasts for the results.
Apple has confirmed it will be issuing its financial results for the second quarter on May 4, 2023, shortly before a call with analysts that will start at 5pm E.T. The call will usually consist of Apple CEO Tim Cook and CFO Luca Maestri discussing the just-released results, and answering questions from the listening analysts.
Topics can include product launches from the previous few months, positive and negative events, overall sales, and other economic headwinds that could affect subsequent quarters.
Continuing with a policy enacted at the start of the pandemic, Apple hasn't offered formal revenue guidance for follow-up quarters in previous releases. Given the continuation with the Q1 results it seems unlikely that much guidance will be provided this time around.
While the Q1 launches will impact the Q2 results, there are some products that were launched during the period. In January, Apple introduced the M2 and M2 Pro Mac mini, as well as the M2 Pro and M2 Max 14-inch MacBook Pro and 16-inch MacBook Pro, while a second-generation HomePod lanced on February 3.
AppleInsider will be covering the financial results and the ensuing analyst conference call in detail, as it all rolls out.
YoY: Q2 2022's Figures
A key barometer for quarterly financial results is how a company's figures compare against those of one year prior. In this case, analysts will be putting the Q2 2023 results against Q2 2022.
During the Q2 2022 results, Apple reported revenue of $97.3 billion, beating the Wall Street consensus at the time of $94 billion. It also reported a net profit of $25 billion annd a 43.7% gross margin.
Revenue from iPhones hit $50.6 billion, with iPad down slightly at $7.6 billion, and Mac up to $10.4 billion. Wearables, Home, and Accessories rose to $8.8 billion, and Services continued its reliable growth at $19.8 billion.
What Wall Street Thinks
As of April 24, Yahoo Finance's consensus of analysis has Apple earning an average of $92.94 billion, with a range between $89.79 billion and $98.84 billion. The estimate is based on reports from 24 analysts.
The earnings per share is expected to be around $1.43, with high and low estimates of $1.56 and $1.37. A total of 26 analysts contributed EPS estimates.
Individual analysts on Apple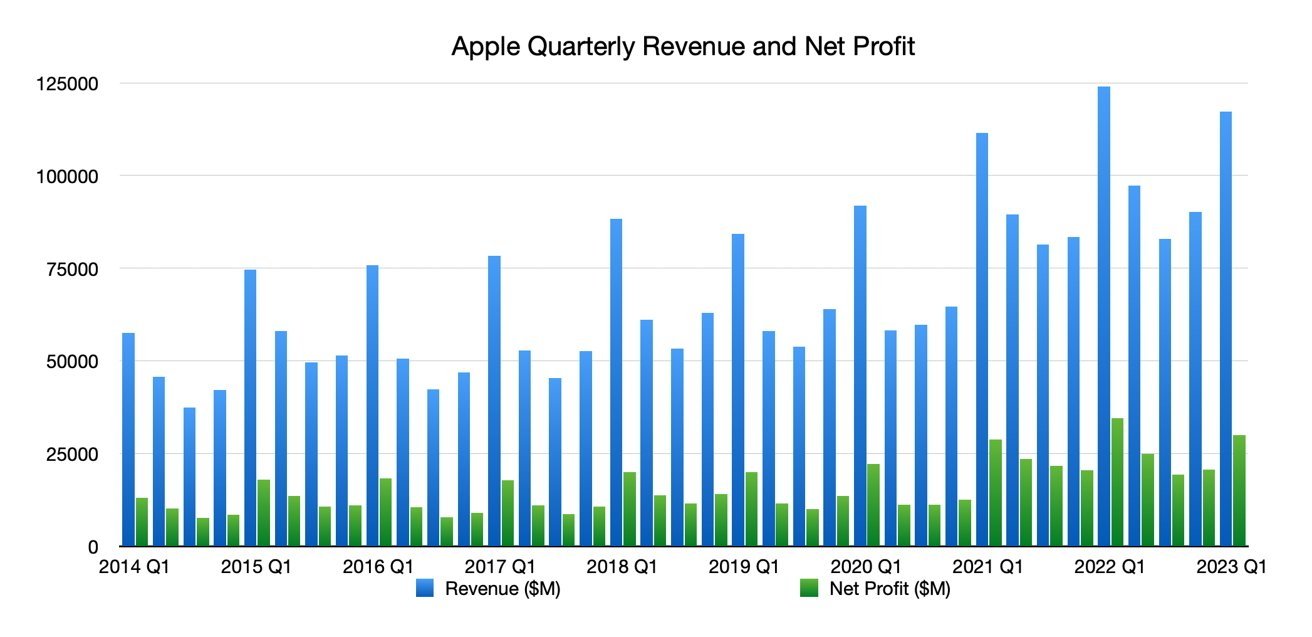 Morgan Stanley
The March quarter will be "in-line" with expectations, said Morgan Stanley in its April 24 pre-results note to investors. With $91.9 billion in revenue and a $1.41 EPS, this is apparently one or two percentage points below the consensus.
Revenue from iPhones was revised up 2% to $50.3 billion, down 1% year-on-year, on 54.5 million iPhone shipments. For Mac, shipments will apparently reach 4.3 million with a revenue of $6.3 billion a 39% YoY drop.
Services will apparently be up 5.7% YoY at $20.9 billion.
However, Morgan Stanley cautions restraint, as "History would show that a March quarter beat and June quarter guide down doesn't necessarily drive a negative post-earning stock reaction, as investors look past the trough of the cycle to the upcoming iPhone launch."
A $90 billion incremental buyback authorization and a 5% year-on-year dividend increase are also anticipated.
JP Morgan
On April 19, JP Morgan said Apple will deliver a "robust shareholder return" for 2023, with the March quarter beating targets "on iPhone revenue tailwinds from channel inventory build." This improved outlook was led by an improved estimate of 58 million iPhones produced instead of 54 million.
For the quarter, the revenue and earnings forecast was "modestly" raised from $92.7 billion in revenue and $1.44 EPS to $94.9 billion and $1.49. Its consensus opinion was $92.5 billion and $1.43.
As well as the "modest beats" for the March quarter, JP Morgan expects Apple to "issue guidance for another quarter of revenue declines," with a forecast of "revenue declines y/y for the full-year FY23, and modest downsides to earnings estimates as well."
Overall, despite the expected declines, JP Morgan says that Apple remains "a relative safe haven," given the "tough macro" economy situation.
Wedbush
On May 1, Wedbush's preview for the results focused on iPhone revenue, which it thinks should "post at least in-line" with expectations. This is due to a "a clear uptick in demand around the key China region."
The June quarter should be "relatively conservative" too due to the inbound anniversary iPhone 15 in the fall, and that an estimated quarter of iPhone users haven't upgraded in four or more years. That should end up with a "steadier transition" from iPhone 14 to iPhone 15 than the usual peak-to-valley cycle.
Wedbush was also keen on Services, expecting a shift back to double-digit growth in the following quarters. Services "remains an underappreciated asset by the Street," Wedbush reasons.
Wedbush maintains its "Outperform" designation for Apple, as well as its price target of $205. The note did not include estimates of revenue or EPS.
Deutsche Bank
In an April 26 report, Deutsche Bank analysts raised their price target for Apple from $160 to $170, and maintained its "Buy" rating. Investors are "attracted by the company's quality of earnings and its strong balance sheet" in an uncertain environment.
For the results themselves, Deutsche Bank believes results will be "in line" with its estimates, with "strength in iPhone offsetting incremental weakness in other areas." Services revenue is set to grow modestly, between 5% and 10% year-on-year.
Apple is positioned well for the third quarter, analysts reckon, as while "potential for Products revenue to be lower than our estimates, we also expect lower component costs to drive upside to margins, leading to EPS in line with our estimate."
That full-year EPS is to be $6.30, Deutsche Bank forecasts, beating a Street estimate of $6.17.
TD Cowen
On May 2, TD Cowen offered Apple will see a 5% YoY decrease in revenue in the quarter, with it hitting $92.2 billion, accompanied by an EPS of $1.43.
Blaming seasonal iPhone demand that's propped up by improved China shipments, iPhone revenues are forecast to dip 5% YoY. With "relatively weaker year-on-year" figure for shipments of iPad, Mac, and Wearables, Cowen thinks there will be an iPad drop of 5% and a Mac builds drop of 14%.
Services will still continue to grow on "easy comps," albeit with some downside risk to "licensing revenues given digital advertising market trends."
Cowen has given Apple an "Outperform" rating, with a price target of $195.