Crime blotter: Chaos near Apple Store in London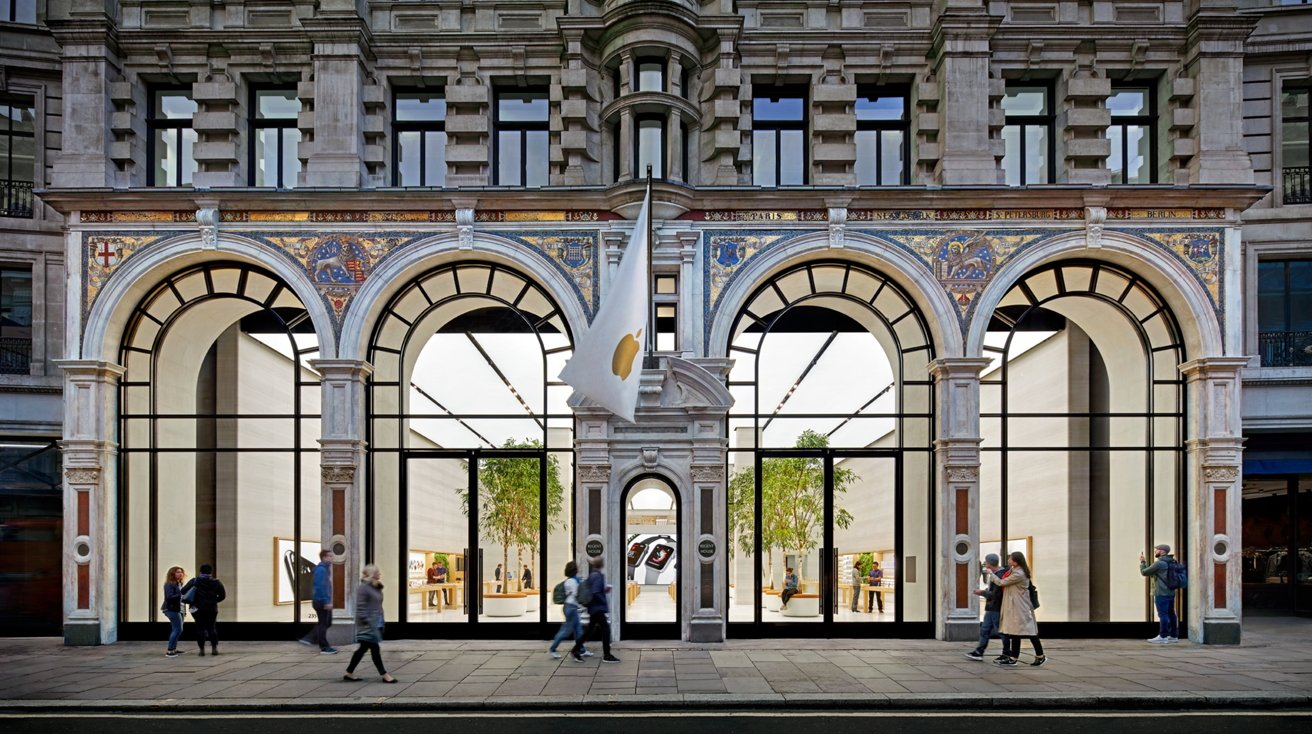 In the latest Apple Crime Blotter, Rudy Giuliani talks iCloud after his arrest, Apple products are stolen from baseball and soccer stars, and another big iPhone theft ring at a music festival.
The latest in an occasional AppleInsider series, looking at the world of Apple-related crime.
Chaos near London Apple Store after TikTok-fueled looting
London's Oxford Street shopping district was hit with a TikTok-inspired wave of shoplifting and looting on August 10, with "hundreds" of teenagers participating, The Independent reported.
While the target of the looting was the JD Sports store, the "chaos" took place near the Apple Store around the corner, with one woman "caught in the mayhem after leaving the Apple Store." Nine people were arrested, with 34 others issued dispersal orders.
Rudy Giuliani after booking: "The FBI stole my iCloud account"
Rudy Giuliani, the New York mayor-turned-Donald Trump attorney who has appeared in this column more than once before, was indicted in early August as part of the racketeering case against Trump and others in Georgia.
Giuliani appeared in Georgia on August 23 for booking, and while speaking with reporters afterward, he referenced past FBI searches of his iCloud account.
"I will tell you if you need to know what this is all about, the FBI stole my iCloud account, and you know when they went and stole it, the day I began representing Donald Trump four years ago," the erstwhile "America's Mayor" said, per Politics USA. "The day after I represented Mr. Trump."
That was a reference to a 2021 investigation in which Giuliani's home was raided and several of his electronic devices were taken. That investigation, which was separate from the alleged Georgia conspiracy, did not result in any criminal charges.
Two arrested for stealing dozens of iPhones at Miami music festival
There are few places in which iPhones are more likely to be stolen than a crowded music festival, and that happened again in late July. Two people, a man, and a woman, were arrested for stealing dozens of iPhones at the Rolling Loud music festival at Miami's Hard Rock Stadium.
According to NBC Miami, the man was arrested on the last day of the festival when officers noticed he was not wearing an event wristband and held "an opaque bookbag that went against event rules." They then found 12 stolen iPhones in that bag.
The female suspect, meanwhile, was found "running through a crowd with a black bag," which itself contained 16 wrapped iPhones. During the search, one of the phones rang, and the person calling was the phone's owner, who had been tracking it.
Both face third-degree grand theft charges, while the woman is also charged with dealing in stolen property and giving officers a false name.
iPhone stolen from Lamborghini of Dodgers player
A Los Angeles Dodgers player, while out enjoying a postgame dinner in downtown Los Angeles with his family, had his car broken into, and an iPhone and other items were stolen.
CBS News reports Dodgers shortstop Miguel Rojas had parked his Lamborghini in a parking lot near a restaurant, following a win by the team earlier that day. When he and his family returned, they found the passenger side window smashed, and his mother-in-law's purse — containing an iPhone, credit cards, ID cards, and $1,400 in other items — stolen.
Teenager arrested in car thefts had used iPhone charger in Instagram videos
A 17-year-old in Texas was arrested in mid-August for a series of thefts of Kia and Hyundai vehicles, and police say videos posted on Instagram that showed how to carry out the thefts were used as evidence.
According to KENS5, police received a tip about a livestream and Instagram page, which included "recorded videos of stealing Kia vehicles using iPhone charger."
"The defendant is then seen on the video recording livestreaming with another individual who was looking for a vehicle to steal," the station quoted the arrest warrant as saying. "The video recording is of excellent quality and you can clearly see the defendant."
Per The Drive, thieves have been using a "low-tech hack" in which they use a USB charger to turn the car's ignition tumbler and steal the car. Cars made by Kia and Hyundai are particularly vulnerable to this hack.
Uber driver claims passenger stole his iPad, forgot iPhone
In a viral TikTok video from an Uber driver named Karan Singh, the driver claimed that one of his passengers had stolen Singh's iPad. But the would-be thief also left his own iPhone in the back seat of the car, at which point they exchanged devices.
"Why'd I say thank you for getting my stolen iPad back and he didn't even say sorry," Singh wrote in the caption.
Man accused of stealing iPhone, swinging tree branch at cops
A California man who was accused of stealing an iPhone is also accused of resisting arrest in an unusual way- by swinging a tree branch at officers.
According to KRON, police accused the man of stealing an iPhone from a car on August 15.
The victim used Find My iPhone to trace the phone to a tent on Los Gatos Creek Trail. One police arrived, and the man swung a tree branch at officers before fleeing.
He was arrested days later when other officers "used de-escalation tactics to successfully arrest him."
AirPods tracked after burglary at home of soccer star
An international soccer star had his home broken into in July of 2022 and numerous items were stolen, including a pair of cars. According to The Sun, the thieves were a group led by a "professional criminal," who carried out the thefts while Raul Jimenez was home with his children.
Jimenez is a Mexican national who played for Wolverhampton Wanderers in the U.K. but has since moved to Fulham.
Police were able to track stolen AirPods taken in the burglary, linking one of the main thief's accomplices to the case, which landed in the courts in August. The ringleader, accused in the burglaries of Jimenez and several others, was sentenced to 84 months.
Rising crime and stolen MacBook Pro leads San Francisco jazz club to change hours
Black Cat Jazz Supper Club, a jazz club in San Francisco's Tenderloin District, has announced that it will shift to earlier business hours.
The local CBS News station explains the decision was necessitated by "crime, rampant drug use and homelessness in the area." In August, the club's operations director said, a MacBook Pro was stolen "right off the host stand" from someone who had walked in.
Two in India are arrested for stealing an iPhone from a woman on a rickshaw
Two men, described as "career criminals," were arrested for the theft of an iPhone from a woman who was pulled from a moving rickshaw.
According to the Hindustan Times the men, who were allegedly on a bike when they stole the iPhone, were also tied to 13 other thefts of such devices, as well as motorcycles.
"The arrests of the suspects led to the recovery of six stolen mobile phones, seven stolen motorcycles, and a country-made pistol which they allegedly carried around during the crimes," Delhi Police told the newspaper.