Anker unveils new Qi2 charging accessories ahead of iPhone 15 launch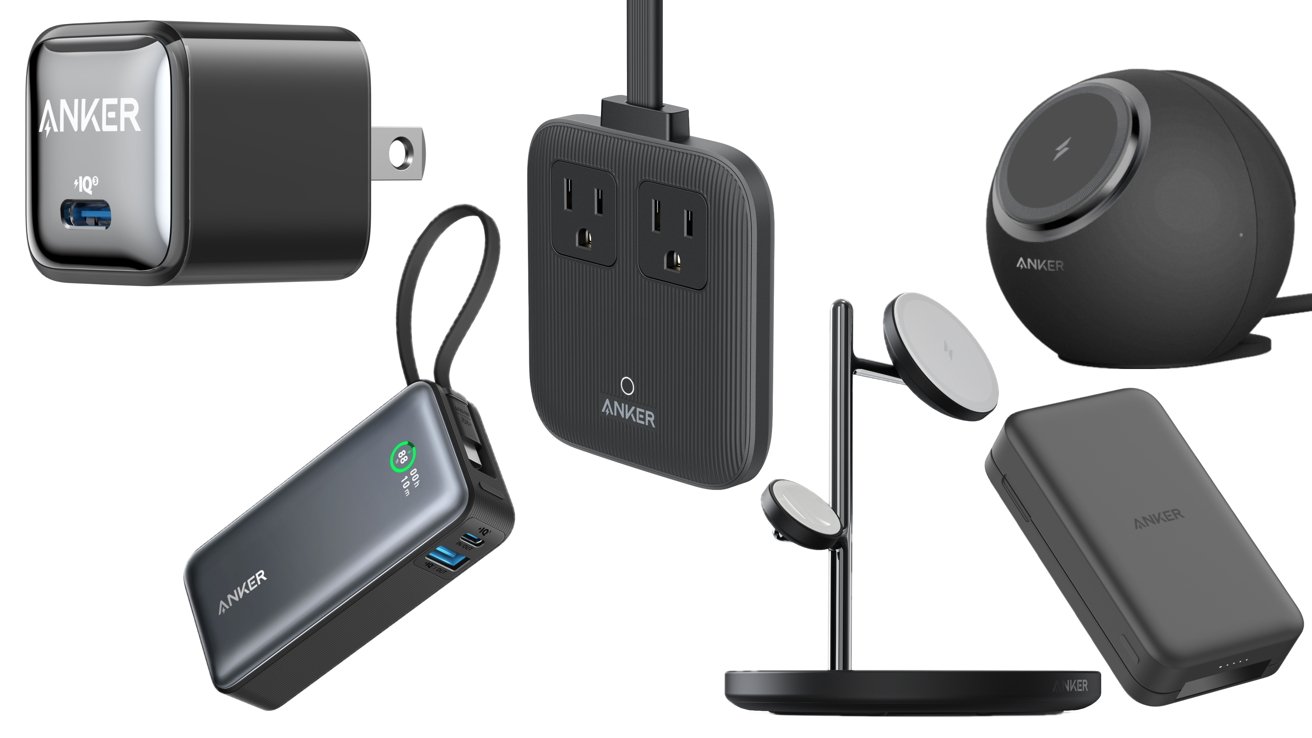 Anker is unveiling brand new accessories in its charging lineup, helping to bring Qi2 to the masses just in time for the iPhone 15, which may support the feature.
Qi is the dominant wireless charging standard, and in January it received a major update to "Qi2." Apple let the Wireless Power Consortium use MagSafe as a jumping pad to develop Qi2, making it the basis for the new standard.
With Qi2, magnets will be integrated into the charger to align with the smartphone, identical to MagSafe. It is also rumored third-party accessory makers will not need to gain Apple's certification to charge the iPhone at 15W instead of defaulting to 7.5W.
Anker introduced the Nano 3 lineup in September 2022 and is adding to the family at IFA 2023. It is bringing Qi2 wireless charging to the MagGo lineup, which will be available in the fall of 2023.
New MagGo accessories with Qi2 wireless charging
The following products will be available from Anker's website later in the fall.
Anker MagGo Magnetic Charging Station: An 8-in-1 charging station that features Qi2 wireless charging, three charging ports, a pair of USB-C ports, and two USB-A ports. It can output 67W of power.
Anker MagGo Power Bank 6,600mAh: This foldable power bank can also double as a phone stand.
Anker MagGo Power Bank 10,000mAh: This power bank supports Qi2 wireless charging, as well as 27W wired charging via the USB-C port. It also features a kickstand and a charging status display on the side.
Anker MagGo Wireless Charger: This simple 15W wireless charging pad features a slim profile and a 5-foot USB-C cable.
Anker MagGo 15W Wireless Charging Station: A 3-in-1 wireless charging station that offers Apple Watch fast charging, as well as an elevated section for 15W iPhone wireless charging. There is also a dedicated spot for charging AirPods with a wireless charging case.
Anker MagGo Wireless Charging Station: This is a wireless charging station, built as a stand with two elevated wireless chargers. These support the iPhone and Apple Watch, with a dedicated spot on the base for AirPods wireless charging.
Anker MagoGo Wireless Charging Station: This 15W, foldable wireless charging station is designed for on-the-go charging. Two elevated wireless chargers support the iPhone and Apple Watch, with a dedicated spot on the base for AirPods wireless charging.
New Anker Nano Power Banks
The Power Bank 22.5W is a lipstick-sized power bank that features a built-in, foldable USB-C connector. It features dual USB-C Power Delivery and a 5,000mAh capacity.
The small battery pack is equipped with a USB-C port on the side, which can be used to charge the battery or charge other devices via a USB-C cable.
It has an output of 22.5W and is available today in five different colors from Anker for $29.99.
Next, the Power Bank 30W can output up to 30W and input up to 30W to charge itself. Anker notes the 10,000mAh battery pack can get an iPad charged from 0 percent to 60% on a single charge.
The Power Bank 30W is equipped with a display on the front of the power bank, making it easy to see charge levels at a glance. It is also equipped with smart temperature monitoring to prevent overheating.
Anker's Power Bank 30W is available in five different colors for $49.99.
Other new Anker gear
Anker also launched these other Nano USB-C charging options:
The new Anker Nano 20W charger: The compact size returns, while still offering 20W of charging power. It can charge an iPhone 14 from 0 to 50% in 27 minutes. With a Dynamic Temperature Sensor it can monitor device temperature levels as well. It is available now for $13.99 in four colors.
Anker Nano Charging Station: This powerful 67W charging station offers a 6-in-1 design. It can charge a 13-inch MacBook Pro to full capacity in an hour and 54 minutes. It has two USB-C, two USB-A, and two AC ports. It is available in three colors and retails for $65.99.
Apple is expected to support Qi2 chargers, and it could start with the iPhone 15, which is scheduled to be announced on September 12. If it does support the new standard, manufacturers like Anker will be rushing to get accessories into the market to take advantage.