iPhone 7
⚠️ This content has been preserved for historical or organizational purposes, but is no longer being maintained. It is unlikely to be updated further and may contain duplicate or outdated information.
Apple launched next-gen 4.7- and 5.5-inch iPhone 7 models this September. The latest version of the iPhone received a faster processor, better camera, and the elimination of the 3.5mm headphone jack. Two new color finish options were also introduced: a solid matte Black and a high gloss Jet Black. Another major change is a new maximum offering of 256GB for both models, which is double the iPhone 6 options. The baseline storage also increased to 32GB, catching up with the rest of the smartphone industry.
● September 2016 launch
● Next-gen A10 chip, better cameras
● Dual-lens camera on Plus models
● 32GB entry level and 256GB option added
● New Retina HD display with wide color
● No 3.5mm headphone jack
● Bundled Lightning-to-headphone adapter
● Splash, Water, and Dust Resistant
● Stereo speakers
● Longer battery life
● Starting at $199 on contract, $649 without
---
Get Apple News Directly in Your Inbox
Appearance & Design
Apple's iPhone 7 and 7 Plus are faster, feature significantly better cameras, feature a new solid state Home button and Taptic Engine, introduce Wide Color and other major Retina HD technology.
The phone is also fully splash, dust and waterproof, which is an evolution from the iPhone 6s, which is only partially water-resistant. The headphone jack also disappeared and was replaced with a second speaker for surround sound. The device also saw the addition of a a pressure-sensitive surface with haptic feedback.
Apple kept its standard two-model offering for 2016, sticking with 4.7- and 5.5-inch screen sizes. Two new color finish options were also introduced: a solid matte Black and a high gloss Jet Black. Rumors circulated in November 2016 by Japanese site Macotakara citing supply chain sources said that Apple is planning to also add a "Jet White" color option. They did suggest that the information could be unreliable and didn't have a timeframe for when the change would be introduced.
On March 21, Apple introduced a (Product)Red color option for the iPhone 7 and iPhone 7 Plus, alongside other product refreshes. As with other (Red) products, sales of this particular color of iPhone will help raise money to support HIV/AIDS programs, providing counselling, testing, and medicine that prevent the transmission of HIV.
The new iPhone 7 models introduce a new solid-state (non-mechanical) Home button which no longer physically depresses but instead is a software-driven sensor. That means a new physical button sequence to hard-reset the device is now holding the Volume Down and Wake buttons for five seconds.
Apple has greatly enhanced the visible characteristics of its iPhone 7 Retina HD displays. Both the iPhone 7 and 7 Plus feature radically enhanced displays with very high contrast ratios, very low reflectance and peak brightness levels above 700 nits.
Apple has dropped the analog headphone jack in the iPhone 7 models. Wireless AirPods (which won't be available until October) have been released, and Apple's Beats subsidiary now has three families of wireless headphones to choose from.
iPhone 7 models also introduce new built-in stereo speakers, one in the base and the other in the earpiece. This generates twice the volume for listening to music, watching videos, playing games or using on speakerphone.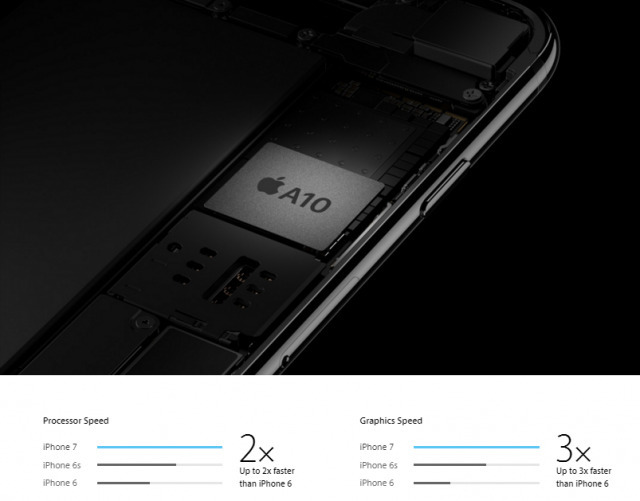 Internals
Apple introduced a new system-on-chip design in 2016 dubbed the A10. The A10 Fusion chip is so efficient you get an extra hour or two of battery.
Apple's Taptic Engine is now both greatly enlarged over the previous year's design (as shown below in the iFixit teardown) and enhanced to provide much more accurate and precise patterns of rumbling vibration feedback, referred to haptics.
The 7 Plus features a dual camera system that enables users to shoot in both a standard wide angle as well as with a zoom feature and a novel mode for capturing dramatic portraits.
Both iPhone 7 models incorporate a variety of other camera enhancements, from a higher resolution front facing FaceTime camera to a rear shooter with a larger aperture and bigger pixels for better capturing detail in poorly lit settings, a particular weakness among mobile cameras.
To handle extra processing requirements the 7 Plus is sporting 3G of RAM, up from the 2GB allotted to the iPhone 6s.
Internal storage has increased to a maximum offering of 256GB for both models, double the iPhone 6 options. The baseline storage also increased to 32GB, catching up with the rest of the smartphone industry.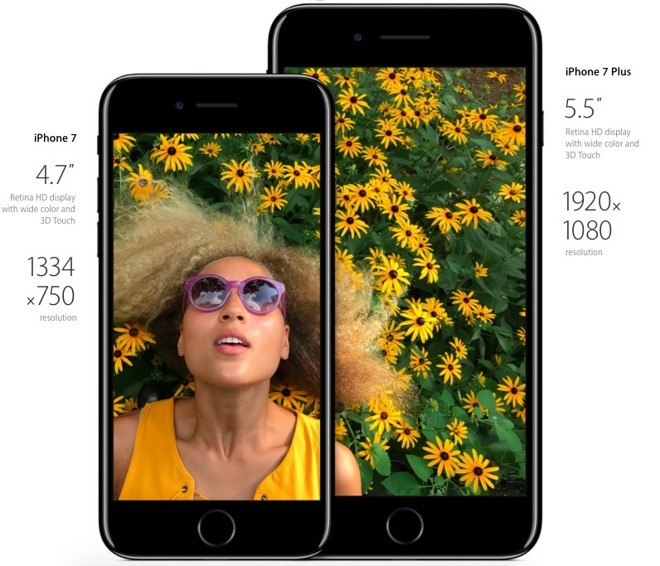 The apparent trend toward larger phones has continued with initial iPhone 7 sales. The frontrunner in sales is the 7 Plus which accounts for a leading 55 percent of orders, compared to only 45 percent getting a standard.