5 easy steps to get your new Mac tax free and save money on AppleCare protection plans
1) Select your new Mac of choice from the B&H Photo column of our Price Guides:

</p >In our example, we're selecting the $1,399 2.5GHz MacBook Pro fro 2012, which Apple sells for $100 more at $1,499.
2) Once the Mac product page loads on B&H Photo's website, add the Mac to your cart using the blue "ADD TO CART" button: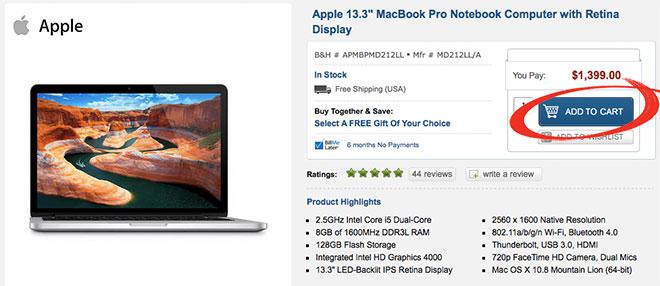 3) A Buy Together and Save popup will appear, allowing you to select some free software and some additional accessories. You can skip this part or makes some selections. When done, click the white "ITEM IN CART" button to load your shopping cart, where you'll be able to tack on a discounted AppleCare warrenty: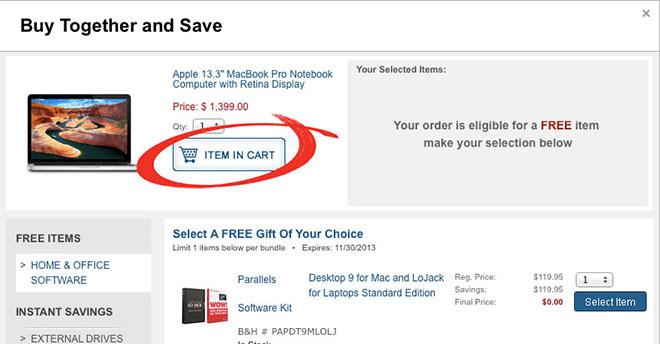 In this case, B&H is throwing in a free copy of Parallel's Deskt op and LoJack for Laptops. These deals come and go, and also change frequently by Mac model.
4) Once in your shopping cart, you will see options for AppleCare Protection Plans below each Mac you've added to your cart. Click on the 'Details' or 'Add' links to see the exact pricing for your Mac:

5) A popup will appear with an overview of AppleCare protection benefits and guidelines. Add the bottom is a discounted price for the AppleCare plan associated with the Mac you selectd. Simply click the white "Add Plan" button to bundle the plan to your Mac purchase.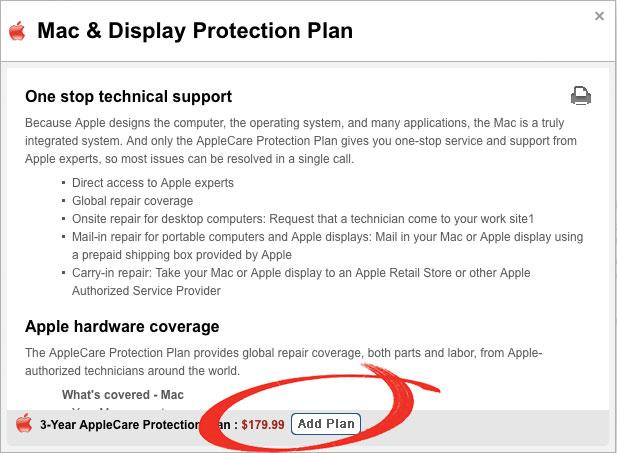 In this case, B&H is selling the AppleCare Protection Plan for 13-inch and smaller MacBooks for $179.99, which is $69 cheaper than when buying from Apple. If you're buying a 15-inch MacBook, AppleCare plans are discounted by over $100.)
That's it. You should now have the discounted Mac+AppleCare bundle in your cart and can begin checkout. If you live outside of New York State, your order will also be tax free.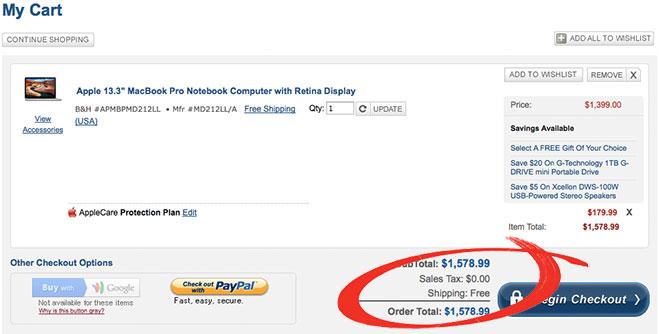 For this tutorial, we selected MacBook Pro model MD212LL, which Apple sells for $1,499. B&H's pricing instantly discounts that model by $100, we saved another $69 on a 3-Year AppleCare Protection Plan, and rougly another $110 on Tax (assuming 8% of $1,399), for a total savings of over $279.