iPad mini
Initially released in November of 2012, Apple's diminutive iPad mini has undergone substantial changes since its inception. Though it is the smallest iPad, it isn't the cheapest or least powerful. This premium tablet offers a pocketable iPadOS experience.
● 8.3-inch display
● Lightweight and portable
● Runs iPadOS
● Apple Pencil 2 support
● 5G cellular option
● Find great iPad mini deals
● Discounted prices start at $399
---
Get Apple News Directly in Your Inbox
---
The iPad mini sets itself apart with a small design and premium features. Despite its smaller size, its edge-to-edge display, A15 processor, and second-generation Apple Pencil support make it a more robust tablet than Apple's entry 10.9-inch iPad.
After two years without any updates, Apple released the revamped iPad mini 6 without a Home Button and Touch ID in the Top Button. It is basically the iPad Air 4 in miniature but has the better A15 processor and Center Stage.
The iPad mini was first unveiled in 2012 and retained the same design characteristics throughout its product life. There was never much to note about the small iPad's design other than bezels slimming, a thinner chassis, and a better display.
The 2021 design update completely departs from its previous design, almost making it a new device entirely. Customers who favor the small tablet can purchase this model with confidence, knowing that its design and performance won't become outdated for years to come.
Rumors suggest a new iPad mini 7 could arrive in 2024 with a faster chipset and new display technology. Signs point to the tablet being otherwise unchanged, but some suggest Apple may try to reduce the jelly scrolling effect.
iPad mini History
Sixth Generation (2021)
The iPad mini 6 results from Apple's technology stacks rolling down to the rest of the lineup. It has multiple features that debuted originally in the iPad Pro, then were introduced in iPad Air, and finally landed in the smallest iPad.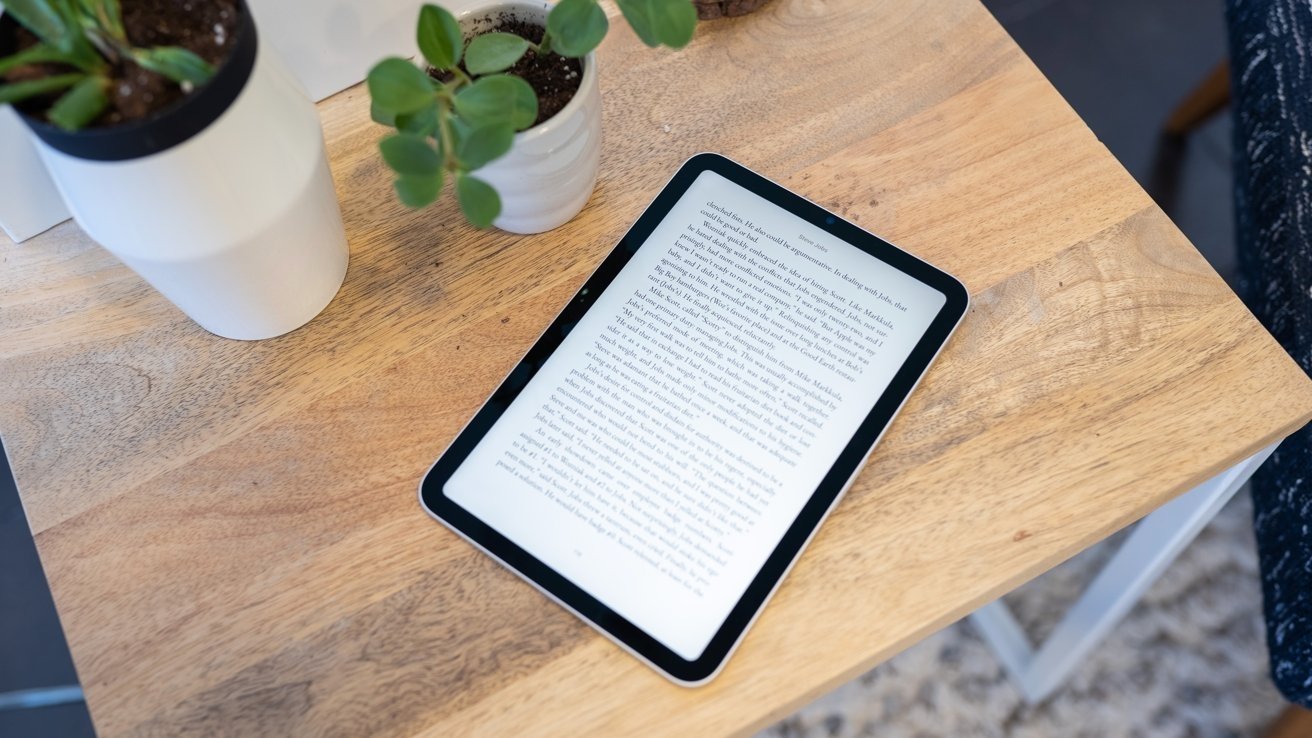 Design
The 8.3-inch Liquid Retina Display is longer and skinnier than the previous models, so viewing 16:9 video content is better suited with less letterboxing. The pixel-dense display makes iPadOS appear small, but all the functionality remains — Slide Over, Split Screen, and Home Screen Widgets still work.
The flat-sided design leaves space for the Apple Pencil to attach, pair, and charge. The Apple Pencil is nearly the device's length, so volume buttons were relocated to the top along with the power button.
Cameras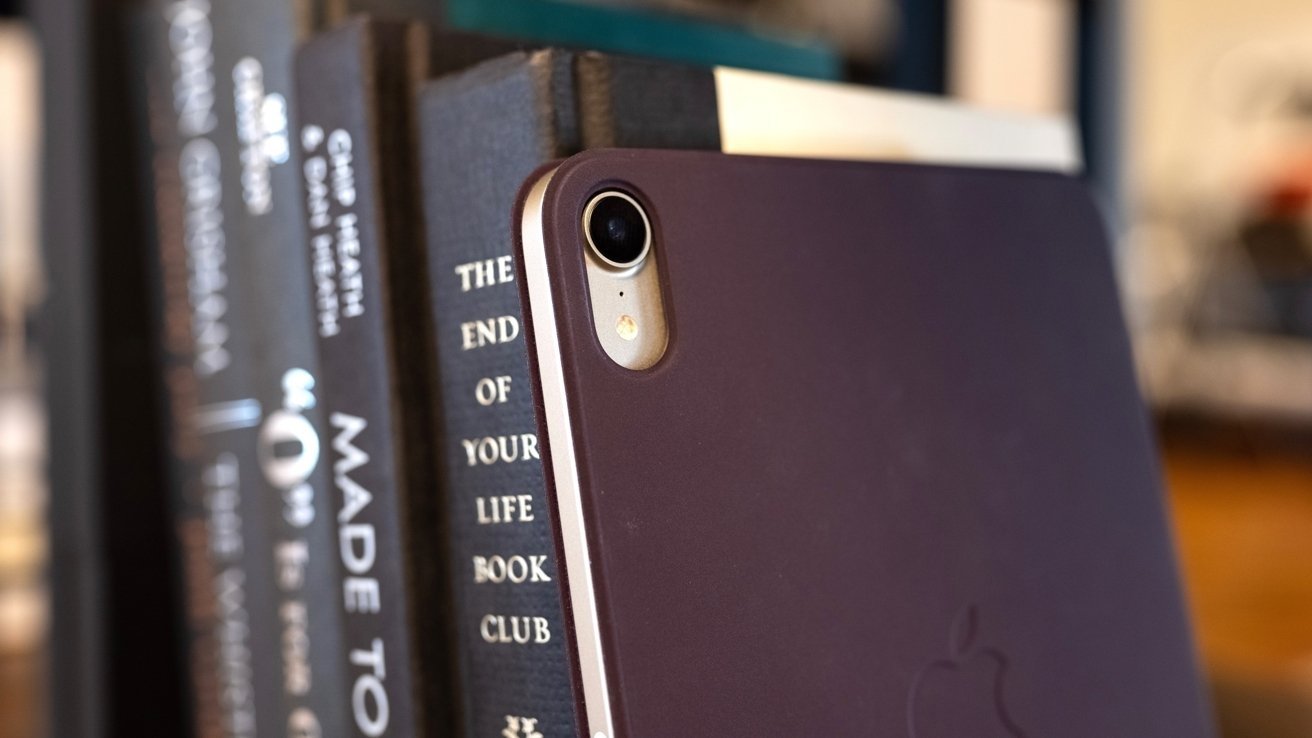 Apple continues its tradition of only including one rear camera on the rear of the iPad mini. The sixth-generation model has a 12MP sensor with True Tone flash, Smart HDR 3, and 4K video recording. The photo capabilities are similar to the iPad Air 4, but the A15 processor has a better image signal processor.
The front-facing selfie camera is an improved 12MP ultra-wide camera with Center Stage functionality. When on video calls, the camera will automatically track the user's head and keep it within the frame when possible.
Other features
The Lightning port was upgraded to a USB 3.1 Gen 1 Type-C port. Users can expect data transfer rates of about 5GB/s when connecting peripherals like an external SSD.
Customers interested in a cellular model can upgrade for an additional $150. The 5G modem included in the cellular version enables sub-6GHz networks, but not the ultra-fast mmWave 5G found in football stadiums and other public venues.
USB-C, the A15 processor, and all the design changes bring the iPad mini even higher in Apple's product lineup. Due to these changes, the base price increased by $100 to $499, putting it closer to the $599 iPad Air and further away from the budget $329 model.
Fifth Generation (2019)
The iPad mini 5 is the last mini model with the old design paradigm, released in March 2019. It received significant upgrades over its predecessors after three-and-a-half years without any updates.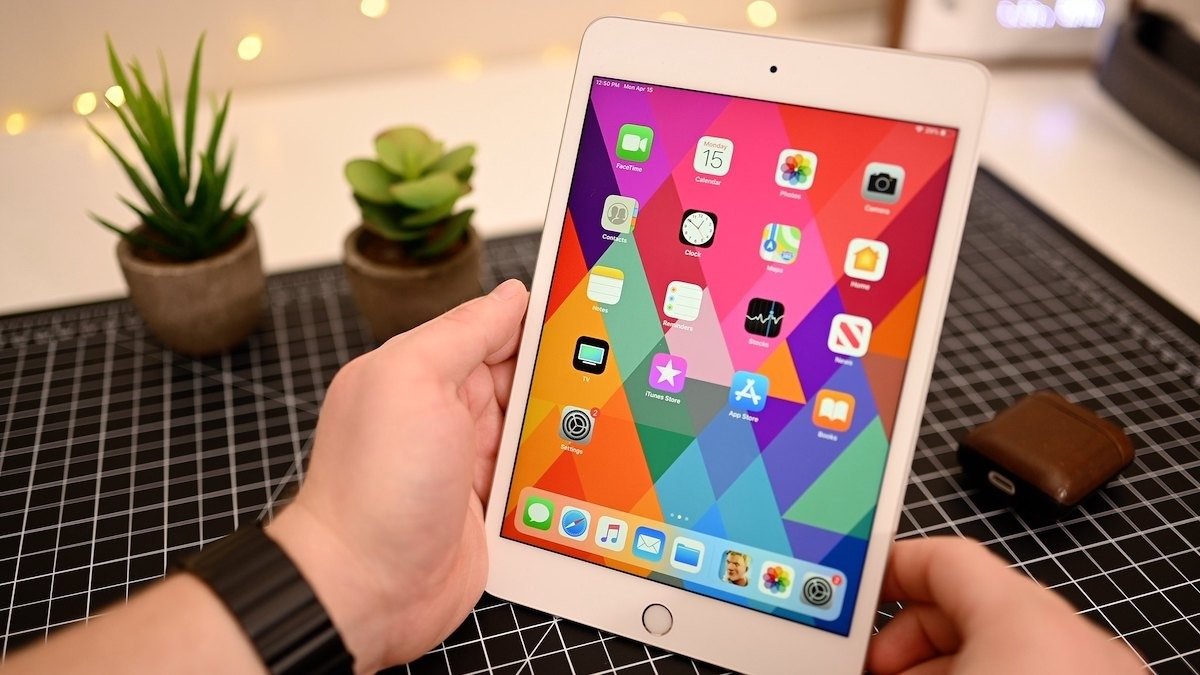 It uses Apple's A12 Bionic chip, 3GB of RAM, an upgraded 7.9-inch Retina display with True Tone, and an improved front-facing camera. The A12 benchmarks are up to three times faster than the older A8 processor used in the previous model.
In addition to notable hardware upgrades, this is the first iPad mini that supported the Apple Pencil. Since it lacked the flat sides for inductive charging, only the first-generation Apple Pencil worked.
Apple included an 8MP rear camera and a 7MP front-facing camera. Users could make HD FaceTime calls for the first time thanks to the higher-resolution selfie camera.
Customers seeking older models will still find the 5th-generation iPad mini a decent choice. Apple will continue to provide iPadOS updates for a few more years, and the A12 processor is still in use by newly released products, like the 2021 Apple TV 4K.
Fourth Generation (2015)
The fourth-generation model was released in September 2015 with a substantial redesign. The device measured 203.2 millimeters (8 inches) by 134.8 millimeters (5.31 inches) versus the previous 200 mm (7.9 inches) by 134.7 millimeters (5.30 inches).
Despite the increase in length and width, the iPad mini 4 was 33.2 grams lighter than the previous model and a full millimeter thinner.
This model also saw hardware upgrades, including Apple's dual-core A8 chip, 2 GB of RAM, and a fully laminated display. The screen received a substantial increase in color accuracy over previous monitors.
It was the first generation to support iPadOS, allowing it to utilize Sidecar with macOS Catalina and support external USB drives.
The iPad mini 4 was discontinued in March of 2019 but had received high praise from most major tech outlets during its three-and-a-half-year run.
Third Generation (2014)
Apple released the third-generation iPad mini in October 2014. The device received fewer upgrades between generations than its predecessor had, providing almost the same hardware as the previous model.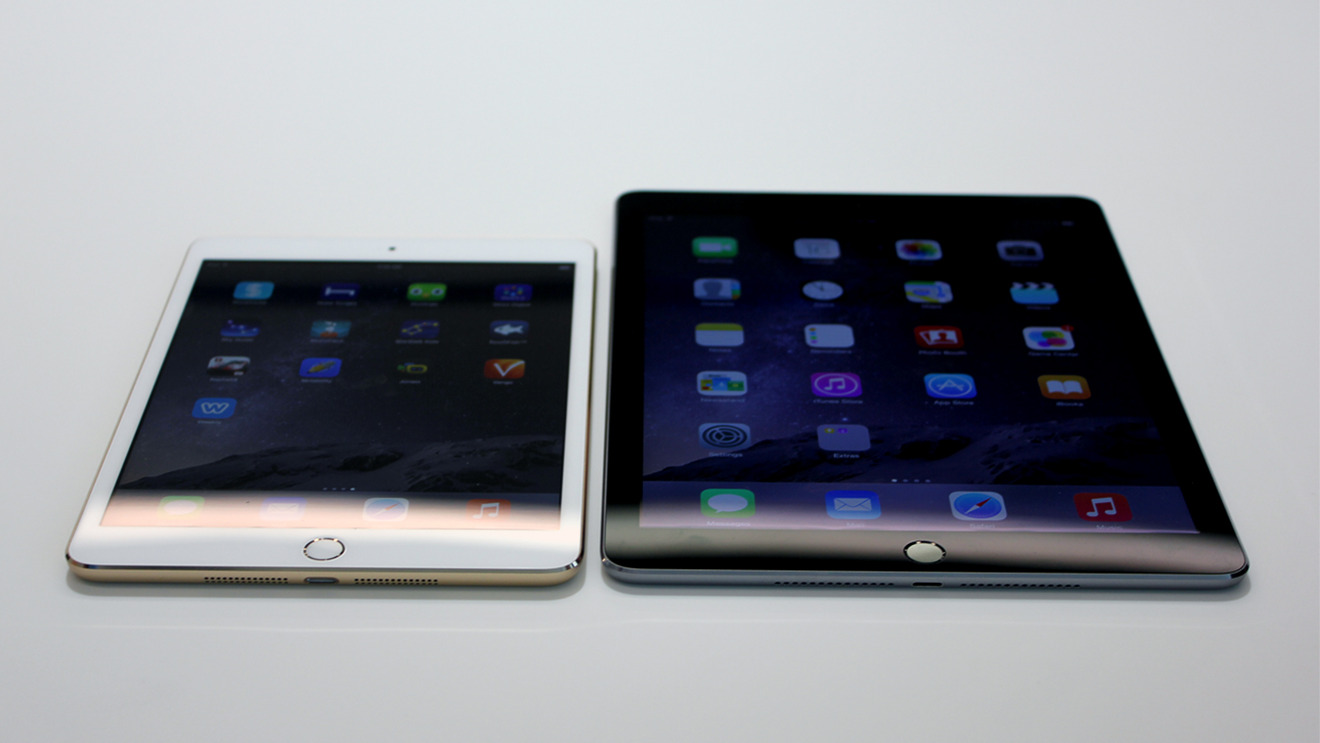 Touch ID was the only significant change. That meant customers could use features like Apple Pay on Apple's smaller tablet for the first time.
It was available in silver, space gray, and gold. The silver and gold models came with white faceplates, and the space gray went with a black faceplate.
While it was received positively, there weren't enough substantial upgrades to outshine its replaced model. It was subsequently retired in September of 2015, eleven months after its launch. Apple declared this tablet obsolete in January 2023.
Second Generation (2013)
The second-generation model had a nearly identical design to its predecessor but saw some substantial upgrades to its hardware. The second generation received the A7 chip and a new Retina display that quadrupled its predecessor's pixels.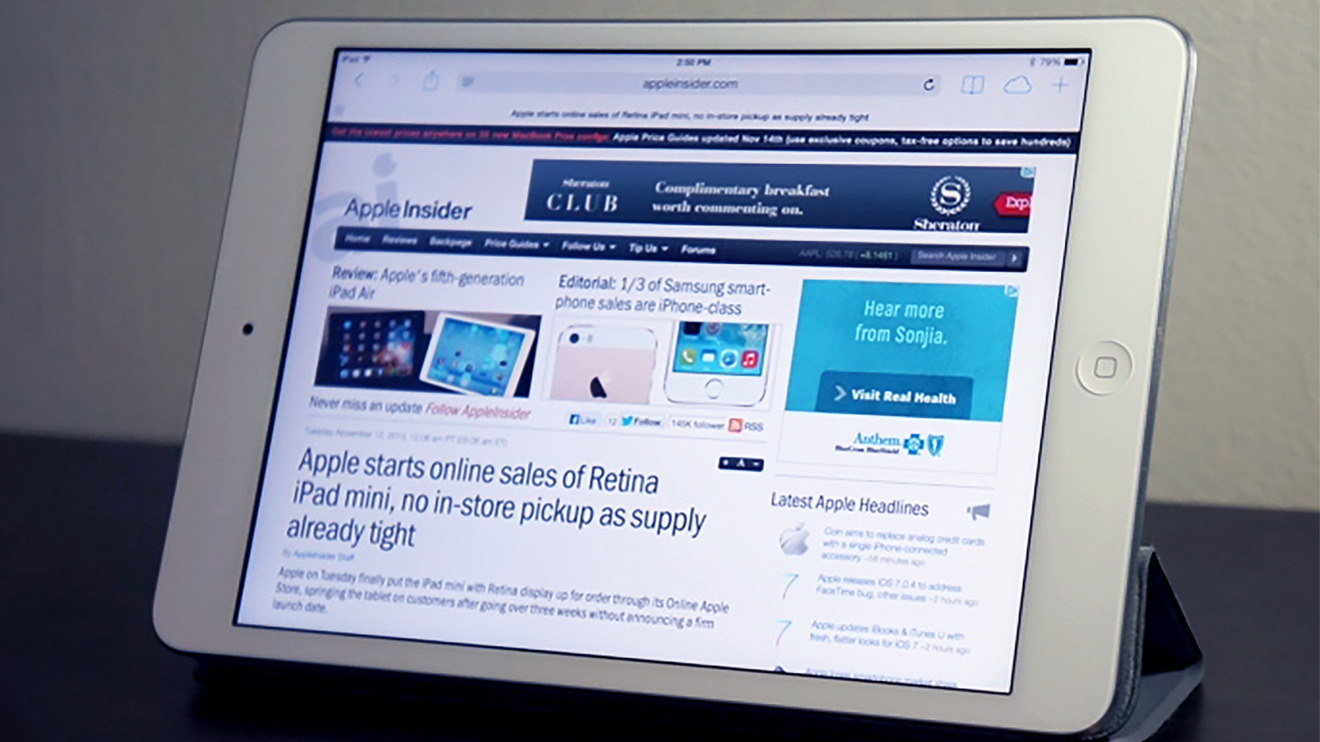 That Retina display was the tablet's standout feature, as evidenced by Apple initially marketing it as "iPad mini with Retina Display." However, the upgraded screen wasn't without its limits. It had a narrower color gamut than the high-resolution displays in 9.7-inch iPads of the same era. It also lacked the True Tone and anti-reflective coatings found in later iPad displays.
In a rare move for Apple, the tablet became thicker and heavier than the first-generation model it replaced. Apple did this to accommodate the larger battery it needed to power its higher-resolution screen. The beefier battery offered the same 10 hours of battery life over Wi-Fi as its predecessor.
It was available in Space Gray and Silver and released on November 12, 2013.
It was discontinued in March of 2017 but had been the first to support six major versions of iOS, from iOS 7 through iOS 12.
First Generation (2012)
At the first model's unveiling, Apple's Phil Schiller said it was the company's goal to help customers "find even more uses for iPad, to use it in places and ways they never imagined.
"This is iPad mini," Schiller said. "What can you do with an iPad mini that can't already do with the amazing fourth-generation iPad? You can hold it in one hand. This isn't just a shrunken-down iPad —it's an entirely new design."
This quote referred to the difference between the smaller tablet's narrow side bezels compared to the broader bezels on the 9.7-inch iPads of the day. The larger model eventually borrowed the small tablet's slimmer design the following year, when Apple debuted the iPad Air.
Original versus New
A lot has changed about the iPad mini since its inception in 2012, but most of those changes arrived in the most recent update. It was touted as iPad when it was first introduced, but more minor — an experience made for one-handed use.
That feature is still a primary selling point today, with much of Apple's PR showing people holding the device in one hand. If anything, it is more emphasized than ever with the all-screen display and Apple Pencil support transforming it into a handheld notepad.
| | Original iPad mini | iPad mini 6 |
| --- | --- | --- |
| Year | 2012 | 2021 |
| Price (starting) | $329 | $499 |
| Dimensions (inches) | 7.87 x 5.3 x 0.28 | 7.69 x 5.3 x 0.25 |
| Weight (pounds) Wi-Fi only) | 0.68 | 0.65 |
| Weight (pounds) (Cellular) | 0.69 | 0.66 |
| Processor | Dual-core A5 | A15 Bionic |
| Storage | 16GB, 32GB, 64GB | 64GB, 256GB |
| Display Type | 7.9-inch | 8.3-inch Liquid Retina with True Tone, 500 nits brightness |
| Resolution | 1024 x 768 at 163ppi | 2266 x 1488 at 326ppi |
| Connectivity | 802.11n, Bluetooth 4.0. | 5G (sub-6 GHz), Gigabit LTE, Wi-Fi 6, Bluetooth 5 |
| Battery | Up to 10 hours | Up to 10 hours |
| Rear camera | 5MP | 12MP Wide, f/1.8 aperture, 5x digital zoom, Smart HDR for photos, Quad-LED True Tone flash |
| Rear camera video | 1080p HD video | 4K at 24fps, 25fps, 30fps, 60fps, or 1080p HD at 25fps, 30fps, 60fps; 3x zoom; Slow-Mo 1080p at 120fps or 240fps; extended dynamic range for video up to 30 fps |
| Front camera | 1.2MP | 12MP Ultra Wide, f/2.4 aperture, Retina Flash, Smart HRD 3 for photos |
| Front camera video | 720p HD | 1080p HD video at 25, 30, or 60 fps |
| Center Stage | No | Yes |
| Connector | Lightning | USB-C |
| Apple Pencil support | No | Second Generation |
| Audio | Stereo speakers; 3.5mm headphone | Two speaker audio landscape mode |
| Touch ID | No | Yes |
| Colors | Black & Slate, White & Silver | Space Gray, Pink, Purple, Starlight |
The times have certainly changed with the base storage of the modern device equaling the maximum storage of the original. Although, Apple's targeted 10-hour battery life has stuck around for the entire nine-year journey.
Remarkably, the dimensions haven't changed much at all. Unlike Apple's other products, which have gone through multiple display size alterations and form factor updates, the iPad mini has clung to the 5.3-inch width and near 7.7-inch height. The weight remains consistent, with only a 0.03-pound difference between the two models.
The most notable leap in technology since 2012 is in the camera. The selfie camera in the first model had a 1.2MP sensor, which was 1/10th the size of the 12MP sensor used today.
Contending for technological leaps, however, is the display. The original display had 163ppi at 7.9-inches with no modern features or abilities. That's a big difference from today's 8.3-inch Liquid Retina Display with a laminated display, P3 color, and 326ppi.
iPad mini Pricing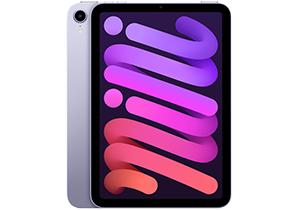 iPad mini 6
---
Equipped with the A15 Bionic chip and an edge-to-edge 8.3-inch Liquid Retina display, the 2021 iPad mini 6 also supports the second-generation Apple Pencil.
There are four color options: space gray, pink, purple, and starlight. Customers can purchase the 64GB option for $499 and the 256GB option for $649.
Adding 5G capabilities to the iPad mini 6 increases the cost by another $150 no matter the model chosen. Official Apple accessories include a color-matched Smart Folio for $59 or the Apple Pencil for $129.