» » »
How to turn off FaceTime video reactions in iOS 17 and macOS Sonoma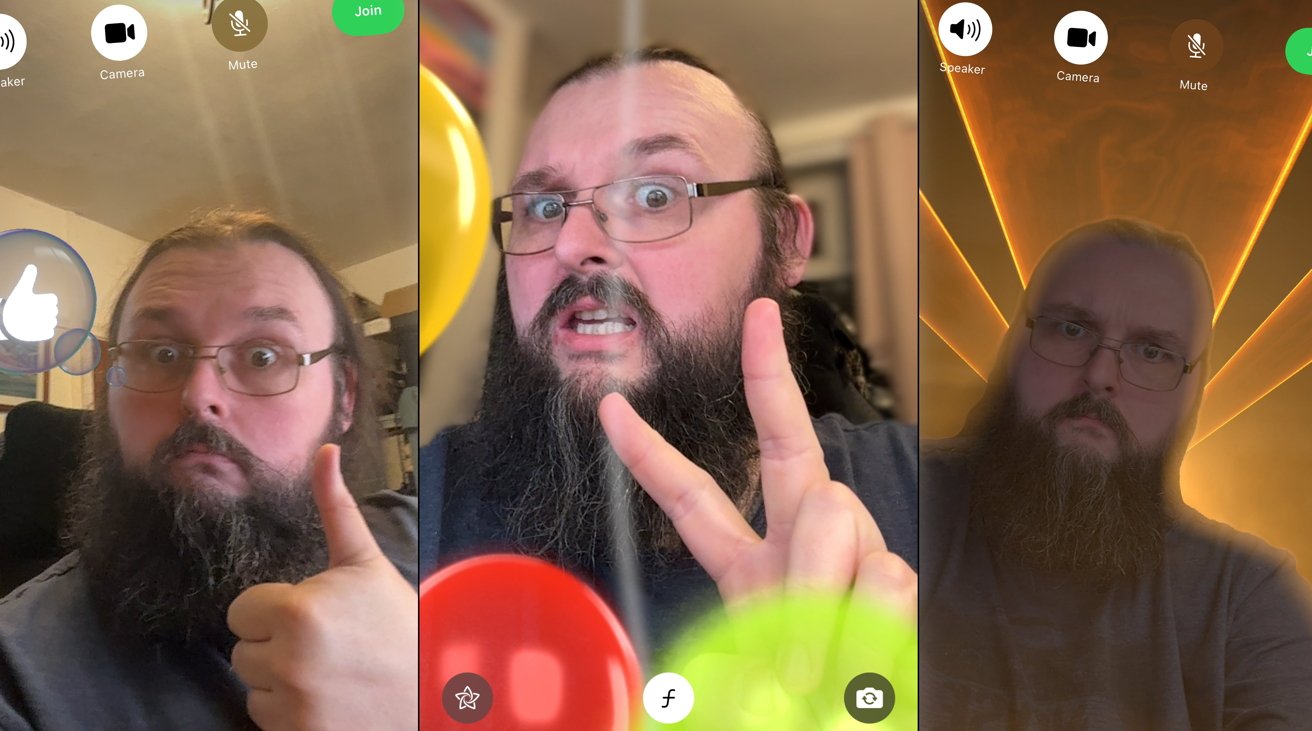 The new video reactions in iOS 17 and macOS Sonoma aren't always a good thing to have enabled for all conversations. Here's how to turn them off.
As part of iOS 17 and macOS Sonoma, Apple introduced a video feature called Reactions. When you perform and hold a gesture while in view of the camera, a special effect is displayed in the camera feed seen by other people.
There are quite a few effects, ranging from speech bubbles with thumbs-up and thumbs-down icons, to floating balloons, confetti, and stormy rain conditions. Triggered by hand gestures, they are designed to let users show how they feel with a more enhanced image.
This is a potentially entertaining feature when it's active in calls with friends and family, but there are many occasions where you may not necessarily want the reactions to occur. For example, you don't want fireworks and confetti to suddenly appear around you when you're in a work-related conference call.
In a real-life example, Matt Haughey wrote on Mastodon about an instance when a friend of his was in an online therapy session. When the therapist asked he was alright, the friend did a double thumbs-up, triggering fireworks behind his head.
"It's so bad that online therapy sessions now start with a warning dialog," Haughey writes.
Sadly, Apple has the reactive elements set on as default, for anyone using an Apple Silicon Mac with macOS Sonoma or later, or any compatible Mac using an iPhone 12 or later with Continuity Camera, or on an iPhone running iOS 17.
The feature is also predominantly associated with FaceTime, but they can also be used in other video-based apps too.
Turning off Reactions
There are two relatively simple ways to turn off Reactions on Mac and iPhone. Both typically require you to have FaceTime open and the camera active before you can make the appropriate changes.
Bear in mind that this feature only applies to your own camera feed. Turning off Reactions will only stop the gestures being detected on the device for your feed, not those of other people.
The following instructions will explain how to turn off Reactions, but you can follow the same steps to reactivate them if you wish.
How to turn off FaceTime Reactions in iOS 17
How to turn off FaceTime Reactions in macOS Sonoma
Open FaceTime.
Click the Video menu in the menu bar. It will usually be a green and white camera icon.
Click Reactions.