» » »
M2 Pro Mac mini vs Mac Studio - compared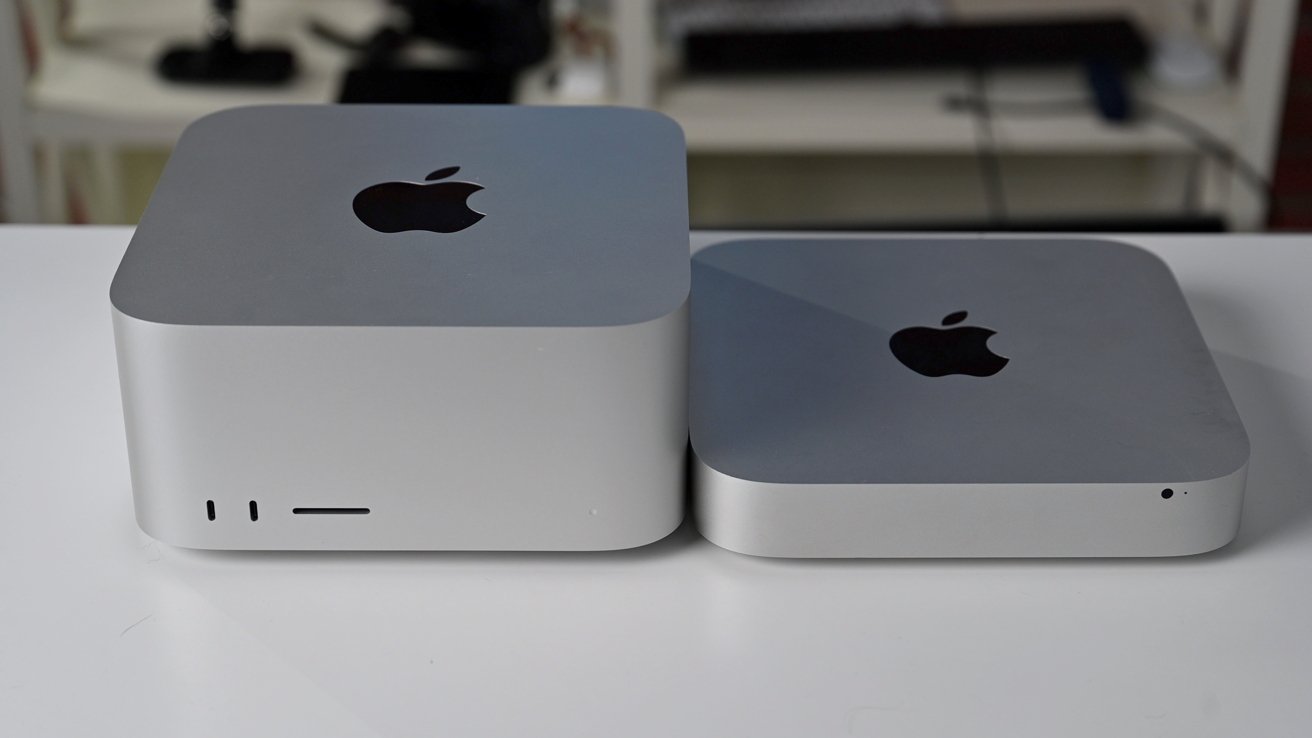 The M2 Pro Mac mini bridges the gap between entry-level and high-end. Here's how it compares to the baseline Mac Studio.
Apple announced a spec-bumped Mac mini lineup that supports the M2 and M2 Pro processors on January 17. It is the first time the higher chip configuration has come to the tiny desktop, thus providing users with more options from low-end to high-end desktops.
In order to compare the two machines, we've configured the Mac mini with 32GB of RAM so it is closer to the entry Mac Studio in specs and price. Customers in the market for either computer will still have a $300 price difference that can be used for accessories, a storage bump, or more computing power.
And yes, we're aware that the above image shows an Intel Mac mini. The case dimensions haven't changed through the transition to Apple Silicon, but the front LED is now at the bottom.
The M2 Pro hasn't been officially benchmarked yet, so a one-for-one comparison isn't possible. However, each model has clear pros and cons even without benchmarking. There are unverifiable benchmarks floating around we'll get to later.
Here's how the M2 Pro Mac mini with 32GB of RAM and 512GB of storage compares to the M1 Max Mac Studio with 32GB of RAM and 512GB of storage.
M2 Pro Mac mini versus Mac Studio - specifications
Spec
M2 Pro Mac mini
M1 Max Mac Studio
Price
$1,699
Check Mac mini prices
$1,999
Check Mac Studio prices
Dimensions (inches)
1.4 x 7.7 x 7.7
3.7 x 7.7 x 7.7
Weight (pounds)
2.6
5.9
Processor
Apple M2 Pro 10-core CPU
Apple M1 Max 10-core CPU
Graphics
16-core GPU
24-core GPU
RAM
32GB
32GB
Networking
Wi-Fi 6E
Bluetooth 5.3
Gigabit Ethernet
Wi-Fi 6
Bluetooth 5.0
10Gb Ethernet
Storage
512GB
512GB
Display
None
None
Ports
Four Thunderbolt 4
Two USB-A
HDMI
Ethernet
Four Thunderbolt 4
Two USB-C
Two USB-A
HDMI
Ethernet
SDXC card slot
The spec-to-spec comparison looks close, at least on paper. However, a customer's choice between the two will come down to priorities and use cases.
M2 Pro Mac mini versus Mac Studio - design
Apple didn't change the design of the Mac mini for the 2023 chip update. So, that means it retains the same square shape as its previous generations.
The biggest differences between the Mac mini and Mac Studio are their height and internal volume. The Mac Studio is larger overall, so it has more ports and more capability for cooling.
However, that size and improved cooling aren't necessarily a net positive. Mac Studio users have stated that the cooling fan runs continuously, even without a load. While the fan might be very quiet, this can be a problem for some users.
The size of the fan and complexity of the cooling system is much greater in the Mac Studio as well. However, how this affects performance between the two is yet to be determined. The Mac mini doesn't have access to the more powerful M2 Max, which is likely due to the limited cooling.
The compact size of the Mac mini also means it can be more easily stored in more locations. It is also much more portable and can slip into a backpack for travel.
M2 Pro Mac mini versus Mac Studio - performance
An alleged Geekbench score for the M2 Pro Mac mini has a single-core score of 1952, and a multi-core score of 15013. That's higher than the M1 Max Mac Studio by a significant margin, which scored 1727 single-core and 12643 multi-core.
If these numbers are accurate, then Apple's 12-core M2 Pro Mac mini with 16GB of RAM was able to outperform the base model Mac Studio. However, benchmark scores aren't everything and only give us a general view of performance.
The baseline M2 Pro processor has a 10-core CPU and a 16-core GPU with a 16-core Neural Engine. That's compared to the M1 Max with a 10-core CPU and a 24-core GPU with a 16-core Neural Engine.
We've configured both machines with 32GB of RAM. However, the memory bandwidth is doubled on the M1 Max processor at 400GB/s versus 200GB/s for the M2 Pro.
The Media engine is also more powerful on the M1 Max because it simply has twice as many encode and decode engines. The Media Engine for the M2 Pro is improved over the M1 Pro, but not by enough to overcome the M1 Max's 2x performance.
Apple doesn't offer any hard numbers, but it has compared these machines to a similar Intel iMac with a Core-i7 processor. The Mac Studio with M1 Max saw a 2.5x CPU performance increase over that iMac, while the Mac mini with M2 Pro is closer to 2x for certain tasks like compiling code.
The M2 Pro with a 19-core GPU is said to be 2.5x more powerful at graphics tasks like gaming or image rendering over the M1 processor. The M1 Max with a 32-core GPU is rated at 4x more GPU performance over the M1, so at 16-cores, it may have comparable performance to the maxed-out M2 Pro graphics. For our comparison, the 16-core GPU will be less performant in the M2 Pro, but not by much.
Note that these are estimations provided by Apple PR, and true performance won't be understood until testing is performed. Again, if the price is no object and maximum performance is the goal, then the Mac Studio wins in this department regardless of benchmark results due to the higher available configurations.
Although, if initial benchmarks are accurate, then the M2 Pro Mac mini offers more power per dollar than the $2,000 Mac Studio. That's an important factor for customers looking to spend less than $2,000 on a desktop.
M2 Pro Mac mini versus Mac Studio - ports
The Mac Studio's size gives it plenty of space for ports in both the front and the back of the machine. Apple didn't change anything about the Mac mini's port configuration, but it did bring back the four Thunderbolt 4 ports for the higher-end chipset.
Base model Mac Studio users get four Thunderbolt 4 ports, 10Gb Ethernet, two USB-A, HDMI, and a 3.5mm headphone jack in the rear. The front has two USB-C ports and an SDXC card slot. It supports four Pro Display XDRs and one 4K monitor over HDMI simultaneously.
The M2 Pro Mac mini gets four Thunderbolt 4 ports, HDMI, two USB-A, Ethernet, and a 3.5mm headphone jack. It supports two Pro Display XDRs and one 4K monitor over HDMI.
The M2 Pro processor does bring some new advantages that the Mac Studio doesn't have in terms of connectivity. The HDMI port has been upgraded to support higher resolutions and frame rates, depending on the monitors in use.
The M2 Pro Mac mini supports either a single 8K monitor at 60Hz or a single 4K monitor at 240Hz over HDMI. If a 6K monitor is connected over Thunderbolt, it can also run a 4K display at 144Hz over HDMI.
M2 Pro Mac mini versus Mac Studio - configurations
We're comparing specific models of the Mac Studio and Mac mini. However, there is a range of configurations for each model.
The M2 Pro Mac mini with 32GB of RAM is a mid-tier configuration, while the Mac Studio we're comparing it to is the base model. That means customers interested in the Mac mini can actually reduce its price significantly by reducing the RAM or chipset configuration based on their needs.
On the other hand, customers can also increase the storage of the Mac mini to 1TB and still come in $100 lower than the Mac Studio. Those looking for absolute power without a price as a consideration can look to the Mac Studio, but otherwise, the Mac mini fits in a wider range of use cases and prices.
Both machines can be configured with up to 8TB of storage. The Mac Studio with M1 Max can have up to 64GB of RAM versus the Mac mini maxing out at 32GB of RAM.
M2 Pro Mac mini versus Mac Studio - pricing
That $300 difference might be enough to convince most to select the Mac mini for its lower price. Unless you work in high-resolution media like 4K HDR video, you're not likely to notice a large difference in performance between the two machines.
Customers also have the option of bumping the Mac mini CPU up to 12 cores for a total price of $1,999, which adds two efficiency cores that the Mac Studio doesn't have in the M1 Max base chipset. It will mean a small gain in performance for certain tasks but won't likely be overly noticeable in day-to-day operations.
As always, the decision comes down to the user's needs. If you needed a Mac Studio before, that likely hasn't changed.
For those on the fence, the Mac mini is much more capable than before at a better price.